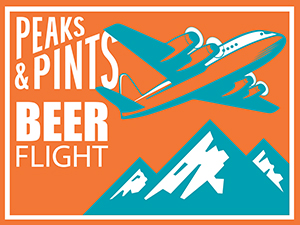 As Peaks & Pints has noted the past three days; Tacoma Beer Week isn't happening this year. But, you have enjoyed three days worth of local beer and cider as we have refused to let go of the beer week and have offered local to-go flights. Today, we keep the Tacoma drive alive with a to-go flight straight outta Tacoma's Historic Brewery District: Peaks and Pints Pilot Program: Tacoma Historic Brewery District On the Fly.
The area between South 17th Street to South Tacoma Way on the east side of downtown Tacoma was once home to some of the most productive and influential beer making facilities of the pre-prohibition Northwest. According to BreweryGems.com, one of the first breweries in the area was the New Tacoma Brewery, which was established in 1884. The company changed hands in 1886, taking on the name United States Brewing & Ice Co. In 1891, the brewery changed hands again and became the first major brewery in the area, The Milwaukee Brewery. Though solely a Tacoma company, owner Samuel Loeb named his company "Milwaukee" to reflect the 19th century's award-winning breweries of the Midwest. In 1897, Milwaukee Brewery merged with Puget Sound Brewing Company to form the Pacific Brewing and Malting Company. Just as PBMC was coming together, Columbia Brewing opened its doors a few blocks away. However, both Columbia and PBMC hit hard times during the dark days of prohibition, and PBMC closed shop in 1914 when Washington state jumped the gun and ratified prohibition six years before it was mandated by federal law. Columbia Brewing kept its doors open by producing non-alcoholic beverages. When the company came out the other side of forced temperance, it changed its name to Heidelberg Brewing. As one of the top three breweries in the West (along with Olympia and Rainier), Heidelberg Brewing made Tacoma synonymous with beer until the 1970s, when it finally closed its doors. Today, several new breweries are operating in the Tacoma Historic Brewing District. Peaks & Pints offers a to-go flight from those breweries brewing on historic ground.
Peaks and Pints Pilot Program: Tacoma Historic Brewery District On the Fly
Sig Pineapple Upside-down With A Cherry On-Top
7.4% ABV, Campfire Crowler
This spring, Duncan Susag, brother Alex Susag and cousin John Samuelson opened Sig Brewing on the edge of Tacoma's Historic Brewery District, along Tacoma Avenue South in the building formerly occupied by Duncan's concrete design firm, Studio Make. Head brewer Jeff Stokes has been cranking out delicious craft beers, including Pineapple Upside-down With A Cherry On-Top fruit beer currently on tap at Peaks. Gallons of pineapple and cherry are conditioned upon a robust and sweet biscuity and cakey beer base. Pouring a deep hued maraschino-cherry red and smelling like a fresh baked cake, pineapple, cherry, and sweet smooth crust meld together for a treat.
Wingman Black Is Beautiful
10% ABV
Technically, Wingman Brewers isn't in the Tacoma Historic Brewery District. But, they use to be. The now Tacoma Dome District brewery launched their production brewery at 17th and Fawcett in 2011. Plus, we can't mention their Black Is Beautiful Imperial Coffee Stout enough. Wingman Brewers united with the worldwide beer collaboration Black Is Beautiful launched by Weathered Souls Brewing to bring awareness to the social injustices faced by people of color every day. The Tacoma brewery teamed up with Tacoma's black-owned Campfire Coffee, which proprietors Quincy and Whitni Henry roast their beans over an open flame, usually out in the woods(!). Profits from this smoky, toasty, roasty Black is Beautiful Imperial Coffee Stout will directly benefit the Tacoma Urban League, which has supported the local Black community for more than 50 years.
E9 Tacoma Brew
5.1% ABV
Columbia Brewing Co. brewed Tacoma Brew in the late 1800s in Tacoma's now Historic Brewery District. Beer made at the facility gained national attention for its flavor and smooth aftertaste in the early 1920s, prompting the brewery to double in size and increase capacity by the mid-1930s. Success at the plant got the attention of another brewery, Heidelberg Brewing Co., which purchased the Columbia plant in 1949 and set out for another round of remodeling. The facility was bought yet again a decade later by Carling Brewery, making it the only West Coast holding of the otherwise East Coast beer company. The brewery is long gone but Tacoma Brew, a Kolsch, is still being brewed. Tacoma's Engine House No. 9, now E9 Brewing located in Tacoma's Historic Brewing District, bought the recipe for the breweries' "Tacoma" brew and still serves it many, many years after the originating brewery held its last call. Tacoma's first beer has a medium body accentuated with crisp Northwest hops.
7 Seas Hazy IPA
6.2% ABV, 55 IBU
Four years ago this month, 7 Seas Brewing opened a new location spanning two city blocks in Tacoma's historic Brewery District adjacent to the University of Washington campus. Housed in the Heidelberg Brewery's former distribution warehouse, the new facility was a ten-fold increasing in brewing capacity compared to their Gig Harbor location. Formerly known as Willie Maize Haze, 7 Seas Hazy IPA is brewed with flaked oats and maize for a soft, silky mouthfeel. Loaded with newfangled hops El Dorado, Mosaic, Idaho 7, and Meridian, this hazy IPA sports a big, grainy fresh hop nose, followed by juicy orange, toast, and wheat.
SHOUT OUT: Black Fleet Brewing Taproom & Kitchen also operates in Tacoma's Historic Brewery District, but Peaks & Pints doesn't currently have their beer on site.
---
Category:
Beer Line Blog
,
Craft Beer
,
Critical Drinking
,
Events and Festivals
,
Houses of Craft
,
In The Cooler
,
Peaks and Pints Pilot Program
,
Shop
,
South Sound
,
Specials
,
Tacoma Strong