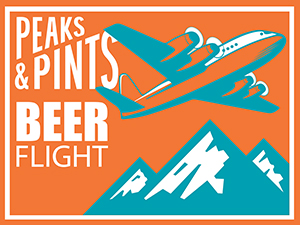 Tears fill the Tacoma streets. As if the virus decimating your 401k and canceling your Mexico cruise wasn't bad enough, now it has canceled your beer week. Tacoma Beer Week should have begun yesterday. It didn't. The reasons are obvious. The sadness is even more obvious. Tacoma loves it some beer. As far back as when Job Carr stirred wort alongside the banks of Commencement Bay in 1865 to the earliest laborers frequenting after-work saloons in the 1890s to the artisan breweries popping up today, our city has had a love affair with beer. It is only natural that with a mix of working class Scandinavians, Austria/Hungarians and Germans that someone (if not everyone) would be mixing their own homebrew. In pre-prohibition Tacoma, the brewery district housed Heidelberg, Milwaukee and Pacific Brewing and Malting companies. You would have loved what we had planned for Tacoma Beer week today. We'll try it out next year. As a substitute, we're offering a to-go flight of crowlers, bottles and cans of new local beer. Stop by for Peaks and Pints Pilot Program: Tacoma Beer Week On The Fly.
Peaks and Pints Pilot Program: Tacoma Beer Week On The Fly
Sig Pineapple Upside-down With A Cherry On-Top
7.4% ABV, Campfire Crowler
This spring, Duncan Susag, brother Alex Susag and cousin John Samuelson opened Sig Brewing on the edge of Tacoma's Historic Brewery District, along Tacoma Avenue South in the building formerly occupied by Duncan's concrete design firm, Studio Make. Head brewer Jeff Stokes has been cranking out delicious craft beers, including Pineapple Upside-down With A Cherry On-Top fruit beer currently on tap at Peaks. Gallons of pineapple and cherry are conditioned upon a robust and sweet biscuity and cakey beer base. Pouring a deep hued maraschino-cherry red and smelling like a fresh baked cake, pineapple, cherry, and sweet smooth crust meld together for a treat.
Wingman Black Is Beautiful
10% ABV
Two Tacoma small businesses have joined forces with the Black Is Beautiful campaign to provide an imperial coffee stout that fights for change. Wingman Brewers united with the worldwide beer collaboration launched by Weathered Souls Brewing to bring awareness to the social injustices faced by people of color every day. The Tacoma brewery teamed up with Tacoma's black-owned Campfire Coffee, which proprietors Quincy and Whitni Henry roast their beans over an open flame, usually out in the woods(!). Profits from this smoky, toasty, roasty Black is Beautiful Imperial Coffee Stout will directly benefit the Tacoma Urban League, which has supported the local Black community for more than 50 years.
E9 Zoology IPA
6.3% ABV
E9 Brewery, now E9 brewing, has been, er, brewing in Tacoma since 1995. Head Brewer Shane Johns and his trusted assistant brewer, Donovan Stewart, have released many award-winning beers in the last six years. This weekend, they release a new IPA inspired by the hops they dumped in the kettle. Zoology IPA is dry hopped with Styrian Cardinal, Eagle and Dragon hops straight outta the Slovenian Institute of Hop Research and Brewing. Cardinal is bred from European and American germplasm for citrus, gooseberry and pineapple aromas. Eagle is dual purpose hop with a high alpha and notes of floral, peach and pine. Dragon offers floral citrus, grapefruit, lemon, berries, rose, and tropical fruit. As you can imagine, this IPA has grapefruit/lemon citrus, stone fruit and tropical pineapple notes.
7 Seas Black IPA
7% ABV, 65 IBU
Mike Runion and his business partner and brewmaster Travis Guterson took their beloved 7 Seas Brewing back to the future in August 2016. From their humble beginnings in 2008, to the 2009 fire relocation, to the 11,000-square-foot-building in downtown Gig Harbor, demand for their craft beers forced the duo to constantly think bigger. Aug. 10, 2017, they went huge opening an 80,000-square-foot new brewery and taproom in a downtown Tacoma building where Heidelberg Brewery previously bottled and shipped its beer. Heidelberg didn't brew a Black IPA, but 7 Seas did. 7 Seas Black IPA is brewed with de-husked black malt and generously hopped with Nugget, Centennial, and Simcoe for layers of piney hops and a hint of roasted malts for a lingering, flavorful finish.
---