Peaks and Pints: The First Anniversary Shindig
November 1, 2017 @ 6:00 pm

-

11:00 pm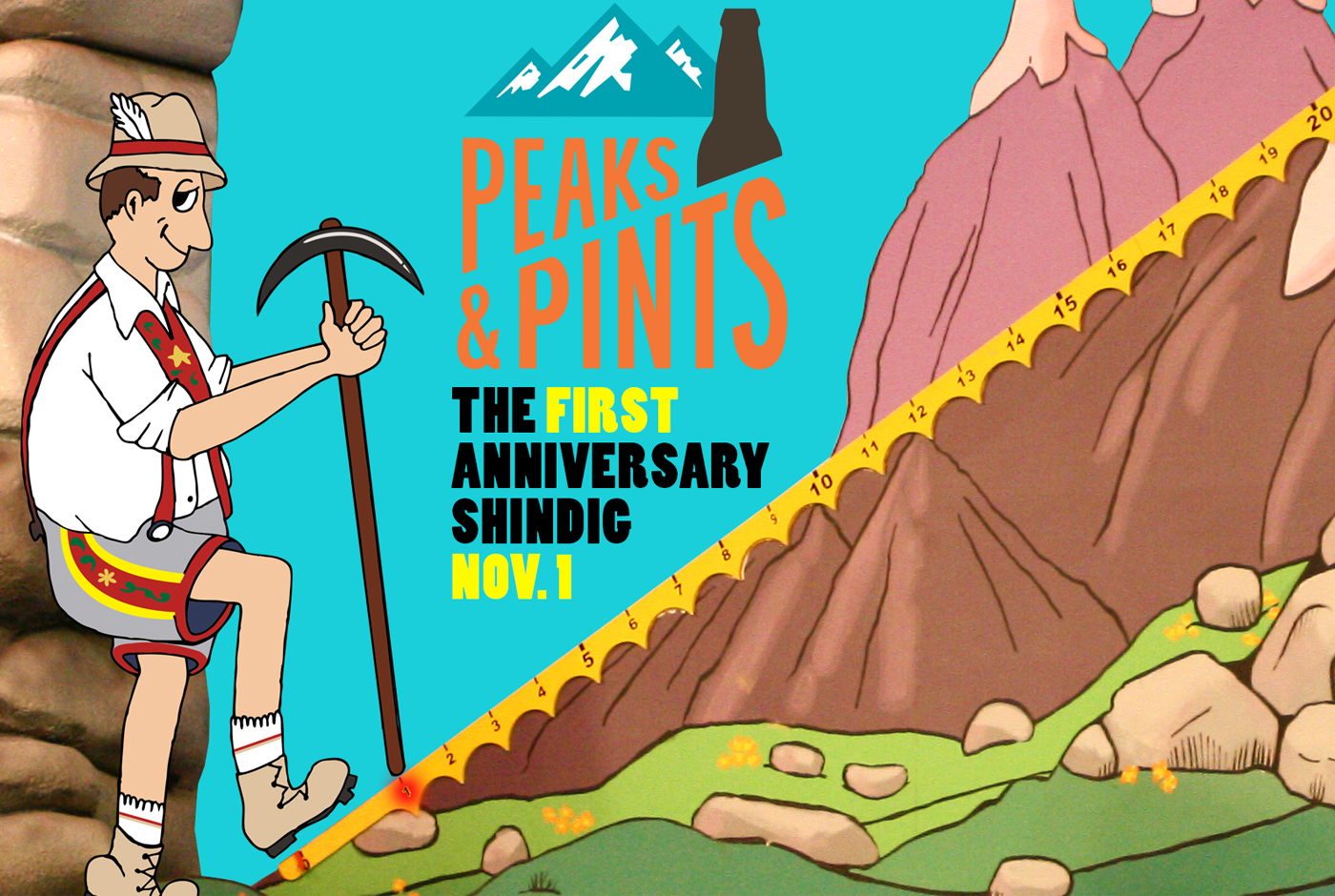 Peaks and Pints will celebrate its first year in business Wednesday, Nov. 1, with a couple big prefunk parties leading into the celebration with a special anniversary beer release and music by bluegrass band The Rusty Cleavers.
In addition to The Rusty Cleavers at 8 p.m., a special beer flight and hijinks, the Nov. 1 one-year anniversary party will also see the release of Skyline Trail Wildflower Sour, a Peaks and Pints collaboration craft beer with Harmon Brewing Co. In August 2016, Harmon Head Brewer Jeff Carlson, Production Manager Bill Lundeen and Director of Brewery Operations Jesse Holder as well as Peaks and Pints staff collected yeast from wildflowers blooming along the Skyline Trail at approximately 5,400 feet on the south slope of Mount Rainier. The yeast was added to a sour blonde base, inoculated with Saccharomyces and aged for a year. Last month it was blended with a blonde base that was aged two years in a foeder. It's a funky, tart, pale amber-colored ale that's light in body and exhibits aromas of stone fruit, oak and spice.
Peaks and Pints will offer two prefunk anniversary parties before the big celebration Nov. 1.
Saturday, Oct. 28, our Hop Roast Coffee Beer Festival will feature a dozen or so draft coffee craft beers from opening to close, including Alesmith Speedway Stout, 2016 Avery Tweak Imperial Stout, Firestone Walker Mocha Merlin Stout, Midnight Sun Brewtality Espresso Black Ale, Oskar Blues Hotbox Coffee Porter, Reuben's Home To Home Coffee IPA, Skookum Woke Up Quick Coffee Milk Stout, Triceratops Hawthorne Coffee Stout and others.
Tuesday, Oct. 31, Peaks and Pints presents Dankenstein, a Hoppy Halloween Thriller with Green Flash Brewing Co. and Alpine Beer Co. featuring eight hoppy and dank beers, as well as Green Flash's 2017 Treasure Chest IPA, which benefits cancer research.
PEAKS AND PINTS FIRST ANNIVERSARY SHINDIG, 6 P.M. Wednesday, Nov. 1, Peaks and Pints, 3816 N. 26th St., Basecamp Proctor, Tacoma, no cover