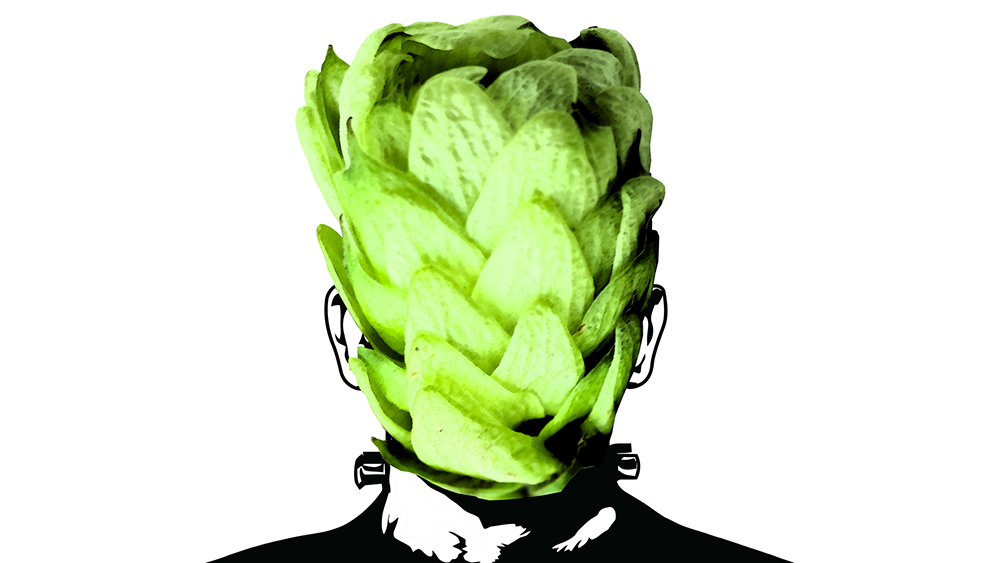 With help from Green Flash Brewing Co. and its sister brewery, Alpine Beer Co., Dr. Hoppy Dankenstein has isolated himself from his family, friends and colleagues. Unknown to them, what Dr. Dankenstein intends to host Dankenstein: A Hoppy Halloween Thriller with Green Flash and Alpine — a night of the stickiest of the icky, the dankest of the dank, the bombest of the bomb-diggity. Dankenstein scoured the two southern California brewery's cold storage for the most face-meltingly awesome hoppy beers, with the goal of showcasing eight of them at Peaks and Pints Halloween night.
Upon learning Dankenstein's plans, his friends, family and colleagues believe that he's treading in dangerous territory in creating what they believe is a hoppy monster of a night, not only because of the nature of the project itself, but because of one of the beers, Green Flash's 2017 Treasure Chest, is "abnormal" in that it isn't dank but rather brewed with passionfruit to benefit the Prevent Cancer Foundation.
Dankenstein argues that, yes, "dank" refers to beers that "smell like good weed" but dank also refers to "high-quality" that the kids these days use to describe their memes. He also explains Green Flash's "Treasure Chest" program has raised hundreds of thousands of dollars over the last six years for cancer research.
Dankenstein's friends, family and colleagues attribute the term "dank," to mean "pungent, funky and odoriferous, to both good weed and very hoppy IPAs." Hops and marijuana both contain terpenoids, compounds that give the plants similar characteristics. In fact, both fall into the taxonomic family Cannabaceae, so it follows that you could create a fairly stinky beer with the right treatment of the right hops. Hops don't get you high, but in smell, taste and appearance, they often feel just about as … dank.
Dankenstein's father, Brett Dankenstein, a sour of a man, tries to intervene, but the younger Dankenstein ignores his dad, and the hoppy monster of a night will indeed go on, beginning at 6 p.m.
How the story will play out Halloween night is anyone's guess. Certainly, it will be a tasty night of delicious of Alpine and Green Flash craft beers and a beneficial affair for cancer prevention.
DANKENSTEIN: A HOPPY HALLOWEEN THRILLER, 6 p.m., Tuesday, Oct. 31, Peaks and Pints, 3816 N. 26th St., Basecamp Proctor, Tacoma, no cover
Dankenstein's Meets The Craft Beers
Green Flash Spanish Trampoline IPA
6.6% ABV, 32 IBU
Spanish Trampoline is a hybrid strain of marijuana that smells mildly like skunk with sweet and earthy overtones. This strain will leave users feeling mellow cerebral relaxation coupled with intense body relaxation and tingling sensations in the legs. Green Flash hops on the name and bounces into new territory with its Spanish Trampoline IPA featuring huge hop aroma with low bitterness. Brewed to celebrate National IPA Day 2017, Spanish Trampoline is tropical and dank with notes of passion fruit and mango.
Alpine Nelson
7% ABV, 40 IBU
Named after Nelson Sauvin, which imparts a beautiful nose of tropical fruit — mangos, pineapple — and a dry, earthy body that's usually compared to the sauvignon blanc grape, Alpine Beer's Nelson spends most of its time off the taps. Low supply does breed high demand though, and much like other great beers Alpine puts out, the Nelson developed a small cult following in its time away from chilled pint glasses everywhere. On the tongue, expect lemon and lemongrass, as in the aroma, with amplified grapefruit, moderate malt sweetness, a touch of resinous pine, moderately dank, strong bitterness and light grassy notes.
Alpine Windows UP IPA
7% ABV, 41 IBU
After Green Flash Brewing's lupulin lab grabbed the production reigns of several Alpine beers, the mad IPA scientists brewed even more amazing hopped-up masterpieces such as Hop Boxed, which was Alpine's Duet's malt bill, but instead of Simcoe and Amarillo hops, scientists used Citra and Mosaic. Alpine changed the name of Hop Boxed to Windows Up, but the mix of Citra and Mosaic still hold the window up for a soft and bitter room. Alpine describes it as falling squarely under the "dank" category. The dank base is complementary to the bitterness instead of balancing with a counterpunch. Windows Up is an IPA of two profiles that truly meets in the middle. With an aromatic floral and orange nose, the flavor begins soft on the mouth with a green meets papaya-citrus wash over the tongue that breaks away in a piney punch that leads to a bitter finish.
Alpine Duet IPA
7% ABV, 45 IBU
Simcoe and Amarillo. Not a buddy-buddy cop movie but rather the only two hops in Alpine Beer's Duet IPA. On the nose, Duet's namesake is beautifully displayed as you can pick out the big contributions from the hop duet right away. Big-time nectarines, mangoes, pineapple, with mild undertones of citrus, likely from the Amarillo, with the wet, dank, pungent and piney side from the Simcoe. They form a beautifully harmonious union with the tropical explosion versus the raw, dank hoppage. Duet is a tropicpalooza in the middle of an oily, hemp jungle.
Green Flash Treasure Chest 2017
6.5% ABV, 50 IBU
In 2011, Green Flash Brewing Co. launched the Treasure Chest program, an annual breast cancer fundraiser for Prevent Cancer Foundation nationally lead by Green Flash co-founder and breast cancer survivor Lisa Hinkley. This is the craft brewery's 7th annual beer release and special event series to raise funds for breast cancer charities. This year, the new beer released for the program is the Treasure Chest IPA brewed with passionfruit, and it will be available on-draft in 37 US states — including, for the second year in a row, Peaks and Pints bottle shop, taproom and restaurant in Tacoma, Washington.
Alpine Hoppy Birthday
5.25% ABV, 60 IBU
According to Alpine Beer, Hoppy Birthday is known as "The world's most celebrated beer." It is a gift, with six different hops link to excite the nose with varying aromas of dank cannabis, pine needles, mint and freshly picked oregano that leads into flavors of weed and pithy citrus peel. The IBU level is high for the style, but misleading — though packed with hop flavor, this beer doesn't really bite you back, but instead has well-paced bitterness.
Green Flash West Coast IPA
8.1% ABV, 95 IBU
So much of the good, green stuff is packed into Green Flash's West Coast IPA that you'll find it overwhelming if you haven't prepared yourself. Imagine licking a pine sapling on a spring day in a grassy meadow with your friend blowing weed smoke in your face. Seriously, West Coast is a bit like cramming fistfuls of freshly mowed grass into your gob due to a "menagerie of hops" layered throughout the brewing process including Simcoe (to impart a unique fruitiness and grapefruit zest), Columbus (for strong hop pungency), Centennial (for pine and citrus notes), and Cascade (for floral aroma). As the brewery puts it, it is a "multi-dimensional hop experience." And they ain't lying. It's just over 8 percent ABV, with a malt body, resinous, hoppy and dank.
Green Flash Imperial IPA
9% ABV, 101 IBU
A longtime favorite of hopheads across the country, Green Flash's Imperial IPA clocks in at 9 percent ABV, reaches a whopping 101 IBUs and is considered by many to be imperial IPA drinking at its finest. And though it's definitely a big beer, it doesn't overwhelm, instead finding a foothold in the subtleties of each sip — citrus and dank hops on the nose, a hint of pine needles here, a bit of fresh grapefruit there, leafy green bitterness everywhere — and the nuances go on and on.
Save
Save
---