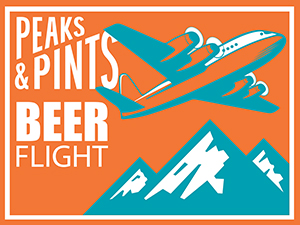 In 2006, Chris Nemlowill and Jack Harris flew to Virginia Beach, Virginia to salvage an 8.5-barrel Saaz brewing system and drive it across the country to install it in their soon-to-open Fort George Brewery in Astoria, Oregon. While traveling with the equipment strapped to a flat bed, they met up with a tornado that nearly spread the brewery across a Nebraska cornfield. Fort George has brewed 3-Way IPA since 2013, featuring two different craft brewery collaborators every year — this year Cloudburst and Ruse Brewing. Tonight, Peaks and Pints hosts the South Sound release party for 3-Way with the beer on draft and in cans, a couple new Fort George beers, three IPAs from Ruse and live music by The Rusty Cleavers. In celebration, we offer an all-day flight of the Astoria brewery that we call Craft Beer Crosscut 6.20.19: Flight of Fort George.
Craft Beer Crosscut 6.20.19: Flight of Fort George
Fort George Lovell Lager
5.2% ABV
Fort George Brewery opened March 11, 2007 in the Lovell building in downtown Astoria. Eventually they purchased the building — the whole city block actually — and added a 15 year-old, 30-barrel DME system from St. Arnold in Houston, Texas, which went into operation in 2011. The dubbed the new system Little Miss Texas. Recently, Fort George added a few smaller tanks to the Little Miss Texas system, mostly so they could brew lagers again, such as the return of the Lovell Lager. This straw colored lager has a white head, light breadiness and finishes with smooth melon and a touch of spice.
Fort George City of Dreams
5.5% ABV
"Whether you call it Shangri-La or Utopia or City of Dreams, one thing is certain — this is the beer you will find there." So states Fort George's City of Dreams hazy pale descriptor. For the amount of love Fort George gushes over its hometown of Astoria it would seem they brewed this delicious pale for the city. Fort George's new year-round pale tastes like the bastard love child of their Suicide Squeeze IPA. There's a mango/tropical quality on the nose that translates to the taste, with a touch of grapefruit. It's not bitter. It's creamy. It's delicious.
Fort George Don't Believe The Hype
6.4% ABV
A nod to Public Enemy, and their famous song railing against the "mis-information" in the media, Fort George's Don't Believe the Hype is a clean, old school IPA. No pizzas were thrown into the kettle. It wasn't dry-hopped with doughnuts. Don't Believe the Hype sports hops grown in the Pacific Northwest and a simple grain bill to allow those hops to spread orange, grapefruit, and passionfruit goodness. "Just a little bit of the taste of the bass for you," says Public Enemy. Indeed.
Fort George The Optimist
6.2% ABV, 50 IBU
That is an awesome craft beer! We mean that! After several sips of Fort George's The Optimist we find my new enthusiasm streaming from us like a Pixar-produced rainbow! Suddenly we could stare at the Pacific Ocean for hours! Hello, spring onions, garlic, lemons, grapefruit and pine! Let's put our heads together and solve some of our shared problems! Creamy mouthfeel! Smooth bitterness! Yes, we believe everybody's just trying to do their best and no one's out to take something from someone else! Thanks for asking! Spruce tips and pine needles on the finish! Thank you!
Fort George Vortex IPA
7.7% ABV, 97 IBU
Caught in a tornado in the Midwest while hauling their original brew system cross country from Virginia, it made sense from Fort George Brewery to whip up Vortex IPA. With a hearty 7.7% ABV unfiltered, unpasteurized organic malt spine that makes way for Simcoe, Amarillo, and Centennial hops this IPA is medium bodied with a resinous mouthfeel, grapefruit more than pine and finishes with lingering hop bitterness. This beer is straight up delicious.
---