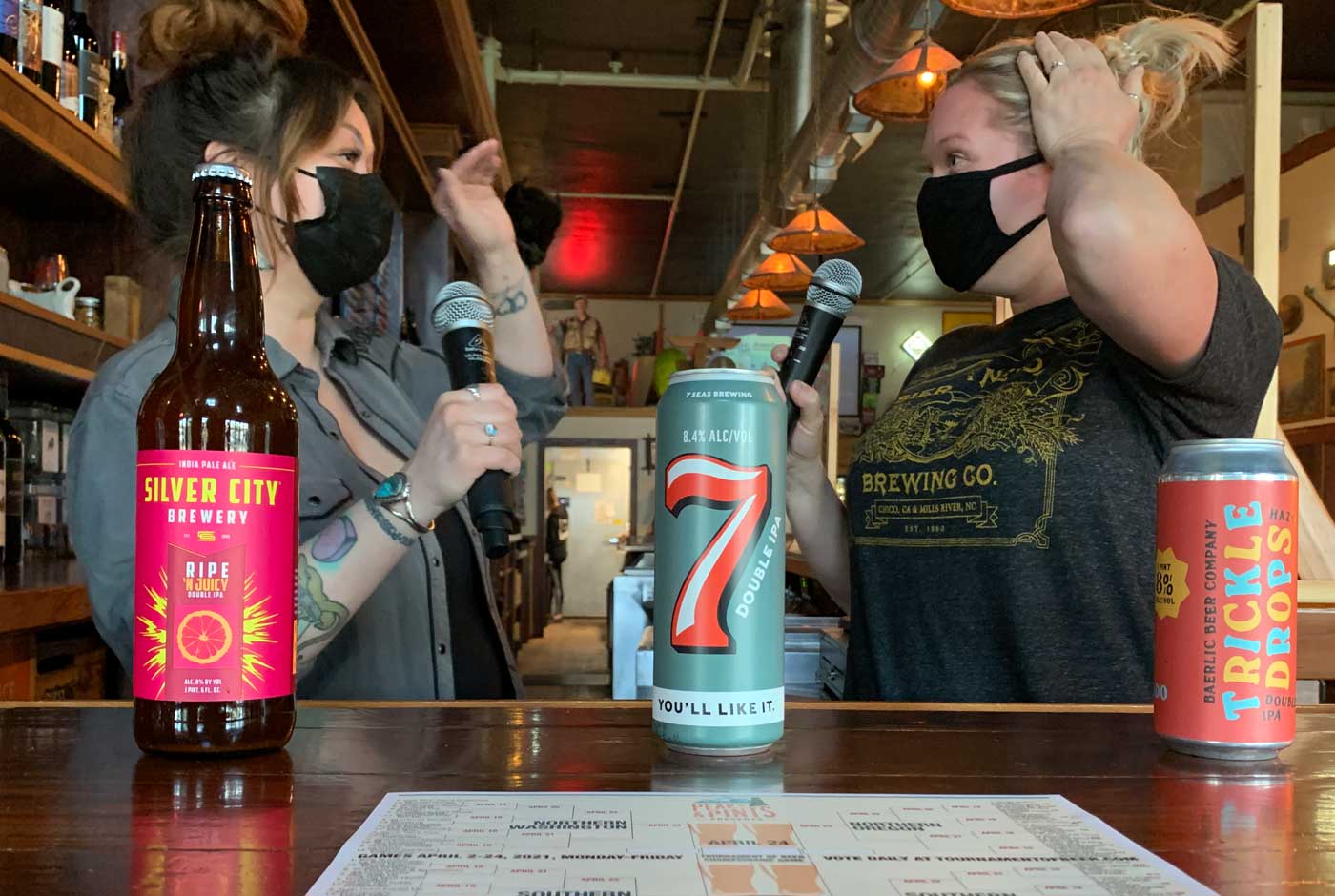 Peaks and Pints Tournament of Beer: NW Double IPAs April 6
AMBER HAMILTON: What constitutes a great double IPA? Who brews the best in the Pacific Northwest? Everyone seems to have his or her own favorite, and everyone's an expert. Throughout the month of February Peaks & Pints polled the public asking what are the top 64 double IPAs brewed in Washington and Oregon? You chimed in. Friday, April 2, we launched the Tournament of Beer: NW Double IPAs, pitting your 64 double IPAs against each other, similar to the NCAA Basketball Tournament, only with way more malt character.
BETHANY CARLSEN: It's not an easy balance to find, but if you get it right, a double IPA gives you more of everything. They take longer to brew. They offer more hoppy bitterness. They have deeper malty undertones. They contain more alcohol.
HAMILTON: And, don't freak out if you see the word "imperial" in this tournament. It's simply another term for a double.
CARLSEN: "Alright Hamilton!" Can you guess the movie quote? Fast Times at Ridgemont High! Anyway, imperial is another word for double in craft beer. Some say "imperial" came to be in the late 19th century when strong English stouts were brewed for export to the Russian court. English brewers bumped up the alcohol so the beer would survive the journey. I'm pretty certain that's not the case, but rather the imperial Russians preferred drinking stronger beer.
HAMILTON: Alright Russians! OK, let's take a look at yesterday's results and today's four games.
MONDAY, April 5, First Round NW Double IPAs Games Results
GAME 1, SOUTHERN WASHINGTON REGION
6. Wet Coast Two Flights Up vs. 11. Heathen Son of Malice
HAMILTON: Gig Harbor's scrappy, Prohibition-themed Wet Coast Brewing's Two Flights Up IIPA grabbed the lead early in this game and never looked back, nabbing 73 percent of the votes when all was said and done, which was the largest margin of victory yesterday
CARLSEN: Some believe Wet Coast's Sales Executive Paul Whitcomb's appearance at Peaks yesterday could have swung the vote in Wet Coast's favor, due to his party nature. Most, however, believe the beer's citrus flavors and aromas over assertive bitterness is the reason why Two Flights Up moves two flights up into the Second Round.
GAME 2, SOUTHERN WASHINGTON REGION
3. Backwoods Double Cutt vs. 14. Sig Terraformation 1.5x IPA
HAMILTON: These two double IPAs traded citrus shots all day until around 4:20 p.m. when the Tacoma Historic Brewery District denizen began to pull away. Rumor has it Sig Brewing got behind its awesome pizza and pushed Backwoods deeper into the backwoods. As the clock hit 11:45 p.m., Sig had 65 percent of the votes, and a spot in the Second Round.
CARLSEN: That's the definition of a surge.
GAME 3, NORTHERN OREGON REGION
5. Laurelwood Megafauna vs. 12. Ex Novo Dynamic Duo
CARLSEN: Megafauna, with its funny name and 100 IBUs, didn't care what hop version of the Dynamic Duo showed up to play. It cares about pine, citrus and tropical fruit notes. The Laurelwood double IPA channeled the Ice Age saber toothed cat its named after and clawed its way to a win with 50.88 percent of the votes.
GAME 4, NORTHERN OREGON REGION
4. pFriem Double IPA vs. 13. Ruse Interpreter
HAMILTON: Finally, in yesterday's closest battle, pFriem Double IPA edged out Ruse Interpreter by 10 votes. Loaded tropical fruit, orange with a little pine on the finish plus unassertive, but moderate hop bitterness, the Interpreter had the makings to go all the way … if pFriem's Double IPA bursting with flavors of baked grapefruit, ripe papaya, and a touch of malty sweetness wasn't in the way. pFriem's Double IPA will head into the Second Round to take on the Laurelwood Megafauna.
CARLSEN: Let's weed through the hops. The following are advancing to the Second Round:
Wet Coast Two Flights Up
Sig Terraformation 1.5x IPA
Laurelwood Megafauna
pFriem Double IPA
HAMILTON: OK, Let's dive into today's First Round action featuring eight double IPA battles. Please vote for one beer per game. Voting for today's double IPA battles ends at 11:45 p.m. Bartenders Sarah Jane and Nicole will announce the winners tomorrow morning around 10 a.m., as well as the next round of eight beer battles. OK, let's get to voting!
Tuesday, April 6, First Round Northwest Double IPA Games
GAME 1, SOUTHERN WASHINGTON
Player: Ripe N Juicy (#7 seed)
Team: Silver City Brewery, Bremerton
NOTES: This Silver City Brewery double IPA has huge hop character. It's made with Citra, Azacca and Amarillo, which contribute assertive tropical aroma and flavor. The Azacca taunts the nose with grapefruit, pineapple, and orange. The Amarillo hops are especially noticeable for their strong sweet orange flavor. Ripe 'N Juicy gains its signature dense, hazy body from the reaction of a specialized yeast strain with a hearty dose of flaked wheat. A massive canvas for a brilliantly fruity hop experience.
Let's Break It Down: 8% ABV • 75 IBU • Pilsner malt, flaked wheat • Citra, Azacca, and Amarillo hops • Pair it with the Rock Candy Mountain Trail
KIRK: Brothers Steve and Scott Houmes were restaurateurs until September 1996 when they added brewmaster "Big Daddy" Don Spencer to their lives. The three opened Silver City Brewery in Silverdale. In May of 2010, the brothers moved their brewery operations to a new, 7,600 square foot production facility and taproom in Bremerton.
CARLSEN: Silver City puts an electrifying spin on all beer styles, and backs them up with neon packaging.
Player: The Hoppy Giant (#10 seed)
Team: Matchless Brewing, Tumwater
NOTES: "The local villagers say that a giant lives deep in the woods, way up the mountain. A giant so robust with Centennial, Simcoe, Motueka & Enigma hops but gentle and kind with a little Idaho 7. A dank hoppiness with grapefruit & tropical fruit notes. Be this giant friend or foe? Drink in moderation to find out." … so states Matchless Brewing The Hoppy Giant hype. The Giant hits the note with big, sweet orange citrus resin. On the tongue, expect sweet orange, marmalade, and sticky sweet resin.
Let's Break It Down: 9% ABV • Centennial, Simcoe, Motueka, Enigma, and a little Idaho 7 hops • Pair it with the Klaus Ridge Trail
HAMILTON: Who opens with a 30-barrel system?
CARLSEN: Matchless Brewing Co. in Tumwater did. And, shortly after opening, Matchless brought home five medals at the Washington Beer Awards. The brewery reached its production capacity of 2,000 barrels in the first year. It's rare for a craft brewery to excel, and win awards, for all beer styles. Matchless does.
HAMILTON: I don't know Bethany … this game has all the makings for a classic.
SCROLL DOWN TO VOTE >>>>>>>>>>>>>>>>>>>>>>>>>>>>>>>>>>>>>>>>>>>>>>>>>>>>>>>>>>>>>>
GAME 2, SOUTHERN WASHINGTON
Player: Double IPA (#2 seed)
Team: 7 Seas Brewing, Tacoma
NOTES: Formerly known as Ballz Deep, this 7 Seas Brewing double IPA has copious amounts of resiny Yakima Valley hops making the firm, slightly sweet malt flavor works its ass off to seek balance. It's sold in 19.2-ounced flat gray cans and they move fast, like the alcohol.
Let's Break It Down: 8.4% ABV • 84 IBU • Magnum, Simcoe, Centennial, and Cascade hops • Pair it with the Packwood Lake Trail
HAMILTON: 7 Seas was founded in 2009 by Puget Sound natives Travis Guterson and Mike Runion. They build taprooms like they were LEGOS — I think they built five, probably more, including a new one on the Gig Harbor waterfront. They also build community.
CARLSEN: Indeed, they have loyal followers. And, with their double IPA back in another Peaks Tournament of Beer, they could make a serious run for the trophy.
Player: Babylon Pit (#15 seed)
Team: Mirage Beer, South Park Seattle
NOTES: Mike Dempster opened Mirage Beer in the Seattle South Park neighborhood, south of Georgetown, in November 2017. He earned his chops brewing at Greenpoint Beer Works in Brooklyn, Buoy Beer Co. in Astoria, and Wingman Brewers in Tacoma where he helped Peaks & Pints brew a recreation of Bert Grant's Perfect Porter called Perfect Proctor Porter for our opening day, Nov. 1, 2016. Mirage's Babylon Pit is so cloudy, it's damn near meteorological. This delicious double IPA is brewed with Michigan-grown Chinook in the boil and whirlpool and later double dry hopped with Enigma, Meridian, Ariana, and more Michigan-grown Chinook for a tropical, fruity, mango mix of pillow-y goodness.
Let's Break It Down: 8.3% ABV • Michigan-grown Chinook, Enigma, Meridian, and Ariana hops • Pair it with the Pratt Lake Trail

CARLSEN: I know Mike. He's amazing. He's a perfectionist and workaholic. He writes beer recipes down to the molecules and meticulously monitors his beers until they arrive in coolers and on tap lines. He also works 16-hour days logging hundreds of miles a week between him and his father, gathering ingredients, canning and moving product and brewing. He's not afraid to throw ungodly amounts of hops at a hazy.
HAMILTON: Mirage's Babylon Pit is so cloudy, it's damn near meteorological.
SCROLL DOWN TO VOTE >>>>>>>>>>>>>>>>>>>>>>>>>>>>>>>>>>>>>>>>>>>>>>>>>>>>>>>>>>>>>>
GAME 3, NORTHERN OREGON
Player: JB DIPA (#1 seed)
Team: Great Notion Brewing, Portland
NOTES: In 2016, Great Notion Brewing opened in Northeast Portland and opened the city's eyes. Owners James Dugan, Andy Miller, and Paul Reiter basically freaked out the city known as Beervana with their New England IPAs and boundary-pushing culinary-style beers. The awards followed: World Beer Cup, GABF, Best of Craft Beer Awards, and Oregon Beer Awards, as well as the 2018 #1 IPA in America from Paste Magazine, Ripe IPA. Their JB DIPA, formerly known as Juice Box, bursts with pungent American hops, thanks to more than 4 pounds of hops per barrel. It's fruity, creamy smooth, with mellow bitterness with pine and spice for balance.
Let's Break It Down: 8.2% ABV • Mosaic hops
HAMILTON: Great Notion was the first Portland brewery to become known for hazies, a controversial style, and initially the traditionalists hated it. Now the traditionalists are all wearing Great Notion T-shirts.
CARLSEN: And they achieve the incredible fruit flavors with just hops!
Player: Obscured By Clouds (#16 seed)
Team: Culmination Brewing, Portland
NOTES: Culmination Brewing's award-winning New England-style hazy IPA Obscured By Clouds rains grapefruit, hop resin and bitters, then showers lemon zest, pineapple, lime, and mango both the smell and taste. Classic combo for a hazy, but with a West Coast flair in the middle. It's smooth, with hop molding in a bright and complex way.
Let's Break It Down: 8.4% ABV • 24 IBU • Galaxy and Citra hops
CARLSEN: In 1994, Tomas and April Sluiter left their bakery jobs in Grand Rapids, Michigan, and hit the road. They traveled extensively. Then, in the summer of 2000, they discovered Portland, Oregon. Thomas took an assistant brewer job at the Old Market Pub in Southwest Portland. Within two weeks of his hire, the head brewer quit and Tomas was thrown into that role. He dismantled the old, tired brewing system and refurbished a 15-barrel system. In January 2017, seven years after Tomas left Old Market and almost two years after attempting to open his brewery in Portland's Goose Hollow neighborhood, he and April opened Culmination Brewing in Northeast Portland's Bindery Annex building. Tomas, now a certified Master Brewer, built his dream brewery in the 7,000-square-foot space kitted out with gravity-fed tanks.
HAMILTON: I expected the public to nominate Obscured By Clouds in a higher seed. It's truly amazing.
SCROLL DOWN TO VOTE >>>>>>>>>>>>>>>>>>>>>>>>>>>>>>>>>>>>>>>>>>>>>>>>>>>>>>>>>>>>>>
GAME 4, NORTHERN OREGON
Player: Ace of Spades (#8 seed)
Team: Hopworks Urban Brewery, Portland
NOTES: Brewed with 195 pounds of hops, Hopworks Urban Brewery's hopped-out beast has hops added at every point: mash tun, first wort, kettle and dry hop. It pours burnt orange. Juicy orange wrapped around fresh pine hit the nose. A robust malt backbone delivers dark toasted and sweet caramel flavors, providing a solid foundation for the mouth-filling tropical hop oils and pine hop notes.
Let's Break It Down: 8.6% ABV • 100 IBU • Cascade, Centennial, Simcoe, Mosaic, and Amarillo hops
CARLSEN: As you might guess with the 100 IBU rating, this brew is upfront about its bitterness, along with citrus and pine notes, grips the mouth long after the swallow.
HAMILTON: "I see it in your eyes, take one drink and die, the only thing you see, you know it's gonna be, The Ace Of Spades!"
Player: Trickle Drops (#9 seed)
Team: Baerlic Brewing, Portland
NOTES: Tucked onto Southeast 11th Avenue in Portland's Central Eastside, Baerlic Brewing was named the 2017 Small Brewery of the Year at the Oregon Beer Awards followed by an award for their growth, 2018 Mid-Sized Brewery of the Year at the Oregon Beer Awards. Their Trickle Drops hazy double IPA is brewed with Citra, Galaxy, and El Dorado hops for juicy grapefruit, pineapple and passionfruit flavors.
Let's Break It Down: 8% ABV • Citra, Galaxy, and El Dorado hops
CARLSEN: In 2014, then-homebrewers Ben Parsons, a graphic designer, and Richard Hall, who earned his paycheck as a bike mechanic, took their work-a-day approach to life and transplanted it into Baerlic, which means "of barley" in old English. Their location is in the midst of one of the densest thickets of breweries in the city.
HAMILTON: I get a lot of orange pulp and some vanilla in Trickle Drops, and I'm not mad about it.
VOTE BELOW >>>>>>>>>>>>>>>>>>>>>>>>>>>>>>>>>>>>>>>>>>>>>>>>>>>>>>>>>>>>>>>>>>>>>>

Wednesday, April 7 Peaks and Pints Tournament of Beer: NW Double IPAs action …
Game 1: Cloudburst Keys Phone Wallet Mask (#5 seed) vs. Rainy Daze Only The Tip (#12 seed)
Game 2: Structures Double IPA (#4 seed) vs. Skookum Mammoth Jack (#13 seed)
Game 3: Barley Browns Forklift (#6 seed) vs. Hop Valley Alpha Centauri (#11 seed)
Game 4: Crux Half Hitch (#3 seed) vs. Worthy Imperial IPA (#14 seed)
LINK: Peaks and Pinks Tournament of Beer: NW Double IPAs previous games
LINK: Tournament of Beers: NW Double IPAs explanation
LINK: Hot Damn! Yes, I want to subscribe to Peaks & Pints 6-Pack of Things To Do newsletter and be hip to local happenings!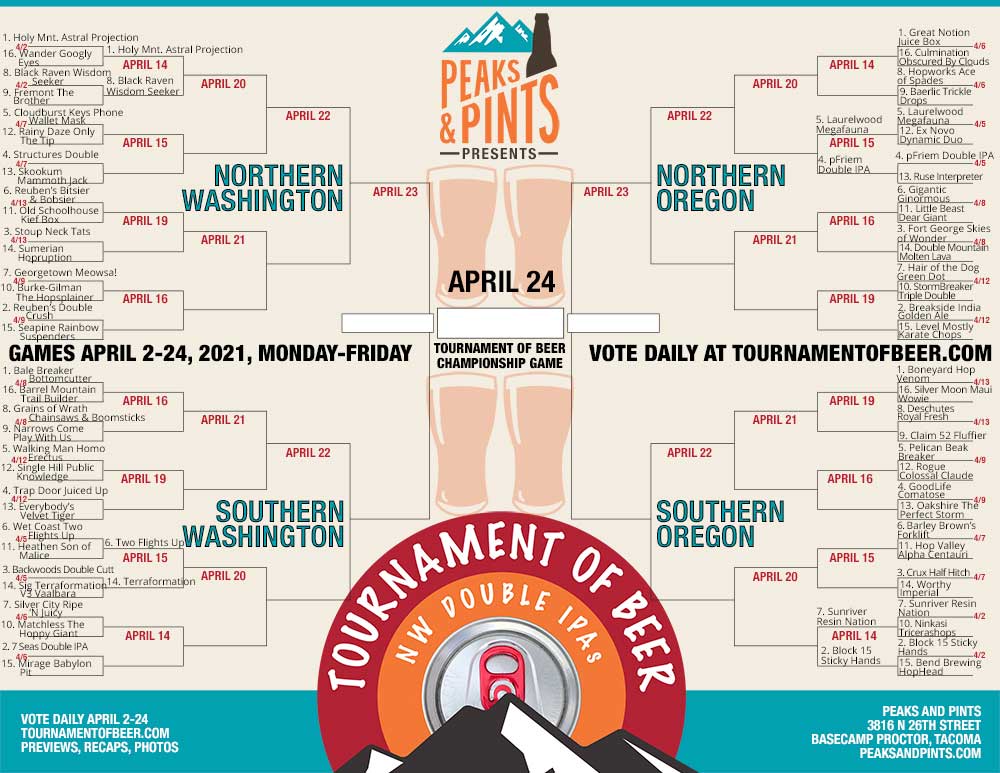 ---