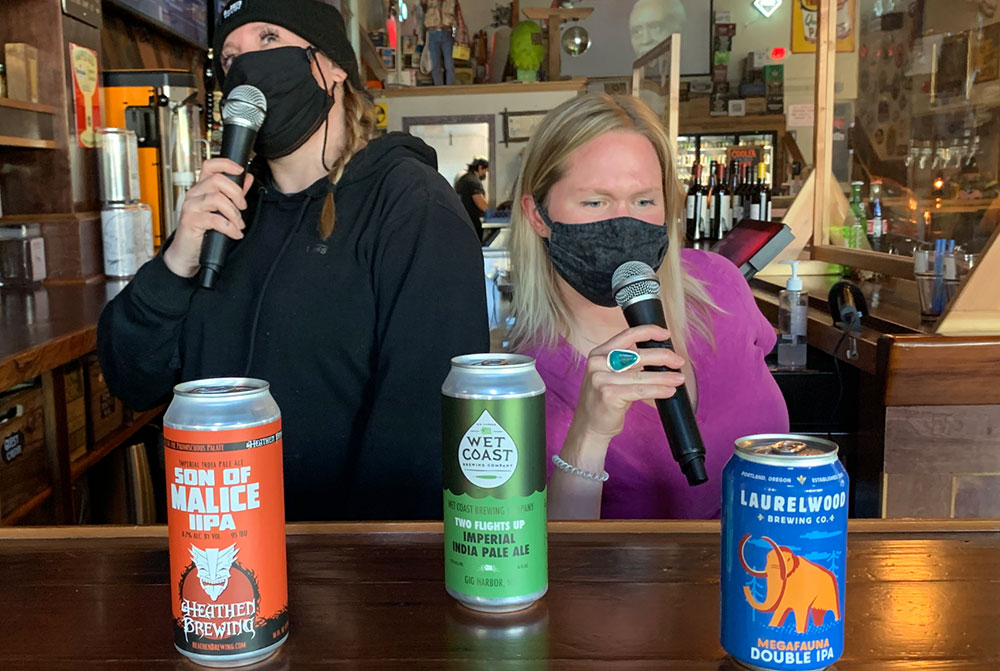 Peaks and Pints Tournament of Beer: NW Double IPAs April 5
AMY KIRK: Welcome back, ladies and gentlemen, to the 2021 Peaks and Pints Tournament of Beer: NW Double IPAs from the historic Proctor District in beautiful Tacoma, Washington. I'm Peaks & Pints bartender Amy Kirk and whaddaya know? It's April 5 and dagnabit if all that "Madness" isn't still in the air! What's one to do with all that pent up madness? It can make for quite the dilemma. …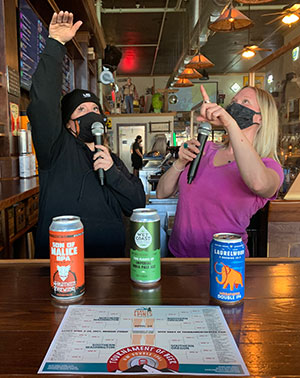 BETHANY CARLSEN: Unless, of course, you've found something like the Peaks and Pints Tournament of Beer: NW Double IPAs to help get you through. Hello, I'm Peaks bartender Bethany Carlsen and as a reminder, the Tournament of Beer: NW Double IPAs features 64 imperial IPAs from Washington and Oregon, all seeded by public vote, and separated into four regions: Northern Washington, Southern Washington, Northern Oregon and Southern Oregon. The top 64 vote getters — the cream of the hops — will compete Monday through Friday on our website, through April 24. Through online voting, double IPA drinkers will pick daily winners until the best double IPA is crowned.
KIRK: It's just like March Madness, only with way more IBUs. The Tournament of Beer: NW Double IPA grand champion will be announced at a reservation only Tournament of Beer Party (hopefully), April 24, at our craft beer bar, bottle shop and restaurant. We'll tap the final two doubles that morning and cut off the online voting at 8 p.m. then announce the winner shortly after. We hope the two breweries will be in the house to join in on the fun. Like every year, the champion brewery will receive a permanent handle at Peaks through the spring and summer 2021.
CARLSEN: Let's dive into today's First Round action featuring eight double IPA battles. Please vote for one beer per game. Voting for today's double IPA battles ends at 11:45 p.m. Bartender Amber and I will announce the winners tomorrow morning around 10 a.m., as well as the next round of eight beer battles.
KIRK: Ladies and gentlemen, please join in the singing of our national anthem.
CARLSEN: Thank you Jack Black! OK, let's get to voting!
Monday, April 5, First Round Northwest Double IPA Games
GAME 1, SOUTHERN WASHINGTON
Player: Two Flights Up (#6 seed)
Team: Wet Coast Brewing, Gig Harbor
NOTES: West Pierce Fire and Rescue firefighters Bryan Copeland and Aaron Johnson are the brewers and co-owners behind Wet Coast Brewing, along with their wives Molly Copeland and April Johnson. They started planning their brewery for years but didn't get serious until 2012. They opened in Gig Harbor in 2015 on a 3.5-barrel brewing system, which has since been replaced by a much larger system. Their Two Flights Up IIPA offers citrus flavors and aromas shine bright as an assertive bitterness grabs hold of your palate. The beer finishes slightly dry with a mild alcohol warmth.
Let's Break It Down: 8.2% ABV • 92 IBU • Pair it with the Hoh River Trail
KIRK: You could call Wet Coast a Prohibition-themed brewery. Take their Two Flights Up double IPA — During Prohibition, a New York journalist believed he could capture the entire history of the United States in 11 words: "Columbus, Washington, Lincoln, Volstead, two flights up and ask for Gus."
CARLSEN: Sure, we all just want to put on our glad rags and sip some giggle water. But it's like this, doll: If you don't have a reservation through Open Table there's the possibility you're gonna get pinched at Peaks. Play it nice and easy. Grab an online reservation then stroll into Peaks & Pints like you own the place, like you're just there for the fancy sandwich special and a Two Flights Up. A lodge-like speakeasy in the heart of the Proctor District? Hot socks!
KIRK: Rad!
Player: Son of Malice (#11 seed)
Team: Heathen Brewing, Vancouver
NOTES: Sunny Parsons founded Heathen Brewing in 2012 in a converted barn near his home in Vancouver. Feral Public House, a 2,000-square-foot restaurant, opened three years later. Their Son of Malice Imperial IPA hits the nose with sweet malts and piney hops, followed by bitter hop flavors with notes of pine and grapefruit with hints of malt sweetness.
Let's Break It Down: 8.7% ABV • 95 IBU • 2-Row, Vienna, CaraFoam, Pale Wheat, and Dextrose malts • Chinook, Amarillo, Centennial, Cascade, and Simcoe hops
CARLSEN: The full-bodied malt backbone dangerously balances the hops until the bitter finish kicks in and leaves a hoppy residue that you can scrape off with your teeth.
KIRK: I hear their downtown Vancouver taproom's urinals are cut from old beer kegs.
CARLSEN: This will be a battle of bitterness.
SCROLL DOWN TO VOTE >>>>>>>>>>>>>>>>>>>>>>>>>>>>>>>>>>>>>>>>>>>>>>>>>>>>>>>>>>>>>>
GAME 2, SOUTHERN WASHINGTON
Player: Double Cutt (#3 seed)
Team: Backwoods Brewing, Carson
NOTES: Jim Waters and his wife, Debbie, began filling their grocery store in Carson, Washington, with their homebrew. They went pro in 2012, opening Backwoods Brewing in the same town at the gateway to the Gifford Pinchot National Forest. Jim's sons, Steve, Kevin and Tom joined the business. Today, Steve and Tom carry the torch. Their Double Cutt Imperial IPA is double dry-hopped with Yakima and Australian hops for a huge floral nose and a hop-forward character with notes of citrus and pine that are balanced by a lightly sweet malt finish.
Let's Break It Down: 8.5% ABV • 65 IBU • Blend of Yakima and Australian hops • Pair it with a hike up Dog Mountain
KIRK: I totally dig how at 469 feet above sea level Carson looks and feels like a mountain town
CARLSEN: I totally dig their tequila barrel-aged Double Cutt, which they release on Cinco de Mayo.
Player: Terraformation (#14 seed)
Team: Sig Brewing, Tacoma
NOTES: Sig Brewing and Head Brewer Jeff Stokes just released their fourth Terraformation 1.5x hazy IPA, V4 Ur, featuring a triple dry hop of Altus cryo, Comet cryo, and Strata hops. Although Sig calls the series a 1.5x IPA, it's 7.8 percent ABV classifies it as a double IPA. Technically, the V3 Vaalbara was nominated by the public into the Tournament of Beer: NW Double IPAs, but Peaks & Pints believes the whole series should be nominated. They're all triple dry hopped with different hops, but all four versions have been life-changing, to play off the series name.
Let's Break It Down: 7.8% ABV • Idaho 7 cryo, Simcoe cryo, Strata, and El Dorado hops • Pair it with hikes in Point Defiance Park
KIRK: Terraforming or terraformation — literally meaning "Earth-shaping" — is the hypothetical process of deliberately modifying the atmosphere, temperature, surface topography or ecology of a planet, moon.
CARLSEN: Jeff Stokes makes great beer.
SCROLL DOWN TO VOTE >>>>>>>>>>>>>>>>>>>>>>>>>>>>>>>>>>>>>>>>>>>>>>>>>>>>>>>>>>>>>>
GAME 3, NORTHERN OREGON
Player: Megafauna Double IPA (#5 seed)
Team: Laurelwood Brew Pub, Portland
NOTES: Laurelwood Brew Pub has re-released its fan favorite, award-winning Megafauna Double IPA. It's mega pine and citrus on the nose, followed by a blend of hops giving it big bite of resinous pine that segues into ripe orange and grapefruit, pineapple, mango and tangerine.
Let's Break It Down: 9.5% ABV • 100 IBU • 2013 Brewing News National Imperial IPA Champion
KIRK: This beer takes its name from the oversized animals of the Pleistocene Era, or Ice Age. Large saber-toothed cats, hairy elephants, sloths the size of buses roamed the frozen tundras. Everything was big and/or hairy, with extra horns, tusks, teeth, etc. A tough time to be fighting for survival … like those massive animals, this beer is huge with hop aroma and flavor.
CARLSEN: I agree. It's hop-forward, full-bodied and strong. Yet the balance with the malt lends enough depth and a spicy complexity to make it very interesting. This is a double IPA that succeeds because it doesn't try too hard to hit the palate with raw hoppiness.
Player: Dynamic Duo (#12 seed)
Team: Ex Novo Brewing, Portland
NOTES: Ex Novo Brewing's Dynamic Duo Imperial IPA burst on the scene in July 2015 with an ambitious and exciting goal: to provide an extremely drinkable IIPA and to provide a canvass to showcase different hop combinations. The concept was simple: keep the target specs the same and the malt profile nearly the same and pick two different hops in combination each time they brewed it. After 14 different releases, they began changing the recipes less frequently, as well as brewing with different malt profiles that fit the season.
Let's Break It Down: 7.6% ABV • 89 IBU • Rotating hops
KIRK: A series like this keeps things fresh and makes snagging the beer that much more exciting. It also gives the brewery a platform to let creativity thrive. It's like the brewers are free to jam.
CARLSEN: A rotating hop series is also a way to craft the perfect beer. Using each batch as an incubator for fresh ideas, and with public feedback, you can create a year-round beer.
KIRK: Each voter in this tournament could be basing their vote on a different Dynamic Duo, though. This will be an interesting game.
SCROLL DOWN TO VOTE >>>>>>>>>>>>>>>>>>>>>>>>>>>>>>>>>>>>>>>>>>>>>>>>>>>>>>>>>>>>>>
GAME 4, NORTHERN OREGON
Player: Double IPA (#4 seed)
Team: pFriem Family Brewers, Hood River
NOTES: pFriem Family Brewers (pronounced "freem") is a Northwest and Belgian inspired 15-barrel brewery and tasting room in Hood River, Oregon. Founded in 2012 by Josh pFriem, Ken Whiteman and Rudy Kellner, pFriem has experienced incredible growth and has earned prestigious awards, including Brewery of the Year. Their Double IPA is brewed with Chinook, Mosaic, Citra, Nelson Sauvin, and Equinox hops for aromas of ripe stone fruit, bright strawberry, and blackberries. Expect bursting flavors of baked grapefruit, ripe papaya, with a touch of malty sweetness, plus a touch of tangerine rind melded with resiny hoppy goodness on the finish.
Let's Break It Down: 9.1% ABV • 77 IBU • Chinook, Mosaic, Citra, Nelson Sauvin, and Equinox hops • Pair it with the Pacific Crest Trail
CARLSEN: Seattle native Josh Pfriem began homebrewing while at Western Washington University in his early 20s then moved to Utah to be a ski bum. He worked at Utah Brewers Cooperative for a few years before moving back to his old college town of Bellingham where he began brewing at Chuckanut Brewery. Chuckanut won the Great American Beer Festival Small Brewpub of the Year in 2009. Next, Josh moved to Hood River to work at Full Sail but left in December 2011 to open pFriem Family Brewers — across the highway from Full Sail along the banks of the Columbia River — in August 2012.
KIRK: The brewery prides itself on its strong family focus and community involvement, as well as its ingredients — while many craft brewery websites list the notable spices and hops used in their brews, none we've encountered boast the encyclopedic cataloging of every ingredient the way pFriem does.
Player: Interpreter DIPA (#13 seed)
Team: Ruse Brewing, Portland
NOTES: Shaun Kalis and Devin Benware began brewing their Ruse beers on a big system before Ruse was a thing. When not brewing for Tomas Sluiter at Culmination Brewing, whom they originally worked under at the Old Market Pub & Brewery in Multnomah Village, they used Tom's tanks to make their Ruse beer. Kalis and Benware moved into their big southeast Portland facility a little over three years ago. These guys can brew all styles but pay close attention what the consumers reactions. Interpreter DIPA was their first hazy IPA and they still love it. It hits the nose with caramel malt, citrus and tropical fruit hops, followed by a hint of caramel, tropical fruit, and orange with a little pine on the finish with unassertive, but moderate hop bitterness.
Let's Break It Down: 8.2% ABV • 70 IBU • UK malt, malted wheat, and rolled oats • Double charge of Citra and Mosaic hops
KIRK: Ruse rocks. Literally. Their beautiful taproom in Portland's Sellwood neighborhood was built with hosting live music in mind, including performances by musician and owner Shaun Kalis. I know Kalis and Rainier Growlers manager Ben Chase trade guitars back and forth.
CARLSEN: Ruse brews small batch, flavorful, and thoughtfully crafted beers. They'll be tough to beat.
VOTE BELOW >>>>>>>>>>>>>>>>>>>>>>>>>>>>>>>>>>>>>>>>>>>>>>>>>>>>>>>>>>>>>>>>>>>>>>>

Tuesday, April 6 Peaks and Pints Tournament of Beer: NW Double IPAs action …
Game 1: Silver City Ripe N Juicy (#7 seed) vs. Matchless The Hoppy Giant (#10 seed)
Game 2: 7 Seas Double IPA (#2 seed) vs. Mirage Babylon Pit (#15 seed)
Game 3: Great Notion Juice Box (#1 seed) vs. Culmination Obscured By Clouds (#16 seed)
Game 4: Hopworks Ace of Spaces (#8 seed) vs. Baerlic Trickle Drops (#9 seed)
LINK: Tournament of Beers: NW Double IPAs explanation
LINK: Hot Damn! Yes, I want to subscribe to Peaks & Pints 6-Pack of Things To Do newsletter and be hip to local happenings!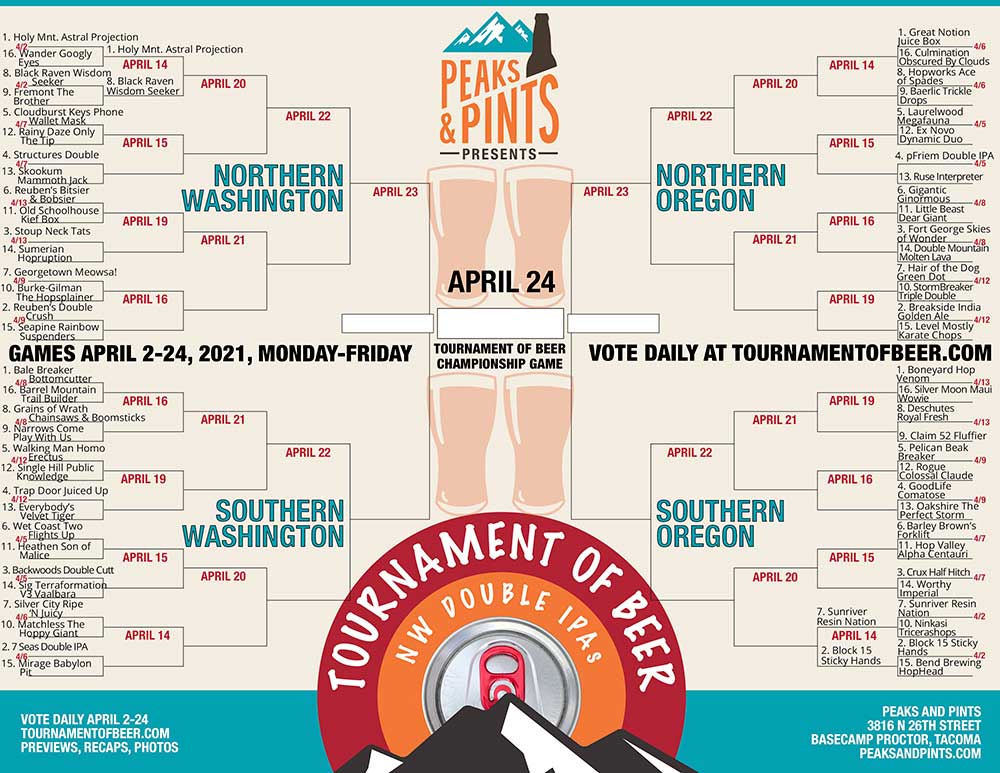 ---