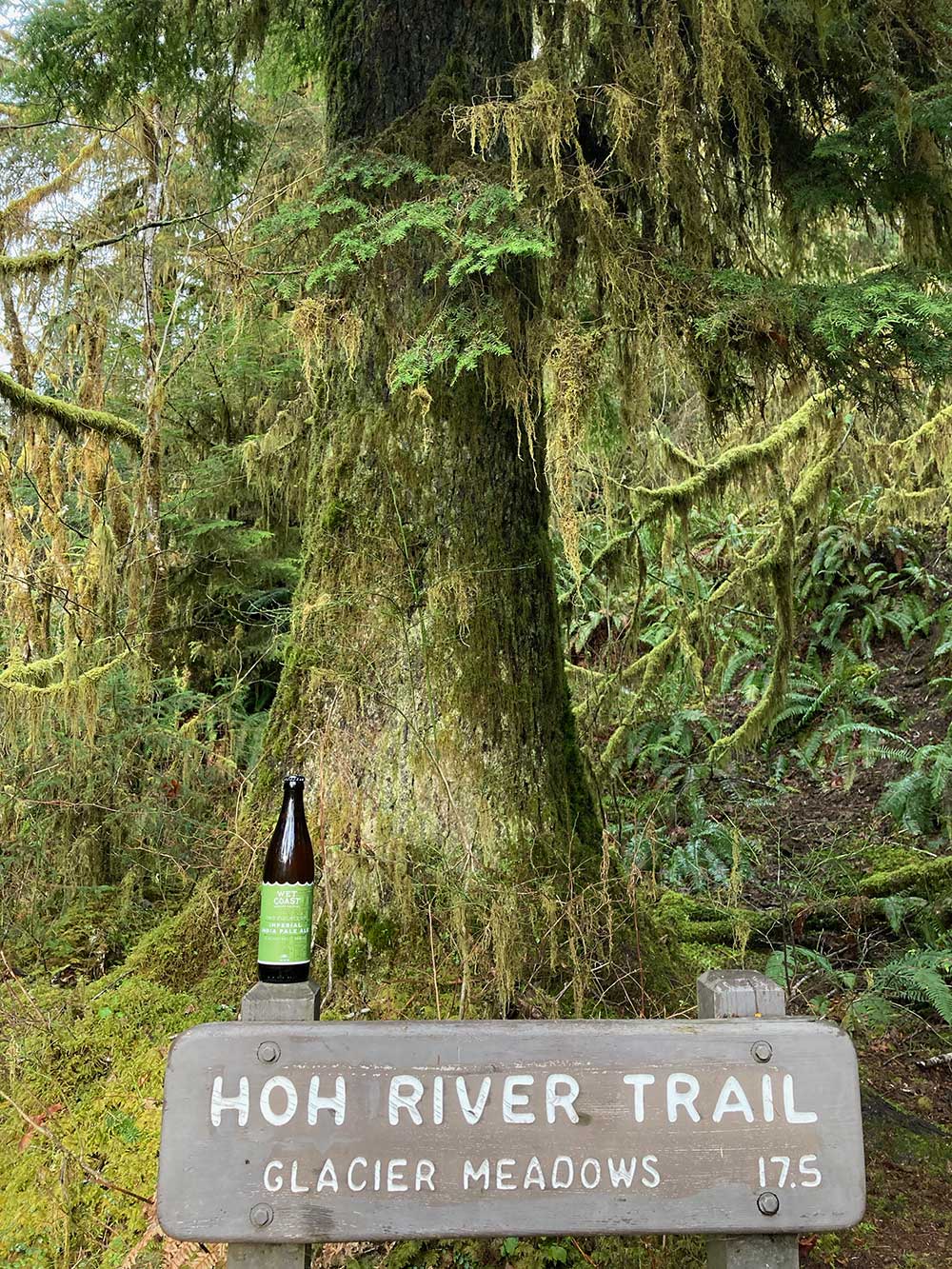 Peaks and Pints: Wet Coast Two Flights Up and Hoh River Trail
Wet Coast Brewing's Two Flights Up was nominated as a sixth seed in the Southern Washington Region of the Peaks & Pints Tournament of Beer: NW Double IPAs, which will begin April 2, 2021. The tournament bracket will be released soon. Since we're not touring breweries to preview the tournament this year, we enjoyed the Peaks and Pints: Wet Coast Two Flights Up and Hoh River Trail pairing.
Hops: Wet Coast Two Flights Up
West Pierce Fire and Rescue firefighters Bryan Copeland and Aaron Johnson are the brewers and co-owners behind Wet Coast Brewing, along with their wives Molly Copeland and April Johnson. They started planning their brewery for years, but didn't get serious until 2012. They opened in Gig Harbor in 2015 on a 3.5-barrel brewing system, which has since been replaced by a much larger system. Their Two Flights Up IIPA offers citrus flavors and aromas shine bright as an assertive bitterness grabs hold of your palate. The beer finishes slightly dry with a mild alcohol warmth.
Let's Break It Down: 8.2% ABV • 92 IBU • Wet Coast Brewing is a Prohibition-themed brewery in Gig Harbor, Washington • In the 1932 presidential election, King, Pierce, and Spokane counties voted "wet," meaning those citizens voted for Democrat Franklin D. Roosevelt and his desire to bring back the drinkies, instead of Republican Pres. Herbert Hoover's desire to keep "the noble experiment," Prohibition.
Hike: Hoh River Trail
The Hoh River Trail begins as an easy hike near Forks, with a low grade and well-maintained trail tread. This mellow hiking trail runs through the rainforest and along the banks of the Hoh River. Five Mile Island is a popular spot to camp for the night. After Five Mile Island, the trail continues to follow the river, so the grade remains mellow. Olympus Guard Station is another popular spot to camp, located further along at 9.1 miles from the start. Eventually, the trail leaves the river and begins climbing into the mountains. For hikers, the turn-around point for the route is near Glacier Meadows at the Blue Glacier Overlook. Mountaineers use the Hoh River Trail to access the glaciers while making for nearby mountain peaks.
Let's Break It Down: 35.3 mile heavily trafficked out and back trail • high point 4,300 feet • elevation gain 3,704 feet • easy to difficult •  Olympic National Park
Haps: Post-hike Celebration
Back at the trailhead, we divvied up the Wet Coast Two Flights Up double IPA and discussed the meaning behind the beer's name. During Prohibition, a New York journalist believed he could capture the entire history of the United States in 11 words: "Columbus, Washington, Lincoln, Volstead, two flights up and ask for Gus." We also discussed how the Olympic National Park, originally created as a national monument in 1909 and designated a national park in 1938, was almost named Elk National Park as it protects the largest unmanaged herd of Roosevelt elk in the country. Also, the Olympic National Park is one of the few rain forests on the planet with 12 to 14 feet of rain each year.
Highway: Getting There
Turn east off highway 101 approximately 10 miles south of Forks onto the Hoh River Road. Follow this for 19 miles to the road end where the ranger station and trailhead are located.
Tournament of Beer: NW Double IPAs
OK, Covid, we'll just take the Peaks & Pints Tournament of Beer into the woods. …
The public nominated 64 Northwest double IPAs for the Tournament of Beer: NW Double IPAs in February. Beginning April 2, through online voting on this website, Washington and Oregon double IPA drinkers will pick daily winners until the best double IPA in the Northwest is crowned April 24.
Our pre-Tournament hype will be different this year. No brewery research tour. No candid photos of bartenders pouring double IPAs for review. No hotel parties.
Instead, Peaks & Pints will preview the Tournament of Beer: NW Double IPAs by taking the 64 nominated double IPAs on hikes relatively close to where they were brewed. After all, a post-hike double IPA can quench your thirst and begin to rehydrate you, lubricate your senses and, like the act of hiking, help maintain sanity, balance and perspective. Oh, believe us when we say the hike is still paramount to the experience. If it wasn't, we'd skip the hike and just head to the taproom. Rather, Peaks & Pints is a big believer in hanging at the trailhead with our fellow hikers, divvying up a beer and discussing the hike, or whatever subjects, as we store away our gear.
Join us. Take the nominated double IPAs on hikes. Then, look for the first round of Tournament of Beer: NW Double IPAs voting April 2 at tournamentofbeer.com or this website.
---