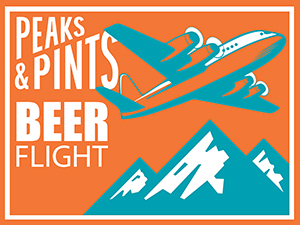 Pale ales originated in the UK in the late 1700s after reliable methods existed to produce pale barley malt, and that meant pale-colored beer. At first, the new pale malt was expensive, so the pale beers were limited to wealthier drinkers. But as pale malt became more affordable, pale-colored ales displaced dark ales in popularity, slowly overtaking porter and stout. Sierra Nevada "Americanized" the style in 1980 when they boosted the alcohol content of the low ABV English pales, and with more malt also came more hops — specifically Cascade hops. In addition, Sierra Nevada boosted the carbonation, which became a desirable trait for the American beer lover. Since Peaks & Pints has a bunch of new pale ales in our cooler, we crafted a to-go flight of pale ales that we call Peaks and Pints Pilot Program: Sierra Nevada and Pale Pals.
Peaks and Pints Pilot Program: Sierra Nevada and Pale Pals
Sierra Nevada Pale Ale
5.6% ABV, 38 IBU
A tip of the cap to the iconic Sierra Nevada Pale Ale that makes all the others in this flight possible. First brewed in 1980, Sierra was the craft that started appearing next to Bud and Miller handles, thus shifting the beer landscape of what people wanted to drink. It was a victory of flavor over, uh, liquid. It has a deep amber color and an exceptionally full-bodied, complex character. Magnum and Perle gives this this craft beer a clean, bitter taste. Generous quantities of premium Cascade hops give the Pale Ale its fragrant bouquet and spicy flavor.
Mirage Thief Kid
4.7% ABV
Mike Dempster brewed at Greenpoint Beer Works in Brooklyn, Buoy Beer Co. in Astoria, and Wingman Brewers in Tacoma before opening Mirage Beer brewery in Seattle's South Park neighborhood. Opened as a farmhouse-focused brewery, with some of his sours and saisons spontaneously fermented, it wasn't long before he was known for his hazy IPAs and lagers. He's also known for being a workaholic and perfectionist, which transfers to his beers. His Thief Kid hazy pale is dry-hopped with Eureka, Aramis, and Calypso hops for a light-bodied but sharp pale with pine notes.
Fort George City of Dreams
5.5% ABV
"Whether you call it Shangri-La or Utopia or City of Dreams, one thing is certain — this is the beer you will find there." So states Fort George Brewery's City of Dreams hazy pale hype. For the amount of love Fort George gushes over its hometown of Astoria it would seem they brewed this delicious pale for the city. Fort George's new year-round pale tastes like the bastard love child of their Suicide Squeeze IPA. There's a mango/tropical quality on the nose that translates to the taste, with a touch of grapefruit. It's not bitter. It's creamy. It's delicious.
Marlowe The Way Things Were
5.5% ABV
Zac Ross bounced around from Voodoo Brewery in his native Pennsylvania to Commonwealth Brewing in Virginia Beach, and was last at Kent Falls before taking charge of the system at Twelve Percent's new production brewery in North Haven, Connecticut. Twelve Percent produces beer on a contract basis for Stillwater, Evil Twin, Omnipollo, Dugges, Hoof Hearted, and many, many other brands, including Ross' Marlowe Artisan Ales, a brand named after his late grandfather. Marlowe's Vermont-style The Way Things Were pale ale is reminiscent of the early original New England style pale ales. Brewed with Warrior, Columbus, Chinook, Centennial, and Simcoe hops, this pale is a hazy, juicy, soft, piney floral crusher.
Belching Beaver Deftones_Ohms
5.5% ABV
Chino Moreno, lead singer of alt-metal band Deftones, is a hophead. When Moreno isn't screaming "I watched you change into a fly!" he's drinking craft beer. A longtime fan of artisan beer — and IPAs in particular — Moreno requests local ales at every stop along his band's tours. San Diego brewery Belching Beaver got word of Moreno's drinking passion offering the Sacramento band a collaboration opportunity to brew on many a beer, including Deftones_Ohms pale ale. Expect bright, citrusy aromas coming off of this generously dry-hopped pale ale. There's plenty of lemon peel, grapefruit, and pineapple aromas with a blend of some light pine to give a more nuanced and complex tableau that isn't found in a lot of pale ales. The finish is nice, light, and very refreshing.
Bend Killer Stache 2.0
5.5% ABV, 40 IBU
Part of Bend Brewing's The Pub Series, which allows them to release small batch beers that would normally only be found at their downtown Bend brewpub to a wider audience, Killer Stache NW Pale Ale began as a revival of the classic American pale ale and has evolved into a modern Northwest pale with Citra and Amarillo to remind us all that the defining fruit and citrus punch of this classic hop combination still "resin"-ates all these years later.
---