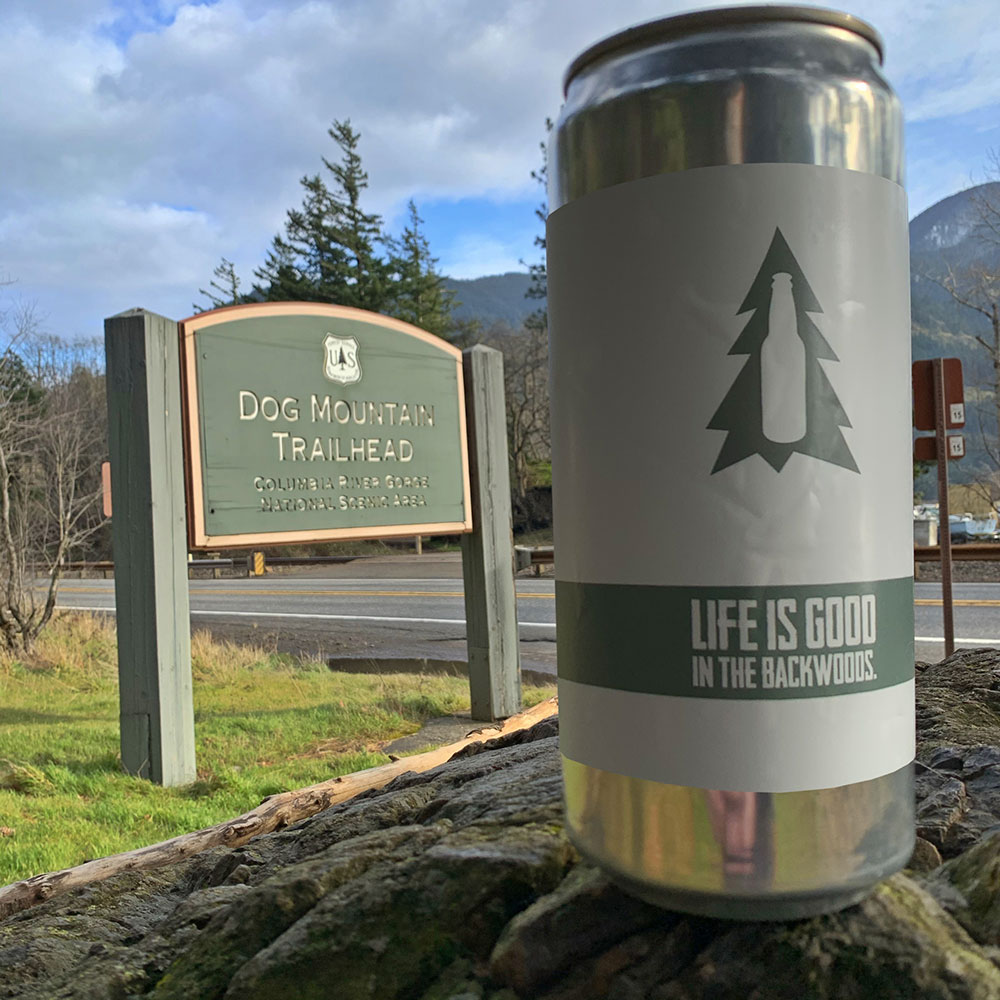 Peaks and Pints: Backwoods Double Cutt and Dog Mountain
Backwoods Double Cutt Imperial IPA was nominated as a third seed in the Southern Washington Region of the Peaks & Pints Tournament of Beer: NW Double IPAs, which will begin April 2, 2021. The tournament bracket will be released soon. Since we're not touring breweries to preview the tournament this year, we enjoyed the beer as a Peaks and Pints: Backwoods Double Cutt and Dog Mountain pairing.
Hops: Backwoods Double Cutt
Backwoods Brewing Double Cutt Imperial IPA is double dry-hopped with Yakima and Australian hops for a huge floral nose and a hop-forward character with notes of citrus and pine that are balanced by a lightly sweet malt finish.
Let's Break It Down: 8.5% ABV • 65 IBU • Jim Waters and his wife, Debbie, began filling their grocery store in Carson, Washington, with their homebrew. They went pro in 2012, opening Backwoods Brewing in the same town at the gateway to the Gifford Pinchot National Forest. Jim's sons, Steve, Kevin and Tom joined the business. Today, Steve and Tom carry the torch.
Hike: Dog Mountain Loop
Dog Mountain is a popular hike due to its easy access in the Gorge, beautiful views, and relatively short distance. Don't let the distance and low elevation fool you, however; the trails are steep and will require some fitness and perseverance. Poison oak lines the trail as you head up into Douglas-fir woods with vista views of Grant Lake, Shellrock Mountain, Mount Defiance, and Wind Mountain. Expect switchbacks, ridges and traverses across meadows. You'll emerge from the woods at Puppy Dog Lookout, once the site of a fire lookout, with sweeping views of the Oregon side of the Columbia Gorge.
Let's Break It Down: 7.5 mile loop • elevation gain 2,880 feet • high point 2,948 feet • rated moderate • Columbia River Gorge National Scenic Area
Haps: Post-hike Celebration
Back at the Dog Mountain trailhead, we divvied up the Backwoods Double Cutt crowler and marveled at 469 feet above sea level Carson looks and feels like a mountain town. We discussed how much we miss Kevin Waters when walking into Backwoods now that he is the executive director of the Skamania County Economic Development Council. We also miss the tequila barrel-aged Double Cutt — so good! We laughed at all the dogs we saw on Dog Mountain, and not so much laughter at the poison oak growing in lower elevation portions of the trail.
Highway: Getting There
Take Washington Hwy 14 through the town of Stevenson and then Wind Mountain. The trailhead is at milepost #53. Turn left/north into the large gravel parking lot. This can be a busy lot. NW Forest Pass is required. It is illegal to park on the shoulder of Hwy 14.
Tournament of Beer: NW Double IPAs
OK, Covid, we'll just take the Peaks & Pints Tournament of Beer into the woods. …
The public nominated 64 Northwest double IPAs for the Tournament of Beer: NW Double IPAs in February. Beginning April 2, through online voting on this website, Washington and Oregon double IPA drinkers will pick daily winners until the best double IPA in the Northwest is crowned April 24.
Our pre-Tournament hype will be different this year. No brewery research tour. No candid photos of bartenders pouring double IPAs for review. No hotel parties.
Instead, Peaks & Pints will preview the Tournament of Beer: NW Double IPAs by taking the 64 nominated double IPAs on hikes relatively close to where they were brewed. After all, a post-hike double IPA can quench your thirst and begin to rehydrate you, lubricate your senses and, like the act of hiking, help maintain sanity, balance and perspective. Oh, believe us when we say the hike is still paramount to the experience. If it wasn't, we'd skip the hike and just head to the taproom. Rather, Peaks & Pints is a big believer in hanging at the trailhead with our fellow hikers, divvying up a beer and discussing the hike, or whatever subjects, as we store away our gear.
Join us. Take the nominated double IPAs on hikes. Then, look for the first round of Tournament of Beer: NW Double IPAs voting April 2 at tournamentofbeer.com or this website.
---