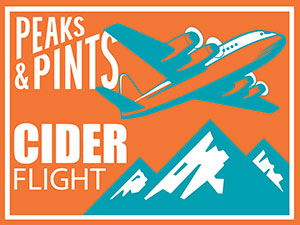 Every Monday, Peaks & Pints suggests a to-go flight of cider. On this International Women's Day, Peaks & Pints suggests the to-go flight should be ciders made by women. After all, women were the ones making cider in the 17th century when they first settled in the Chesapeake. Colonists were skeptical of water quality so their main source of hydration was alcohol, most often in the forms of cider or small ale (a lower-alcohol beer). Cidermaking was considered a part of cooking, thus placing it firmly within the female domain. Women, or Ale Wives, were often imported as brides specifically for their cidermaking and brewing skills to an area were women were in short, and needed, supply. More so, the United States Association of Cider Makers states women account for nearly 50 percent of U.S. cider drinkers, as opposed to craft beer's 31 percent. Stop by Peaks & Pints and grab Peaks and Pints Monday Cider Flight: Women's Day.
Peaks and Pints Monday Cider Flight: Women's Day
Alter Ego The Guardian Angel
6.5% ABV
Friends and winemakers Anne Hubatch, Nate Wall and Kris Wall decided to partner to craft artisanal ciders utilizing winemaking techniques at an urban ciderhouse, and Alter Ego Cider was born. Anne has been at the forefront of urban winemaking with Helioterra Wines, Whoa Nelly Wines and Guild Winemakers. Nate also has several years of winemaking experience, but additionally has been making cider for the past three years for one of the Northwest's largest cider producers. Anne and Nate bring a winemakers focus on nuance, delicacy, and depth to their small batch production cider. Their blueberry and pomegranate cider, The Guardian Angel, celebrates Northwest summer berries. It offers deep garnet purple color, brambly berry notes and fresh fruit characteristics of both the apple and blueberry, with hints of pomegranate added for a zippy kick. This cider is semi sweet, and perfectly balanced and refreshing.
Fierce County Gin Gin Cran
6.5% ABV
John and Tolena Thorburn adore craft beer. For 15 years they traveled the world drinking it. But, an oversaturated market led them to cider. Learning and enjoying the varying styles and flavors unique to each brewer and set of ingredients, the Thorburns applied that experience to years of homebrewing and cidermaking. In 2017, Fierce County Cider launched its first commercial operating space in a 97-square foot ciderhouse in Puyallup. The ciderhouse is built for efficiency, utilizing the latest brewing technology and equipment to allow lead cidermaker Tolena to create "fiercely" ciders, including Gin Gin Cran. The nano cidery's second release, Gin Gin Cran is a light, semi-sweet cider with just a touch of tartness from the cranberry, balanced perfectly with fresh ginger flavor.
Alpenfire Pirate's Plank Bone Dry Cider
6.9% ABV
At age 19, Nancy and Steve "Bear" Bishop would go on dates to Canada. They fell in love with cider. After making cider as hobbyists for many years, in 2001 they took a trip to the cider making regions of Spain, France, and England to observe commercial operations. When they returned home, Steve and Nancy took a class at WSU from an English cider master, and ordered 900 French and English cider trees, which started their journey into commercial cider making and the founding of Alpenfire Cider (previously named Wildfire Cider). Located in Port Townsend, the Bishops, including their son and sales director, Philippe, can't wait to show people around their orchard again, where they grow three French and five English cider apple varieties as well as many heritage and dessert apples. Made with primary native yeast ferment, Champagne yeast finish, stainless maturation, and 4 months neutral oak maturing, then bottle conditioned, Alpenfire's Pirates Plank Bone Dry Cider's name is a nod to the rich maritime history of Port Townsend. This Old World bitter sharp cider is a blend of early season, organically grown, estate Kingston Black, Yarlington Mill and Foxwhelp apples for fruity apple pie notes in the aroma with a bit of puckering acidity peaking through at the finish. Expect a tart and earthy taste.
Dragon's Head Kingston Black
7.9% ABV
Named for the dragon that guards the apples of immortality in the Garden of Hesperides, Dragon's Head Cider was founded in 2010 on Vashon Island. Ignoring their last name, owners Laura and Wes Cherry planted a beautiful orchard of apples and pears with production held on site. The Cherry's don't believe in cold storing their apples; they press during harvest season at its peak ripeness. Once pressed, the fruit ferments in winter, is blended in spring, and ready to be bottled by early summer. Their Kingston Black takes its name from the town of Kingston near Taunton in Somerset, England — the heart of cider in the UK. The name comes from the apples' dark red or purplish skin, though despite the name, the fruit does not have a black hue. Kingston Black apples are often considered the epitome of cider apples. They produce a cider rich in dried apple, clementine, and hint of honey, slightly bitter, and medium bodied. Dragon's Head medal-winning Kingston Black hits the nose with dried apricot, clover and resinous cedar. The apricot carries over to the taste with clementine, hints of honey, and slight bitterness.
LINK: Female brewers
---