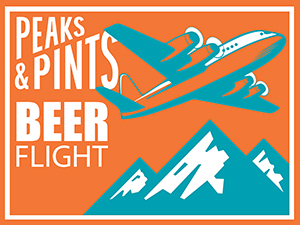 What is a session beer? Well, it depends on whom you ask. The term's precise origins and coinage are fuzzy. Beer experts can't seem to agree on a specific year, for instance, but consistently point to British pub culture as its inspiration. Session beer is not defined by flavors or aromas, which can place it in almost any style category. It's generally agreed upon, however, that any brew bearing the description should be low in alcohol but tasty enough to enjoy for a prolonged period of time, or "session." The alcohol by volume, or ABV, issue is a bone of contention throughout the sessionsphere. The general consensus is no higher than 5 percent ABV, featuring a balance between malt and hop characters (ingredients) and, typically, a clean finish — a combination of which creates a beer with high drinkability. Enough talk. Well, that kind of describes our to-go flight today. Let's get to easy drinking with the Peaks & Pints Pilot Program: Tasty Low ABV On The Fly.
Peaks & Pints Pilot Program: Tasty Low ABV On The Fly
Firestone Walker Easy Jack
4% ABV, 40 IBU
Firestone Walker Brewmaster Matt Brynildson traveled to Germany and spent several days in the Hallertau region, the birthplace of hops dating back more than 1,000 years. There, he hung out at small family hop farms and worked with the farmers to secure an ample supply of Mandarina Bavaria and Hull Melon — two backbone hops for Easy Jack, as well as a jaunt to New Zealands. This kickback beer spotlights spicy, leafy hops; plus a dose of oats smooths out the sip.
Block 15 The DAB Lab, Lil Dab
4.5% ABV
Block 15 Brewing's DAB Lab series focuses on vibrant, resinous hoppy ales brewed with CO2 hop extract and select hop varieties. Don't let the name fool you, Lil Dab lives up to the series, focusing on big, vibrant hop character from the prominent use of hop extractions. Lil Dab is the result of blending extractions from a trio of punchy citrusy and tropical hops with a clean yeast profile and crushable alcohol percentage. A Lil' dab'll do ya!
Mirage Airships
4.5% ABV
Mike Dempster brewed at Greenpoint Beer Works in Brooklyn, Buoy Beer Co. in Astoria, and Wingman Brewers in Tacoma before opening Mirage Beer brewery in Seattle's South Park neighborhood. Opened as a farmhouse-focused brewery, with some of his sours and saisons spontaneously fermented, it wasn't long before he was known for his hazy IPAs and lagers. He's also known for being a workaholic and perfectionist, which transfers to his beers. His Airships New England-style pale ale brewed and dry-hopped with Nelson Sauvin for citrus and bitter light beer.
Fort George Beer Number 1, Take 3
4.7% ABV
Fort George Brewery Beer Number 1, Take 3 is the first beer brewed at the brewery's The Waterfront facility in Astoria, which is home to "Kingpin," the newest brew system in the Fort George arsenal. This light, but hoppy pale ale serves as a test to see how a new brew house performs and this one performed exceptionally well. Using a malt base of 2-row, Pilsner and white wheat and hopped aggressively with Crosby Estate Grown Strata and Comet hops, this is a citrusy, bitter, crisp, highly crunchable hoppy pale ale.
---