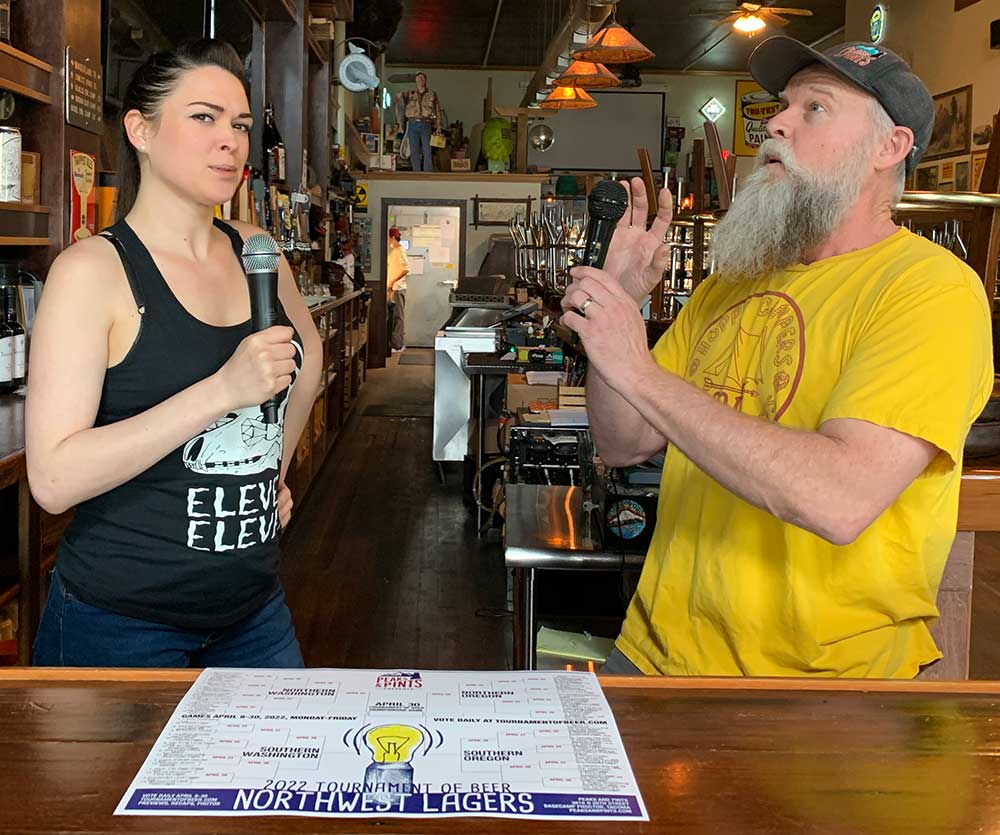 Peaks and Pints Tournament of Beer: Northwest Lagers Championship and Party
PAPPI SWARNER: The titanic lager throwdown finale in on! Voting for the Peaks and Pints Tournament of Beer: Northwest Lagers Championship Game is live. After three weeks of voting, you have picked the most popular lagers brewed in Washington and Oregon. What began as 64 hop-slinging lagers has been narrowed down to two that were publicly nominated number 9 in Southern Washington and number 13 seed in Southern Oregon. Hello lagerheads! I'm Peaks co-owner Pappi Swarner and with me is Peaks bartender Claire Brinich.
CLAIRE BRINICH: Howdy! Howdy! For more than three weeks, Peaks and Pints challenged 64 of the Pacific Northwest's best lagers to go crispy boi-to-crispy boi in a showdown of craft combat. Some fell easily by the wayside, either due to a rogue keg cleaner or simply because they faced a superior opponent. Hop by hop, you voted down to the final four: Kulshan Brewing Premium Lager and E9 Brewing Detour Ahead from Washington, and Wayfinder Beer Number 6 and Pelican Brewing Pelicano Extra! from Oregon. It was do-or-die, win-or-fly, bring-your-best-or-oxidize.
SWARNER: Let's take a quick moment to recap yesterday's Final Four before the Championship Game begins.
Friday, April 29, Final Four Northwest Lagers Games results
GAME 1, WASHINGTON STATE REGION
Kulshan Brewing Premium Lager (#3 seed) vs. E9 Brewing Detour Ahead (#9 seed)
SWARNER: There's no better time than now to mention E9 Brewing sales Executive Katie Johnson also held the same position at Kulshan Brewing when the Bellingham brewery won the Peaks and Pints Tournament of Beer: Northwest Pilsners. She knows Kulshan owner Dave Vitt's has the skills to Macgyver anything. She knows Kulshan Head Brewer Wes Finger can always put a finger on something. She knows Kulshan Lead Brewer Jen Tadder adds a little extra Premium in their Premium. And she knows Senior Brewer Harrison Weber is one-eighth Jedi. She noted all these factors when devising her plan for Detour Ahead's stardom.
BRINICH: She played it well. E9's Detour Ahead commanded the game from left and right grabbing 58.66 percent of the vote and the Washington state slot in the Championship Game.
GAME 2, OREGON REGION
Wayfinder Beer Number 6 (#2 seed) vs. Pelican Pelicano Extra! (#13 seed)
SWARNER: When a brewmaster trademarks a crispness technique and has famed lager brewer Lisa Allen of Heater Allen on speed dial, you know he or she isn't just playing by numbers. Wayfinder Brewmaster Kevin Davey is such a person, and his Number 6 American lager is freakin' crisp, and clean, with ample flavor, and a lovely floral with a touch of citrus bouquet.
BRINICH: Pelican Brewing, a brewery on the Oregon Coast, with quite possibly the best view of any brewery in the world, turned 25 last year. Only a handful of OG Oregon breweries have been around longer, and none have won more awards. Pelican has more than 450 medals, trophies, and plaques donning their Pacific City brewhouse, which includes a Peaks and Pints Tournament of Beer: West Coast Flagships janky trophy too.
SWARNER: While Wayfinder's talent kept them in the close game the entire day, the Pelican Brewing empire flew away with a 51.61 percent vote win and a date with E9 Brewing's Detour Ahead in the Championship Game.
Saturday, April 30, Northwest Lagers Championship Game
BRINICH: Welcome to the big dance! Because the pandemic is no longer a pandemic, the Peaks and Pints Tournament of Beer Championship Game Party is back! Online voting will end at 4 p.m., then will resume at 5 p.m. with live in-house voting at the Tournament of Beers Party inside Peaks & Pints. Ballots will be handed out, which will also serve as raffle tickets for sweet prizes. The live vote will close at 8 p.m., then tallied and the Northwest lager champion will be announced at 8:30 p.m.
SWARNER: Are you ready, Claire?
BRINICH: I'm ready! Ladies and gentlemen, please join in the singing of our national anthem.
BRINICH: Thank you Lady Gaga!
SWARNER: What else can be said about these two worthy opponents? This is Washington versus Oregon. This is for lager bragging rights for the entire region.
BRINICH: Let's not lager around any longer. Let's get to voting!
VOTE BELOW>>>>>>>>>>>>>>>>>>>>>>>>>>>>>>>>>>>>>>>>>>>>>>>>>>>>>>>>>>>>>>>>>>>>>>>>>>
Be sure to click the blue DONE button after selecting your favorite Northwest lager!
Thanks again everyone for voting! For those who wish to vote live instead see you at Peaks & Pints tonight!

LINK: Tournament of Beers: Northwest Lagers explained
LINK: Hot Damn! Yes, I want to subscribe to 6-Pack of Things To Do newsletter and be hip to local happenings!
LINK: Past Tournament of Beer competitions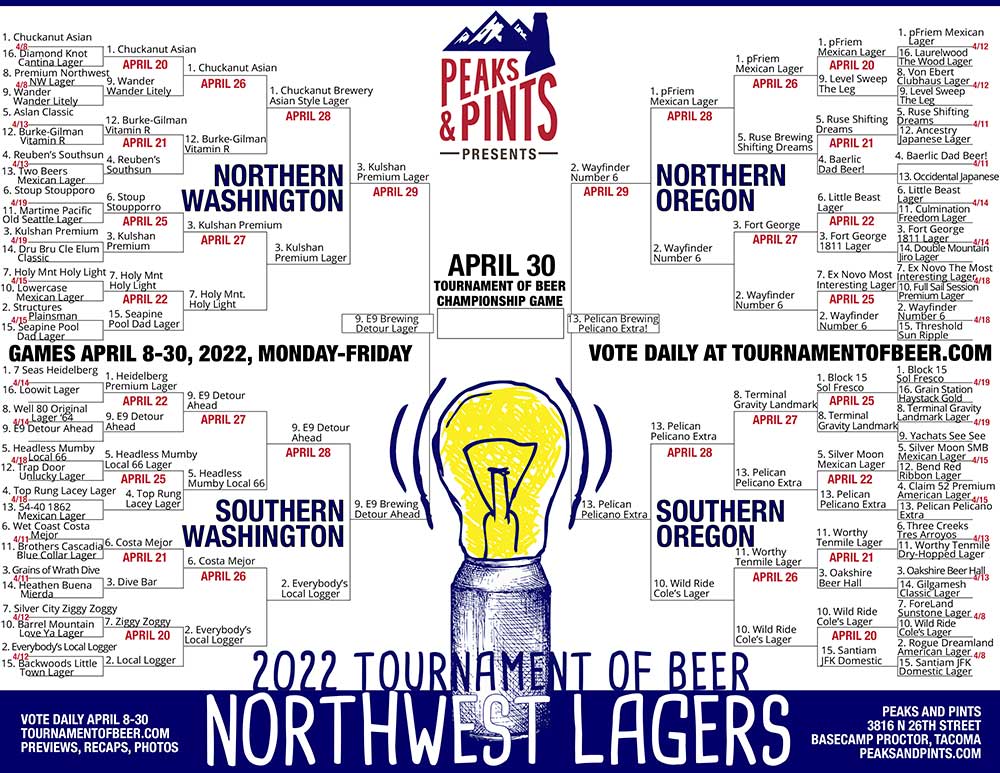 ---