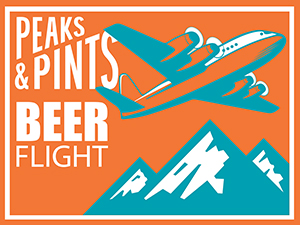 This past April, Block 15 Brewing's Sticky Hands double IPA received enough public votes to be crowned the Peaks & Pints Tournament of Beer: NW Double IPAs Champion. As part of their national notoriety from the win, the Corvallis brewery received a permanent handle through the summer at our craft beer bar, bottle shop and lounge in Tacoma's Proctor District. For those who visited us this summer know Block 15 often had two or three kegs tapped on our Western red cedar tap log. Nick and Kristen Arzner's Block 15 beer warrants such action. As you know, the summer is over. But, Peaks & Pints love affair with Block 15 continues. A new round of Block 15 beers arrived at Peaks this weekend, which is reason enough to make them our to-go flight of the day. Stop by and enjoy Peaks and Pints Pilot Program: Round the Block 15 Again.
Peaks and Pints Pilot Program: Round the Block 15 Again
Block 15 Gloria!
5% ABV
Blending delicate malt character and zesty hops, Gloria! is Block 15's vision of the crisp, unfiltered pilsner. Brewed with floor-malted pilsner malts, it pours a hazy, straw-colored pint. Magnum, Hallertau, Oregon-grown Mt. Hood and Czech Saaz hops impart citrus, grass, and floral spice, while Czech Pilsner yeast finishes clean and refreshing. Packaged after four weeks of cold lagering, this snapshot in flavor and aroma will last for a couple weeks, when stored cold. With extended cold storage, Gloria! mellows out to further balance these lively hop and yeast notes with its intricate malt backbone.
Block 15 Highland Hymn
6.5% ABV, 18 IBU
Highland Hymn is designed and brewed in cooperation with former Block 15 brewer Sydney Lee. She found inspiration by the majestic sights and sounds of Scotland. Her Highland Hymn is a crescendo of caramelized sugar and toffee notes accompanied by a pleasant dry finish. Brewed with a duet of imported Scottish barley and beechwood smoked rauch malt, this malt-forward ale is as wonderfully complex and robust as the Scottish Highlands.
Block 15 Alumni Club, Brooklyn Chapter
6.5% ABV
This month, Block 15 Brewing launched Alumni Club, an annual collaborative beer release that highlights some of the brightest graduates of Oregon State University's Fermentation Science Department. The inaugural "Brooklyn Chapter" edition features Sam Richardson, OSU alumni and co-founder of New York's Other Half Brewing. In addition to pairing university alumni to create the recipe for this New England-style IPA, locally-sourced hops were chosen from nearby Coleman Agriculture in the Willamette Valley. Citra and Strata hop varietals were chosen by Block 15, with Simcoe hops selected by Other Half. The hazy IPA has notes of orange peel, passionfruit, and strawberry.
Block 15 The DAB Lab: Magic Wax
6.5% ABV
Block 15 incorporates CO2 hop extract technology in its The DAB Lab series of beers — "DAB" is an acronym for dank-ass beer. The series showcases CO2 extracts and even newer concentrates like cryogenically harvested lupulin powder, a yellowish substance obtained from oil- and acid-rich glands on the hop flower. Their latest DAB, Magic Wax, has a balance of floral, fruity, and tropical notes from nothing but extracts in its hop bill — Mosaic CO2 extract and a combo of Ekuanot/Citra Incognito levitate in the kettle, with Citra cryo hops, El Dorado hopzoil, bravo steam-distilled hop oil and Citra spectrum in the dry hop.
Block 15 Flicker
6.75% ABV
Inspired by Autumn's warm days and crisp nights, Flicker IPA has a unique hop profile of white grapes, citrus, melon, lychee, stonefruit, and pine derived from a blend of American and German hop varietals. Light additions of flaked rye and flaked barley to a 2-row grist base add crispness and body, while fermentation with a blend of three yeast strains rounds Flicker out with subtle fruity esters. It finishes with a gentle malt linger and a clean, balanced hop bitterness.
LINK: Peaks & Pints cooler inventory
---