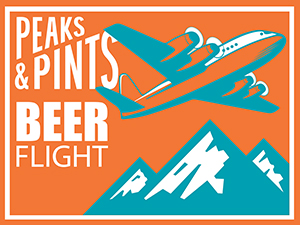 The hop bines sway in the afternoon breeze of a warm September afternoon in the Yakima Valley. Field workers pace between rows of bines suspended on ropes, pulling off a few of the hop flowers — bright green cones whose aroma is an instant reminder that another round of brewers will arrive with empty sacks the next day. Hops are one of Washington's most prominent crops, their farmers powering the global brewing industry by growing almost 75 percent of the world's hop acreage in the state, almost all of which is in the Yakima Valley. It thus makes sense that a bunch of craft breweries and cideries have popped up in the area over the past few years. Today, Peaks and Pints highlights the Yakima Valley in a to-go flight we call Peaks and Pints Pilot Program: Yakima On The Fly.
Peaks and Pints Pilot Program: Yakima On The Fly
Bale Breaker Homegrown Beer No. 8
6.5% ABV, 55 IBU
Hops have long defined life at B.T. Loftus Ranches in the Yakima Valley. Back in 1932, Kevin Smith and Meghann Quinn's great-grandparents founded the family hop farm that's now run by their older brother, Patrick. Meghann and her husband, Kevin Quinn, and younger brother were keen homebrewers. Wouldn't it be natural to start a brewery on the farm? The trio took down three acres of the farm's Field 41 and built Bale Breaker Brewing Company, which is surrounded by fields of hops. In 2019, they harvested another family first  — their first-ever barley crop. And first-ever 100 percent homegrown IPA, launching their Homegrown Beer series. Release No.8 in the series is a fresh hop IPA. Made with freshly harvested, homegrown Simcoe wet hops transported from farm to fermenter in less than five minutes, this beer features intense aromas of hoppy grapefruit and berry pie thanks to homegrown Simcoe fresh hops, Citra, Mosaic, HBC 630, and Talus.
Single Hill Mosaic IPA
6.9% ABV, 55 IBU
In August 2016, Ty Paxton and Zach Turner opened Single Hill Brewing in an old JC Penney Tire Center in downtown Yakima. The two first met at a cider pressing party that a mutual friend was hosting in 2013. Three years later, over pints at Bale Breaking Brewing, the two hatch the idea for a community-based brewery in a town dear to their hearts. They teamed up with Haas hop providers to showcase the depth of flavor of Mosaic using their fancy new proprietary hop products SPECTRUM™ and LUPOMAX® for all the trademarked goodness they could pack into one beer.
Varietal Peach Sabbath
6.76% ABV
Chris Baum, John Cope, Chad Roberts, David Paulson, and Karl Vanevenhoven opened Varietal Beer Co. in April 2018 in the Port of Sunnyside between Yakima and the Tri-Cities in Eastern Washington. The ownership all had a variety of dreams and life goals, but their Venn diagram centered on owning a brewery in the Yakima Valley. After earning the Enterprise Challenge held annually by the Yakima County Development Association and the Kittitas County Chamber of Commerce, Varietal became a thing. Their Peach Sabbath is a blend of 2-year wine barrel-aged wild ale, refermented on 400 pounds of organic Summer Lady peaches from CLS Farms for several months. Bottle conditioned and released once it was ready, expect a tart, funky, and peachy sipper.
Tieton Huckleberry
6.9% ABV
In 2008, Craig Campbell and his wife, Sharon, began experimenting with making cider from dessert apples grown in their 400-acre commercial fruit orchards in Yakima, Washington. Despite naysayers who warned that cider apples required a maritime climate, Craig also planted a two-acre test orchard with 25 varieties of cider apples. Today, their two-acre experiment expanded into Cider View, a 30-acre "high-density" cider orchard. In their commercial cidery, Tieton Cider Works, they blend American heritage, English and French cider varietals with dessert apples to capture the best of what each variety brings to the bottle: sweetness, acidity, tannin and aroma. Tieton's Huckleberry is a blend of pressed Northwest berries blended with Washington state apples for a balance between tart and sweet.
LINK: Peaks & Pints cooler inventory
---