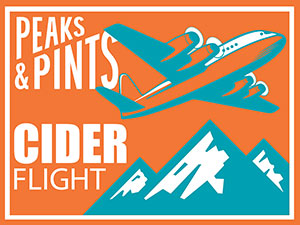 The Ringsrud family has grown apples, pears, cherries, and grapes in the Wenatchee Valley since the 1940s. Fredrick Ringsrud rode the freight trains from North Dakota to Cashmere to work in the orchards, eventually bringing his mother out west with him. He met his wife, Norma, while working in the orchard, and they raised their children on a small plot in Cashmere, eventually planting their main orchard in East Wenatchee in the 1960s. One of the Ringsrud kids, Peter, and his wife, Ann, began farming the family orchard in 1974. Between discovering a new world of "lost" apple varieties and some coaching from Peter Mitchell, one of the United Kingdom's premier cidermakers, the Ringsruds found their way into the world of artisan cider apples: Roxbury Russet, Dabinet, Yarlington Mill, Ashmead's Kernel, Foxwhelp, Golden Russet, Brown's, Wickson Crab, and Calville Blanc d'Hiver. In 2008, Peter spent the winter converting part of his shop into a Snowdrift Cider Co. Today, Peaks & Pints presents a to-go flight of Snowdrift cider — a flight we call Peaks and Pints Monday Cider Flight: Snowdrift.
Peaks and Pints Monday Cider Flight: Snowdrift
Snowdrift Red
7.6% ABV
Snowdrift crafted this cider with apple varieties only a couple generations removed from their native ancestors in the hills of Kazakhstan. Their brilliant red flesh yields a crimson red cider with bright acidity, packed with flavors of cranberries, watermelon, rhubarb and strawberries, finishing with soft toffee tones.
Snowdrift Cidermaker's Branch Series #9: Dabinett
7.5% ABV
For those who want to get to know the character of different varieties, check out Snowdrift's Cidermaker's Branch Series. Varieties that are notable on their own, or in special-blend small batches, fall into this series, which includes Dabinett. Dabinett is a British cider apple found by William Dabinett in the early 1900s growing as a wild seedling in a hedge in the Martock-Kingsbury area of Somerset, U.K. This cider is aromatic, slightly bittersweet at first sip, with increasing richness and deeper flavor as it warms.
Snowdrift Cap O'Liberty Ashton Bitter Batch #5
7.5% ABV
Snowdrift Cap O'Liberty Ashton Bitter Batch #5 is part of Snowdrift's Cidermaker's Branch Series made with Cap of Liberty and Ashton Bittersweet apples. Cap of Liberty is a British bitter-sharp cider apple rated as a vintage variety that's aromatic and fruity with some complexity and spiciness. Aston Bitter is a British, early-season bittersweet cider apple with a high sugar content as well as significant tannin, and a touch of acidity.
Snowdrift Cliffbreaks
7.8% ABV
Snowdrift's most popular cider, Cliffbreaks, sports a rich deep golden color with full body. A light sparkle carries classic English cider and bittersweet apple aromas, followed by flavors of melons, tart apple, and dried fruit. Complex tannins and mouth-watering acidity are balanced with just enough sweetness.
LINK: Peaks & Pints cooler inventory
---