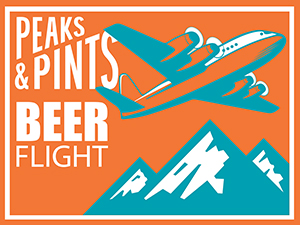 James Alexander and Ryan Miller took time away from their East Coast brewery jobs to hang in a remote cabin nestled in the Green Mountain National Forest. When they emerged Structures Brewing idea was a thing. They slowly made their way toward Bellingham through various brewery jobs across the country. Bellingham fit their easy-going lifestyle and need for community. In late 2015, Structures had structure and several of their New England-style beers on tap — exceptional beers, particularly their barrel-aged saisons. Soon after Miller left Structures to return home to the East Coast leaving Alexander and crew to make small, artisanal and authentic batches of beer for their community, friends, and family. Today, Peaks & Pints presents a to-go flight of Structures beers — a flight we call Peaks and Pints Pilot Program: Structures On the Fly.
Peaks and Pints Pilot Program: Structures On the Fly
Structures Endless Bummer
4.5% ABV
Structures' Endless Bummer pale ale made its debut during Bellingham Beer Week in 2017. It returns with the same Amarillo and Motueka hop bill for light citrus and floral hop flavors, with a light malt base, plus a dry and bright finish.
Structures Kolsch
4.8% ABV
Kolsch is made with ale yeast and is fermented warm, yet commonly aged at colder temperatures, making it a hybrid between the lager and the ale. Structures Brewing's Kolsch is a classic gold, sweet ale with a beautiful can. It's malty, grainy, grassy aroma leads into biscuity flavor with some soft sweetness and a hint of lemon zest. Expect a dry finish.
Structures Hefeweizen
5.4% ABV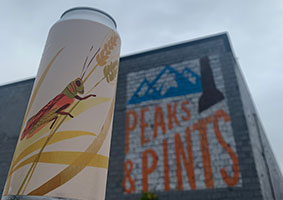 Some beer historians say the hefeweizen was brewed as far back as the 11th century. In German, hefeweizen (pronounced HEH-feh-vite-zen) means yeast wheat, so called because the beer is traditionally unfiltered, leaving the tiny particles of yeast sediment to turn the golden beer cloudy and turbid. It may be this suggestion of solidity that leads Germans to occasionally refer to hefeweizen as bottled bread. Structures take on the classic beer has a soft medium bodied with aromas of yeast driven fruit and spice followed by strong banana and soft hop flavor.
LINK: Peaks & Pints cooler inventory
---