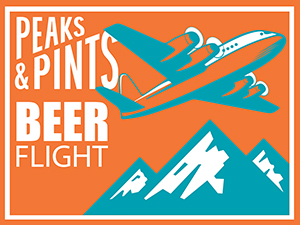 Peaks & Pints ponders changing the name of our upcoming Tournament of Beer: NW Double IPAs to Tournament of Beer: NW Double Trouble. As you may remember, we held last year's Tournament of Beer: West Coast Flagships during a very COVID April 2020. The shutdown was announced on the last day of Pappi Swarner's pre-Tournament research tour along the West Coast with his last photo snapped at an empty Iron Horse Brewery, the day before the shutdown. This year, we skipped the pre-Tournament brewery visits for obvious reasons. Instead, we're pairing the 64 nominated Northwest double IPAs with trails located near the beer's brewery to ensure less human contact and well as some much-needed exercise. That is, until early Tuesday morning. … With a good portion of Washington state double IPAs paired with Washington trails, Pappi headed to Oregon Monday with several boxes full of nominated double IPAs. After he logged in four hikes, he hit Portland for a box of Voodoo Doughnuts, to press his face against the shuttered Bailey Taproom's window, and to enjoy an available Pliny The Elder while gazing at the Willamette River from his hotel room. The next morning, he discovered ruffians smashed his car's window and grabbed most of the Tournament beer, among other items. They also took his Nalgene bottle full of water, obviously to stay hydrated after drinking 50 or so double IPAs. With a two-day window repair time and almost all the nominated double IPAs brewed in Oregon gone, Pappi drove back to Peaks depressed, and rather cold. The Tournament tour was over. The Peaks staff talked crabby Pappi out of shutting down the tournament, then sent him home with five comforting beers (not double IPAs) to forget his troubles for the night. Those five beers are today's to-go flight — Peaks and Pints Pilot Program: Comfort On The Fly. Keep an eye on Peaks' Instagram for a few remaining hikes and hops stories not filed yet. Visit tournamentofbeer.com to vote daily beginning April 2.
Peaks and Pints Pilot Program: Comfort On The Fly
Stoneface RIS 2021 – Coffee & Vanilla
9.5% ABV
Considered one of the top breweries in New Hampshire, University of New Hampshire grad Peter Beauregard opened Stoneface Brewing in 2014. The longtime homebrewer's IPA placed first at the Boston Homebrew Competition the year before, confirming his decision to leave the software business and open a brewery with his friends, Erol Moe and Tim Finelli. Since then, Stoneface, located in Newington, has captured the attention of IPA lovers with their refreshingly hoppy beer, as well as their Russian imperial stout brewed with Port City Coffee (Portsmouth) Ethiopian Harrar and Tahitian vanilla bean. It hits the nose with coffee, chocolate and vanilla, with all three transferring to the taste. The finish is delightful — cold brew and sweet vanilla cream.
Amager Pride (The Sinner Series)
10% ABV
Pride is an imperial stout from Danish brewer Amager Bryghus' Sinner Series, in which each beer corresponds to one of the seven deadly sins. And Pride certainly lives up to its name. Amager brewers are proud they boiled the imperial stout for 6 hours, making for a richer and fuller version. They take great pride in the aroma of toasted dark chocolate, licorice, and dried fruits, which transfers to the flavor, but with coffee and more dried fruits.
Gigantic Most MOST Premium Russian Imperial Stout Rye 2021
12% ABV
Gigantic Brewing continues the Most MOST favorite vintage series that began in 2015 — barrel aging tier Most Premium Russian Imperial Stout. "Originally inspired by Russia's favorite expression for great, Most Premium, once we barrel aged the beer, we knew we had to use proper Russian grammar, and name it Most MOST Premium," says Van Havig, co-founder of Gigantic Brewing, in a statement. Among the five barrel-aged variants, the booziest is the stout aged in American rye whiskey barrels. The result is a delightful blend of chocolatey plus cinnamon and peppery spice with a subtle woody character.
Matchless 5th Anniversary Blend
13.5% ABV
For Matchless Brewing's fifth anniversary they created a blend of select barrels of their Imperial Oatmeal Stout and Russian Imperial Stout used in their popular Matchless Bar decadent imperial chocolate stout. This together with small portions of peated whiskey barrel aged Imperial Oatmeal Stout and Ol' Lifewine Barleywine offer aromas of dark chocolate, coffee and bourbon balanced with flavors of roasted cacao nibs, toffee and vanilla.
Crux Lost Love [BANISHED] 2021
14.5% ABV, 70 IBU
Technically the fourth Russian imperial stout in this Crabby Pappi to-go beer flight, Crux Fermentation Project's Lost Love [BANISHED] 2021 is brewed with an obsessive amount of malted rye and banished to select rye whiskey barrels for 10 months for rich, chocolate and oak notes, with the rye on the finish.
---