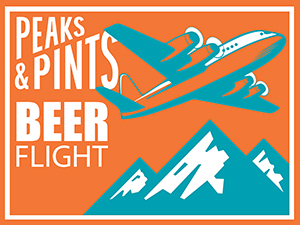 The term India Pale Ale has evolved quite a bit over the past 25 years and has taken on a life of its own. Moving away from what was known over in Great Britain, IPA has typically meant a very hop forward, strong pale ale, taken further by the trend of the West Coast IPA. In the last 15 years or so, IPA and West Coast IPA signified the beer you were buying and drinking was hop forward in terms of bitterness, fruitiness and aroma.  The New England-style beers have great hop aroma, but when brewed as intended, have much less bitterness than the very popular West Coast Style IPA. Peaks & Pints is here to bring sexy back … at least for today. It's time to shine a light on a few old-school tasting IPAs — some old and some new. Stop by our Proctor District craft beer lodge and grab Peaks and Pints Pilot Program: Bitterness On The Fly.
Peaks and Pints Pilot Program: Bitterness On The Fly
Lagunitas IPA
6.2% ABV, 52 IBU
IPA was Lagunitas Brewing's first seasonal, released in 1995. The beer's labels claim it's "made with 43 different hops and 65 various malts," which would be badass if true, if wildly impractical. Cascade and Centennial are in the greatest abundance, and they combine to deliver flavors and aromas of citrus zest, bitter pine, grass, earth and just a pinch of crystal malt to keep the hops in proportion. Finish is mostly bitter but balanced, with a slight lingering bitterness.
Single Hill Fundamental Tone
6.6% ABV, 45 IBU
In August 2016, Ty Paxton and Zach Turner opened Single Hill Brewing in an old JC Penney Tire Center in downtown Yakima. The two first met at a cider pressing party that a mutual friend was hosting in 2013. Three years later, over pints at Bale Breaking Brewing, the two hatch the idea for a community-based brewery in a town dear to their hearts. Exploding with flavors of pineapple, grapefruit, and nectarine, Fundamental Tone dips back into the resinous bite of old school IPAs and takes it all to a new dimension.
Grains of Wrath Built For Speed
6.7% ABV
Built For Speed is Grains of Wrath founder and brewmaster Mike Hunsaker's West Coast IPA recipe that he's had in his pocket for a while. This light-bodied IPA hist the nose with orange, mango, melon, grapefruit, and pine. The palate opens bright and bitter with dank pine resin, grapefruit, and orange peel bitterness followed by bright melon, mango, and floral notes. This crisp, creamy IPA finishes dry with fruit and mild dankness.
Wayfinder Retro Gold
7.2% ABV
Wayfinder Beer teamed up with fellow Portland brewery Breakside to brew this West Coast Cali-style IPA. Brewed in the classic California fashion, Retro Gold is a lean and assertive IPA that reminds us of beer before the NE Juicy IPA explosion. Expect big aromatics of pine and citrus, followed by a sticky/piney hop bomb with decent heft.
Brothers Cascadia Tri-Clamp Down IPA
7.2% ABV
Tri-clamp fittings are the gold standard in professional breweries. They've been widely adopted in homebrewing too as T.C. kettles, fermenters, and pumps become more widely available. Tri-clamp fittings allow you to make a sanitary connection without any nooks or crannies for contaminants to hide in and they can be cleaned in place. Brothers Cascadia teamed up with Breakside Brewery and named their West Coast IPA after the valuable piece of brewing equipment. Expect billowing aromas and intense flavors of dank citrus, ripe papaya, and assertive bitterness.
Bale Breaker Topcutter IPA
6.9% ABV, 70 IBU
Bale Breaker's flagship IPA has changed lives. In fact it's rumored that Birchfield, the unincorporated community in Yakima County where Bale Breaker harvests hops and brews beer, is considering changing its name to Topcutter, Washington, to draw tourists from nearby Yakima. And why wouldn't Birchfield's council? Topcutter is a well-balanced yet aggressive West Coast IPA that showcases Yakima Valley hops, including late additions of Simcoe, Citra, Loral and Mosaic for a balance between a strong, pine bitterness, and a restrained, refreshing citrus and fruity brightness.
---