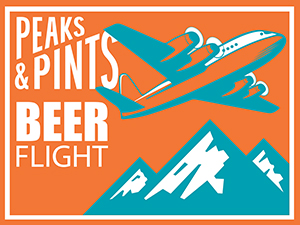 In celebration of their fifth year traveling round the sun, Ecliptic Brewing created the Cosmic Collaboration series, "5 Beers for 5 Years," in which the Portland, Oregon brewery brews celestial concoctions with five other esteemed breweries. Peaks and Pints hosted the first two collaborations — Brooklyn Brewery in April and Firestone Walker in May. We're opening the pod bay door again for Ecliptic's third Cosmic Collaborator, Breakside Brewery, tonight at 6 p.m. Ecliptic Brewing owner and brewmaster, John Harris, worked with Breakside's brewmaster, Ben Edmunds, to create the Nectarine Sour Ale (8.2%) brewed with pale and Munich malts, wheat and oats, but what provides its unique, fruity flavor — pureed and fresh nectarines. A touch of coriander and Ecliptic's house Lactobacillus strain add to the classic sour ale flavor profile. Tonight, Peaks and Pints will tap the Ecliptic/Breakside collaboration Nectarine Sour Ale, as well as the latest craft beer from both breweries. Too anxious, we already tapped five and threw them on an all-day beer flight we call Craft Beer Crosscut 7.18.19: Flight of Ecliptic and Breakside.
Craft Beer Crosscut 7.18.19: Flight of Ecliptic and Breakside
Ecliptic Tucana Tangerine Sour Ale
4.8% ABV
A play on Ecliptic's fan-favorite, year-round Carina Peach Sour Ale, Tucana Tangerine Sour Ale is a light and refreshing option brewed with tangerines from Oregon Fruit Products — a twist of tangerine plays with the balanced tartness of this sunset-hued sour ale. Pale and wheat malts help create a crisp, tart beer, while Cascade hops complement the citrus notes and burst of tangerine flavor.
Breakside Grandpappy
9% ABV, 33 IBU
Inspired by whiskey-sauced bread pudding, this Breakside Brewery barrel-aged imperial stout is a special variant of the Portland brewery's Grandmammy imperial stout, which is the Van Winkle wheated bourbon barrel version of their Salted Caramel Stout. Also aged for more than a year in Van Winkle wheated bourbon barrels that have been used to house Bissell Maple Farm maple syrup, Grandpappy doesn't smell like cigars and dust, but rather toffee, caramel and baking spice. If you kissed Grandpappy, you'd taste charred oak, sun-dried grapes, and chocolate-covered citrus.
Breakside Sugarcube
5.7% ABV, 32 IBU
Iceland's KEX Brewing this fall plans to become the latest European craft-beer brewery to set up shop in Portland in 2019, joining Denmark's Mikkeller, which opened earlier this month in the central eastside. The Reykjavik-based brewery's beers will be featured at KEX, a hotel and restaurant under construction on Northeast Martin Luther King Boulevard just north of Couch Street. Breakside Brewery invited KEX over for a collaboration, resulting in Sugarcube, a New England style pale ale. It sports a big lovely nose of resiny fresh floral hops and a kiss of fruity tones. Expect smooth pale malty flavor, a light touch of wheat, light piney bitterness with a slight tropic juicy finish.
Ecliptic Star Party Lavender & Lemon Brut IPA
8% ABV, 35 IBU
Brut IPAs are brewed with a specific enzyme to lighten the beer and give it a bubbly, effervescent mouthfeel, like champagne, and a dry finish that comes from reducing the amount of sugar remaining in the finished product. The technique results in a beer that showcases hops flavors in a different way than standard IPAs. Ecliptic Brewing version, Star Party Lavender & Lemon, offers light lavender and lemon notes over a dry brut and hoppy flavor, complements of Lemondrop and experimental hops.
Ecliptic Phaser Hazy IPA
6.5% ABV, 45 IBU
John Harris' background is one steeped in Oregon's rich craft brewing history. After beginning as a brewer at McMenamins' breweries, he moved to Deschutes where he created the recipes for Mirror Pond, Black Butte Porter, Jubelale and Obsidian Stout. He spent the next 20 years of his career as a brewmaster at Full Sail in charge of creating the Brewmaster Reserve line of beers. In 2013, Harris founded Ecliptic Brewing purchasing the brewhouse from friend and Dogfish Head founder Sam Calagione. Harris' love for brewing and astronomy shines as he pushes the limits, including the haze craze with Phaser Hazy IPA. Juicy and unfiltered, Phaser features Citra, Azacca, Mosaic, Motueka and Calypso hops for juicy grapefruit dominating the aroma and taste. It also has tropical fruit notes in the middle and finish.
---