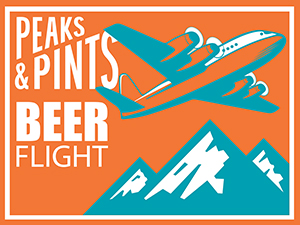 Peaks and Pints has hosted 987 different daily craft beer and cider flights since we opened on this date in history in 2016. That's 686 more than the number of forks we accidentally dumped into our trash bin. The number of times our electronic menu screens malfunctioned is 799 times less than the number of flights we served. Our chalk "A" frame sign sat outside overnight 950 less days — two never returning inside. Xfinity Internet had to be reset 430 more times than flights served, including 640 days less without Outside TV. A playing card has been stuck on our ceiling 289 less days. But, Peaks and Pints has been thrilled 108 more days than the number of flights we served. We count our blessings daily. We are overwhelmed by the support from the community. So, here we are on our three-year anniversary day with a flight to create. After some serious thought we thought we'd present a flight of craft beers that earned a place in our hearts. Please stop by Peaks and Pints, give us a hug, try our new house beer Kulshan Tree-dimensional IPA (after 6 p.m.) and enjoy Craft Beer Crosscut 11.1.19: Flight of Peaks and Pints.
Craft Beer Crosscut 11.1.19: Flight of Peaks and Pints
Harmon Skyline Trail Wildflower Sour
5% ABV
In August 2016, Harmon Brewing Head Brewer Jeff Carlson, Production Manager Bill Lundeen and Director of Brewery Operations Jesse Holder as well as Peaks and Pints staff collected yeast from wildflowers blooming along the Skyline Trail at approximately 5,400 feet on the south slope of Mount Rainier. The yeast was added to a sour blonde base, inoculated with Saccharomyces and aged for a year. In September 2017, it was blended with a blonde base that was aged two years in a foeder. It's a funky, tart, pale amber-colored ale that's light in body and exhibits aromas of stone fruit, oak and spice. Harmon ceased brewing operations this past summer, but Peaks and Pints holds on to the great memories and this delicious beer.
Kulshan Pilsner
4.9% ABV
For the past couple years, when a mention of Bellingham breweries awards comes up, there's always a discussion that starts with "Kulshan, again?", but even though the rest of Bellingham's growing craft beer scene is pretty damn awesome, the stamp that Kulshan Brewing has put on Bellingham can't be denied. The brewery's German-style "Pilsner" grabbed a gold medal at the 2017 Best of Craft Beer Award and a silver at the 2018 Washington Beer Awards, as well as crowned champion of Peaks and Pints Tournament of Beer: Northwest Pilsners this past April — no doubt for its traditional clean and bready malt flavors supported by herbal, floral and slightly spicy hop aromatics and flavor.
Wingman Brewers P-51 Porter
8% ABV, 31 IBU
The P-51 Porter was Wingman Brewers' first real beer recipe. "It goes back to 2008 when Derrick (Moyer) and I were home brewing," explains Wingman co-founder Ken Thoburn. "At the time, Lazy Boy Porter from Everett was my favorite beer around, so we tried to emulate that. The beer was initially made for a friend's birthday and called Nalty's Tall Order Porter since he's a tall dude and asked us to make a Porter for his birthday party. The beer went over so well with our friends that it remains the only recipe we've never changed since Wingman started … with Washington-grown barley and Moxie valley hops." The P-51 Porter is a robust and clean-finishing porter that offers rich, malty flavors that highlight hints of chocolate, coffee, nuts and smoke. Wingman is known for their porters, especially after P-51 Porter won Peaks and Pints' 2018 Tournament of Beer: Northwest Porters.
Double Mountain Cool Camp IPA
6.6% ABV, 55 IBU
Double Mountain Brewery and their brewer Matt Coughlin brewed Peaks and Pints bottle shop/taproom a 2018-2019 house IPA named after Coughlin's favorite spot to camp in the Olympic Mountains. Simcoe and Centennial hops take the lead, with substantial additions throughout the boil (2, 5, and 3 pounds to be exact, Tacoma's area code) with more in the hop back and dry hop. Kolsch yeast provides a lightly fruited character, supporting the hops and letting them shine. There's enough weight in the malt bill to let some biscuit and cereal through but it's light enough to carry along the adventure. Cool Camp IPA is built for adventure. Dank evergreen and ripe citrus lead an adventurous crew wandering through a rainforest of pines.
Rainy Daze Goat Boater IPA
7% ABV, 57 IBU
Besides people riding bicycles munching on pickled fish and chanting "Børk! Børk! Børk" the other curious happening Rainy Daze Brewing noticed as it was moving into Sound Brewery's former facility in Poulsbo was the frequent kayakers paddling on nearby Liberty Bay. Founder and head brewer Mike Montoney wanted to pay tribute to his new home so he named his latest IPA Goat Boater, which is slang for kayaker. And he's paddling all the way to the bank. Goat Boater IPA was crowned champion in Peaks and Pints' 2017 Tournament of Beer: Washington IPAs, our first tournament. With a winning combination of Amarillo, Mosaic, Centennial and Cascade hops, including a triple dry hop, this delicious IPA offers tropical fruit and dank flavors.
7 Seas Great Maker Imperial Hazy IPA
8% ABV
7 Seas Brewing searched as deep as oceans dive. Peaks and Pints probed as high as mountains climb. The nautical-themed craft brewery and mountain-themed craft beer bar, respectively, found the answer in the middle: a collaboration hazy imperial IPA inspired by Tacoma-born author Frank Herbert's Dune novel and recently opened Dune Peninsula along Tacoma's waterfront. Named after the sandworms in the novel, the Great Maker hazy double IPA is heavily hopped with Magnum and Amarillo in the kettle, Citra and Mosaic in the whirlpool and dry hopped with Idaho 7 and Amarillo. Add imperial juice yeast and 7 Seas' brewer Salmon Joe's magic and this easy-drinking, colossal collaboration has a full and supple mouthfeel with juicy orange and citrus flavor.
---
Category:
Beer Line Blog
,
Craft Beer
,
Critical Drinking
,
Crosscut Flight
,
Events and Festivals
,
In The Cooler
,
Peaks and Pints Lodge Meetings
,
Shop
,
Specials
Tags: 7 Seas Brewing Co., beer flights, craft beer, Craft Beer Crosscut, Double Mountain Brewery, Harmon Brewing Co, Kulshan Brewing Co, Peaks and Pints, Peaks and Pints Third Anniversary, Rainy Daze Brewing Co, Wingman Brewers