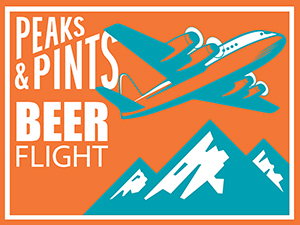 Peaks and Pints has a thing for Double Mountain Brewery. We met owner Matt Swihart several years before we opened Nov. 1 2016. His knowledge, friendliness and humbleness impressed us to the point we knew a long-term relationship was in order. We have hosted more beer flight with Double Mountain than any other brewery or cidery. We brewed Cool Camp IPA, our 2019 house beer, with the Hood River Brewery. We carried Double Mountain up Mt. Rainier. And, today, we chose Double Mountain as the featured brewery for our Beer For Clean Air fundraiser for the American Lung Association's Climb For Clean Air. Here we go again: please enjoy Craft Beer Crosscut 1.18.20: Flight of Double Mountain For Clean Air and help us raise money to fight lung disease. Cheers!
Craft Beer Crosscut 1.18.20: Flight of Double Mountain For Clean Air
Double Mountain Dry Cider
6.7% ABV
Double Mountain had long toyed with releasing their own hard cider, occasionally featuring housemade cider on at the taproom made from owner Matt Swihart's own apples. The brewery finally releases its own Dry Cider in December 2017, blending freshly harvested heirloom apples from Double Mountain Orchards and Hood River Newtowns, Braeburns, and Hanners for old world complexity. Double Mountain gave it plenty of time to dry out and develop the aromas of juicy pear, lychee, green fruit, and chamomile.  It finishes tart, crisp, dry and quenching.
Double Mountain Pêche Cuvée
9.3% ABV
Release last November, Pêche Cuvée is Double Mountain's Pêche Mode aged in oak barrels. The Belgian style sour ale is aged for nine months on Hood River peaches, our special house yeast, and Brettanomyces. Then, it's aged an additional year in French oak barrels. It hits the nose with prickly acidity, sour peaches, oak, and light white wine. The tartness isn't as strong as the nose would suggest. There's lots of macerated overripe juicy peach flavor, with a drying oak character, and a hint of white wine. There's a little bit of sharp Brett funk too.
Double Mountain Mt. Tahoma Kriek 2017
10.1% ABV
This Belgian-style sour ale combines the tart and funky flavors of Brettanomyces wild yeast with fresh fruit picked from the resplendent orchards in the Hood River Valley. The Flanders red ale-style Tahoma Kriek (the Native American name for Mt. Rainier) features the delicate Rainier cherry with a strong Belgian blond ale. More than 5 pounds of cherries make their way into every keg. Double Mountain brews the Krieks once a year at harvest, and then let them spend time in their cellars to sweetly slumber for aromas of cherry, lemon, tannins, and funk, followed by flavors of softly sour dusty cherries with tannins and moderate funk.
Double Mountain Kolsch
5.2% ABV, 40 IBU
Founded in 2007 in Hood River, Oregon, Double Mountain built its empire around two-row pilsner malt sourced from British Columbia. We're a big fan of Pilsner malt — it imparts a definite smoothness to the brew, including Double Mountain's Kolsch. A tribute to the style of beer native to Cologne (Koln), Germany, this beer is a very light straw pour with just a touch of haze and a decent egg-shell-white head. A little pepper crosses the nose along with sourdough bread, biscuit and light hops. Firm, tangy hops come through on the palate — Sterling and Perle — which is a nice combo of soft malt, fresh grain, spicy pepper and citrus. The finish is light and refreshing.
Double Mountain Ol' Greg Northwest IPA
7% ABV, 80 IBU
Matt Swihart has restructured his brewing team to have a head brewer, lead brewer and barrel manager to "create beers using novel ingredients and techniques, challenging the brewers to leave their comfort zones. This challenge resulted in three IPAs that will test the brewers' boundaries." First up in this series is Ol' Greg Northwest IPA with aromas of spiced fruit and black currant. For the uninitiated, Ol' Greg is a reference to a sketch from the British comedy troupe The Mighty Boosh, which is disturbing, hilarious, and is said to be often quoted round the brewery.
---