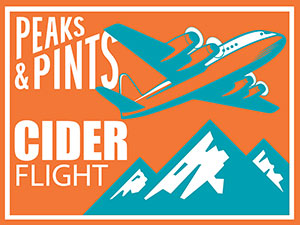 In common American usage, raw apple juice that has not been filtered to remove pulp or sediment is referred to as "fresh cider" or "sweet cider." The term "apple juice" indicates the juice has been filtered to remove solids. Fermented apple juice is called "hard cider." In Europe, all non-fermented apple juice is referred to as "juice," and fermented apple juice is referred to as "cider." Worldwide, cider varies in alcohol content from less than 3 percent alcohol by volume (ABV) as found in French cidre doux, to 8.5 percent ABV or above in traditional English ciders. New tax legislation passed by Congress in December 2015 brought U.S cider definitions into alignment with international standards, raising the allowable levels of carbonation and alcohol content and including pears as well as apples in the definition of (hard) cider. That's all fine and dandy, but let's get to drinking them. It's Washington Cider Week and Peaks and Pints hosts a social with Snowdrift Cider Co. from East Wenatchee from 4-6 p.m. today. In conjunction, we present an all-day, all Washington cider flight we call Washington Cider Week Flight: Snowdrift and friends.
Washington Cider Week Flight: Snowdrift and friends
Snowdrift Kingston Black
7.5% ABV
Snowdrift Cider Company sits in Central Washington near East Wenatchee. The cidery controls its own source of apples, tending an orchard that not only produces dessert apples, but also an array of traditional cider apples including Kingston Black, also known as "Black Taunton," a cultivar of apple originating from the United Kingdom. The name comes from the apples' dark red or purplish skin, though despite the name, the fruit does not have a black hue. This bittersharp apple can be quite intense right off of the tree. Like wine grapes these apple varieties need to be aged to soften the harsher tannins and let the more nuanced flavor characteristics be expressed. In the hands of a skilled cidermaker, such as Snowdrift, and aged to perfection, these varieties can yield a cider similar in character to a fine wine. Snowdrift's Kingston Black has hints of caramel, toffee, and that classic English bittersweet apple character in this semi-dry cider.
Snowdrift Cliffbreaks
7.8% ABV
Snowdrift's most popular cider, Cliffbreaks sports a rich deep golden color with full body. A light sparkle carries classic English cider and bittersweet apple aromas, followed by flavors of melons, tart apple, and dried fruit. Complex tannins and mouth-watering acidity are balanced with just enough sweetness.
Finnriver Dry Hopped Cider
6.5% ABV
When one of Washington's earliest cidermakers, Drew Zimmerman, retired, Finnriver owners Keith and Crystie Kisler added 1,000 of his trees from Mount Vernon to their Chimacum farm, to add "Cidery" to their Finnriver Farm name. Organic Washington dessert apples — Granny Smith, Pink Lady, Braeburn and Gala — are the base for Finnriver Dry Hopped Cider with Cascade hops adding grapefruit and pine notes. Finnriver ferments the juice to dry, then steeps with organic whole-leaf Cascade hops for up to two weeks, for additional depth and flavor, and to appease the hop-lovers.
Chatter Creek Barrel Roll
6.9% ABV
Gordon Rawson began making wine in the early 1980s as a home winemaker. Some of his first wine came from fresh apple juice purchased from the local grocery. Fun, but he desired to be a serious winemaker. After working for Columbia Winery as cellarmaster for nearly a decade, Gordon Rawson opened Chatter Creek Winery in 1996 to produce top-quality sparkling wines in Woodinville, Washington. In 1998, he broadened the focus of Chatter Creek to include still wines. Early in 2000, he departed Columbia Winery to focus solely on Chatter Creek. After a bad day making wine, he bought some apples to clear his mind. Next thing he knew, he added ciders to his label. One day, he took apple cider and aged it in spent barrels of Woodinville Bourbon Whiskey for four months. Apple cider plus bourbon barrels equals notes of bourbon, oak, vanilla, and lemon.
Eaglemount Brambleberry Burn
8% ABV
Fourteen years ago, Jim and Trudy Davis founded Eaglemount Winery & Cidery on an original 1883 homestead in the town of Eaglemount on the Olympic Peninsula. Part winery, part cidery, Eaglemount continues the tradition of the original homesteaders by making hard cider with heirloom apple varieties such as Gravenstein, Winesap, White Pippin, Roxbury Russet, and Twenty Ounce, although they also source heirloom varieties from other old homestead orchards on the Peninsula. Eaglemount Brambleberry Burn adds jalapeños to the blackberry and apple cider for a rich, almost wine-like cider with a mildly spicy jalapeño finish.
---