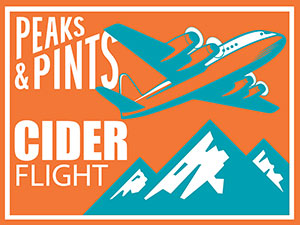 As a rule, good apples for cider production tend not to be the most aesthetically pleasing of fruits. They're often small and bumpy, hardly the proverbial apple of our proverbial eye. And hundreds if not thousands of varieties have been lost forever, largely to the encroachment of suburban sprawl. But thanks to the efforts of Northwest Cider Association's Washington Cider Week, the apple lives on. The 11-day craft cider celebration kicked off Sept. 5 with more than 85 events ranging from the simple to the significant — from dinner pairing menus to Peaks and Pints' Washington Cider Week Socials. Indeed, 4-6 p.m., through Sept. 16, Peaks and Pints will host cider socials for gluten-shy people to experience a different Washington state cider daily. Over the course of two hours, we'll tap several draft options from a cidery to fuel discussions, compliment literature or spark new friendships. Today, it's Winsome Ciderworks and an all-day Washington Cider Week Flight: Winsome and Friends.
Washington Cider Week Flight: Winsome and Friends
Winsome Peach Ginger
6.1% ABV
Leroy Radford earned his winemaking chops at Mark Ryan and Baer wineries before launching Flying Dreams Winery in 2008. The winemaker began experimenting with cider, and in 2014, he opened Woodinville Ciderworks, which recently became Winsome Ciderworks. Using only Washington apples, he now produces seven different cider flavor profiles, from Asian Pear and Oaked Chipotle to Pomegranate Cherry and Peach Ginger, which leads off today's cider flight. Winsome Peach Ginger strikes a good balance of apple, pear, ginger, peach, and tea. Refreshing throughout, the cider has a definite peach linger that stays longer than the other flavors.
Winsome Apricot Hop
6.1% ABV
At Winsome Ciderworks their goal is to create welcoming and easy-to-drink ciders, and share them with everyone. While they take their cider making seriously — and apply over 20 years of wine making experience to creating their ciders — they always keep their products approachable. The Woodinville cidery's Apricot Hop is lively blend of apricot, and citrus flavors on the palate, finishing with subtle hop notes.
Herb's Double Stroke
6.5% ABV
After suffering two heart attacks, 53-year-old Primus drummer Tim "Herb" Alexander opened Herb's Cider in Bellingham, Washington. He knew he needed a change. Herb's Cider is made with 100 percent organic Washington apples, and guided by Chris Weir, formerly of Finnriver Cidery and Port Townsend Brewing. Double Stroke (yes, all the ciders have a drum theme) is the cidery's dry offering.
Incline The Scout Hopped Marionberry Cider
6.5% ABV
Sticking to the Northwest, Washington-born Incline Cider Company adds berries bred straight out of the Oregon Willamette Valley: marionberries. Pouring a perfect shade of deep purple-ish red, The Scout Hopped Marionberry Cider's aroma, via the hops, gives off a beer scent along with a rich berry. Marionberry, the bold cousin of blackberry adds, sweet fruitiness that gently balances with the crisp apple and bitter hops of the cider.
Tieton Pure Pear
6.5% ABV
Tieton Cider Works takes advantage of its location. In Yakima Valley, the hot and dry days in the summers make it the perfect place to grow pears. Pure Pear is an effervescent beverage that pours a soft straw color with a lightly laced rim. Orange blossom honey and rose petal fill the nose, while the palate is greeted with lively citrus, passionfruit, and pear, along with a long, slightly sweet finish.
---