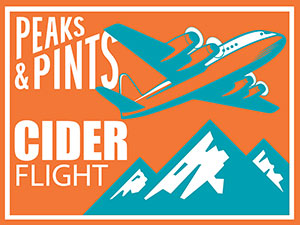 Back in the day, George Washington's troops received rations of it. John Adams reportedly drank a tankard of it for breakfast each morning. Cider apples and their fermented juice were prevalent on American homesteads. Then Americans departed farms for cities, German immigrants introduced beer culture and ultimately Prohibition took a collective axe to cider orchards across the country. It's not surprising that craft cider has taken root in Washington state — a region of wine and craft beer enthusiasts. Washington is the second largest wine producer and has the third highest number of craft breweries in the country. But when it comes to cider, Washington is fourth in the nation with 66 cideries. As part of The Northwest Cider Association's ninth annual Washington Cider Week, Peaks and Pints hosts Washington Cider Week Socials daily from 4-6 p.m. through Sept. 16. In conjunction, Peaks and Pints will allow Washington ciders to takeover our daily flight, with One Tree Hard Cider in the spotlight today. Stop by Peaks and Pints today and enjoy Washington Cider Week Flight: One Tree and Friends.
Washington Cider Week Flight: One Tree and Friends
One Tree Lemon Basil Cider
6.6% ABV
Grant Barnes and Neal Hennessy started making cider as a hobby, and it turned into a vocation. One Tree Hard Cider started in Barnes' Spokane Valley garage, with exactly one recipe: a relatively straightforward semi-sweet apple cider. They went pro in the summer of 2014. Real lemon and fresh basil make this a sweet, sassy bouquet of awesome.
One Tree Huckleberry
6.6% ABV
This beauty has One Tree's dessert apple cider base that is blended with fresh-pressed Washington apple juice and locally sourced wild huckleberry for a sweat and tart concoction.
Ole Swede Bada Bing!
6.9% ABV
About a 1,000 people live in Tonasket, a city in Okanogan County, Washington. Lucky them to have Ole Swede Cider in their backyard. Tonasket native Casey Oberg launched Ole Swede Cider on his family farm in 2014. His semi-dry Bada Bing features 90 percent apple with the rest bing cherries. The medium bodied hits the nose with apple and cherry followed by tart, mild real cherry flavor.
Eaglemount Aronia Blueberry
8% ABV
Eaglemount Cidery hard ciders are made with certified organic or sustainably grown fruit. The fruit comes from their homestead orchard, other homestead orchards in the area, their English and French cider orchard, and from certified organic growers in Washington state. Eaglemount Aronia Blueberry is crafted from certified organic aronia (the anti-oxidant superfruit), blueberries, and heirloom apples. The aronia balances the sweet blueberries.
Bad Granny Fresh Hop
6.5% ABV
Julie and Bret Pittsinger opened Karma Vineyards in the fall of 2007, creating the first traditional style champagne in Chelan County, Washington. As the brand grew the Pittsingers saw an opportunity to partner with his long-term relationships of apple growers in the area that he's cultivated over several decades. The chemistry between the quality of apple and the knowledge of the traditional French champagne method, created a unique hard cider and Bad Granny Hard Cider was born. Bad Granny's Fresh Hop is made with Loral hops for an aroma profile of floral, peppery, and even herbal notes, reminiscent of German noble hops. However, it doesn't stop there. The citrus (specifically lemon) and some dark fruit character balance the sweetness.
---