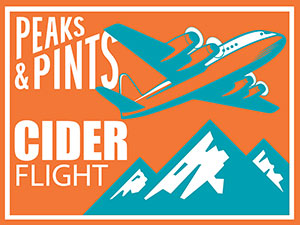 For centuries the first thing that would come to mind when most people thought of the Lake Chelan Valley might be the snow-capped buttes, glacier fed waters of the lake itself or spring break shenanigans. However, over the course of the last few years, this beautiful backdrop has become known as one of the best cider producing regions in the country. The Kludt family has been growing apples on their small family farm in the Lake Chelan Valley for more than 40 years — apples that now feed their Washington Gold Cider in Chelan, Washington. As a continuation of our 12-day Washington Cider Week celebration we will host Peaks and Pints Washington Cider Week Social: Washington Gold from 4-6 p.m. today. Stop by to enjoy the Chelan cidery on tap, as well as a Washington Cider Week Fight: Washington Gold and Friends.
Washington Cider Week Fight: Washington Gold and Friends
Washington Gold Original Hard Cider
5.5% ABV
This 100 percent Washington apple cider grabbed gold at the Seattle Cider Awards, Silver at the San Diego International Beer Competition, as well as "World's Best" deemed by The Wenatchee World two consecutive years. Pale golden with sparkling clarity and bright flavors, this semi-sweet cider offers subtle floral notes combine with a hint of vanilla bean and ripe apple. It's incredibly clean and crisp.
Washington Gold Cherry
5.5% ABV
Another multiple award-winning Washington Gold cider, Cherry is made with 100 percent Washington grown apples and cherries. It more freshly picked autumn apples than cherry on the nose. The cherry scrumpy runs like red satin down the throat with semi-sweet, sugar-kissed apple flavor finishing dry as it reveals a hint of tart, ripe cherry.
One Tree Huckleberry
6.6% ABV
Grant Barnes and Neal Hennessy started making cider as a hobby, and it turned into a vocation. One Tree Hard Cider started in Barnes' Spokane Valley garage, with exactly one recipe: a relatively straightforward semi-sweet apple cider. They went pro in the summer of 2014. This beauty has One Tree's dessert apple cider base that is blended with fresh-pressed Washington apple juice and locally sourced wild huckleberry for a sweat and tart concoction.
Eaglemount Aronia Blueberry
8% ABV
Eaglemount Cidery hard ciders are made with certified organic or sustainably grown fruit. The fruit comes from their homestead orchard, other homestead orchards in the area, their English and French cider orchard, and from certified organic growers in Washington state. Eaglemount Aronia Blueberry is crafted from certified organic aronia (the anti-oxidant superfruit), blueberries, and heirloom apples. The aronia balances the sweet blueberries.
Chatter Creek Ashmead's Kernal
9.7% ABV
Gordon Rawson began making wine in the early 1980s as a home winemaker. Some of his first wine came from fresh apple juice purchased from the local grocery. Fun, but he desired to be a serious winemaker. After working for Columbia Winery as cellarmaster for nearly a decade, Gordon Rawson opened Chatter Creek Winery in 1996 to produce top-quality sparkling wines in Woodinville, Washington. In 1998, he broadened the focus of Chatter Creek to include still wines. Early in 2000, he departed Columbia Winery to focus solely on Chatter Creek. After a bad day making wine, he bought some apples to clear his mind. Next thing he knew, he added ciders to his label. Ashmead's Kernal is made from Washington grown apples, and then custom pressed and slowly fermented for a tart, crisp dry cider.
---