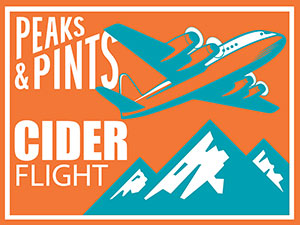 On the northeast corner of the Olympic Peninsula is an extension of land called the Quimper Peninsula, named after Manuel Quimper, a Spanish Peruvian explorer, cartographer, naval officer, and colonial official. The narrow peninsula became the home of Port Townsend, Chimacum, Glen Cove and Fort Worden, just to name a few highlights. Today, Quimper Peninsula is home to some of the best cideries in Washington state, including Finnriver Farm & Cidery, When one of Washington's earliest cidermakers, Drew Zimmerman, retired, Finnriver owners Keith and Crystie Kisler transplanted 1,000 of his trees from Mount Vernon to their Chimacum farm, a heartwarming, if labor-intensive transition from old guard to new. A working farm, Finnriver houses rows of espaliered apple trees, fields of flowers, grazing sheep, and on weekend nights, bands add to the merriment. As a continuation of our 12-day Washington Cider Week celebration we will host Peaks and Pints Washington Cider Week Social: Finnriver from 4-6 p.m. today. Stop by to enjoy the Chimacum cidery on tap, as well as a Washington Cider Week Fight: Finnriver and Friends.
Washington Cider Week Fight: Finnriver and Friends
Finnriver Apple Abbey
6.5% ABV
Made from a select blend of Washington dessert apples from the Yakima Valley, including Jonagold, Cameo, Gala and Honey Crisp, Apple Abbey is fermented in two batches, with one strain of Belgian-style abbey yeast, at high temperatures. Combined, these ferments present the archetypal Belgian beer nose of tropical fruit with hints of spice and pepper. Lingering sweetness from the apples brings out tropical aromas of ripe banana, with hints of pepper and clove spice. A low acidity allows the lees to wander and create a gentle body. Expect a nutty and bread-like finish.
Finnriver Black Currant Lavender
6.5% ABV
Finnriver Black Currant Lavender Cider celebrates the botanical bounty and beauty of the Olympic Peninsula. This refreshing purple-hued sparkling cider features the organic Washington apple fermented and blended with the sweet and tart delights of black currant. Add to that the delicate floral notes of organic Sequim lavender, sourced from Purple Haze farm, and you have an aroma of strong lavender, currant, Concord grape, and honey, followed by lavender, tart currant, grape, and apple flavors.
Finnriver Autumn's Blush
6.9% ABV
Finnriver's Autumn's Blush is made with Organic heirloom Washington apples and organic black currants blending the lines between trees and vines. Expect crisp undaunted acidity, layered earth tones and a lighthearted sweetness to bring it all together.
Washington Gold Cherry
5.5% ABV
The Kludt family has been growing apples on their small family farm in the Lake Chelan Valley for more than 40 years — apples that now feed their Washington Gold Cider in Chelan, Washington. Multiple award-winning Washington Gold Cherry is made with 100 percent Washington grown apples and cherries. It more freshly picked autumn apples than cherry on the nose. The cherry scrumpy runs like red satin down the throat with semi-sweet, sugar-kissed apple flavor finishing dry as it reveals a hint of tart, ripe cherry.
Bad Granny Fresh Hop
6.5% ABV
Julie and Bret Pittsinger opened Karma Vineyards in the fall of 2007, creating the first traditional style champagne in Chelan County, Washington. As the brand grew the Pittsingers saw an opportunity to partner with his long-term relationships of apple growers in the area that he's cultivated over several decades. The chemistry between the quality of apple and the knowledge of the traditional French champagne method, created a unique hard cider and Bad Granny Hard Cider was born. Bad Granny's Fresh Hop is made with Loral hops for an aroma profile of floral, peppery, and even herbal notes, reminiscent of German noble hops. However, it doesn't stop there. The citrus (specifically lemon) and some dark fruit character balance the sweetness.
---