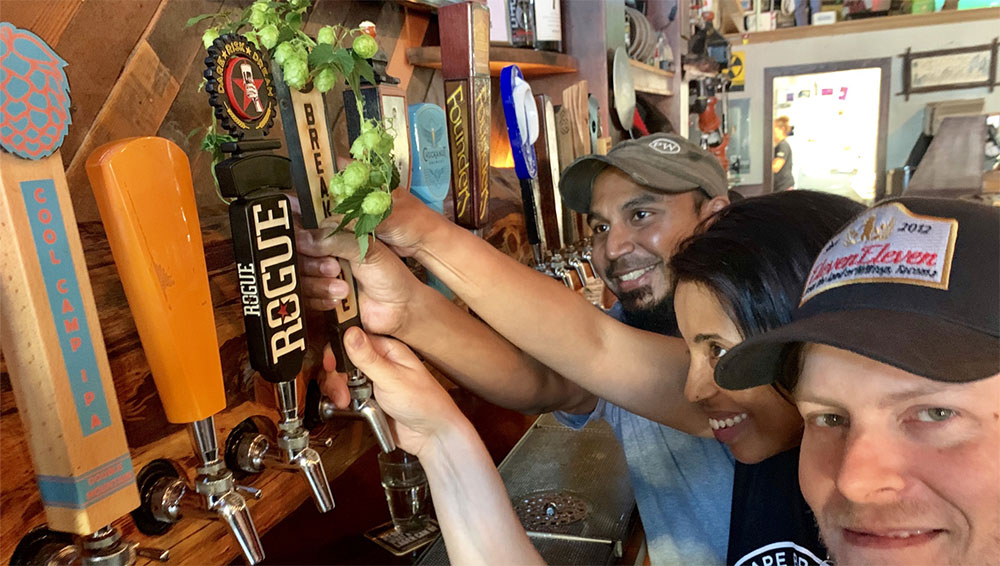 Peaks and Pints Tap List: Tuesday September 10 2019
Peaks and Pints houses a mind-boggling array of suds: some 650 or so bottled and canned in our cooler, with another 28 on tap, including nitro lines. While craft beer remains our foundation, you don't have to be embarrassed for ordering artisan craft cider, wine, cold brewed coffee and kombucha as those delights are on tap too at Peaks and Pints. To follow our tap list live from your phone, click here for iPhone and here for Android. Today, the Peaks and Pints Tap List Tuesday September 10 2019 includes Breakside Brewery's Fresh Hop Strata True Gold.
This fresh hop version of True Gold golden ale is brewed with fresh-from-the-field Strata hops from Goschie Farms. The brewers flash freeze the cones with liquid nitrogen, shatter them to expose the precious lupulin glands, and then condition the beer on the fresh hops for several days.
Breakside Fresh Hop Strata True Gold is part of Peaks and Pints' daily "Fresh Hoptoberfest," joining Rogue Coast Haste Imperial Fresh Hop IPA, Dru Bru Oktoberfest and Top Rung Fest Bier on our Western red cedar tap log. Cheers!
1

Argyle

Pinot Noir, Willamette Valley

14.1%

Just Tapped

2

Proletariat

Sangiovese

USA

Walla Walla, WA

12%

Just Tapped

3

Townshend Cellar

Pinot Gris

12.5%

Just Tapped

4

GT'S

Gingerade

Kombucha

Beverly Hills, CA

0%

Just Tapped

5

Bluebeard Coffee Roasters

Nitro Cold Brew Coffee

Cold Brew Coffee

Tacoma, WA

Just Tapped

6

Rainier

Mountain Fresh Rainier Beer

Lager

Seattle, WA

4.73%

IBU

Just Tapped

7

Finnriver

Solstice Saffron

Cider w/saffron

Chimacum, WA

6.5%

Just Tapped

8

Fierce County Brewing

Shortcake

Sweet Cider Strawberry

Puyallup, Wash.

6.6%

Just Tapped

9

Matchless

Rad Lemons

Radler Dry-hopped

Tumwater, WA

4.2%

IBU

Just Tapped

10

Rogue

Rhubarb Schmubarb

Sour Fruit

Newport, OR

5.9%

8 IBU

Just Tapped

11

Sig

Pineapple Upside Down

Fruit Beer Pineapple, cherry

Tacoma, WA

7.4%

IBU

Just Tapped

12

Bitburger

Premium Pilsner

German Pilsner

Bitburg, Germany

4.8%

38 IBU

Just Tapped

13

Baerlic

Chill

Helles Lager

Portland, OR

4.9%

IBU

Just Tapped

14

Unibroue

Blanche De Chambly

Witbier

Chambly, Quebec

5%

10 IBU

Just Tapped

15

Double Mountain

Cluster F#*k Hazy IPA

Hazy IPA

Hood River, OR

7.3%

85 IBU

Just Tapped

16

Kulshan

Tree-dimensional

IPA

Bellingham, WA

6.8%

IBU

Just Tapped

17

Fort George/Structures/Level

3-Way 2020

Hazy IPA

Astoria, OR

7.2%

IBU

Just Tapped

18

Structures

Fuzz

Hazy IPA

Bellingham, WA

6.2%

IBU

Just Tapped

19

Ruse

Similar Science

Hazy IPA Citra, Nelson

Portland, OR

7.3%

IBU

Just Tapped

20

Reuben's Brews

Gobsmacked!

Double IPA

Seattle, WA

10%

80 IBU

Just Tapped

21

Ferment

ESB

ESB

Hood River, OR

5.4%

IBU

Just Tapped

23

Fat Orange Cat

Little Black Cats

Black IPA

East Hampton, CT

6.5%

IBU

Just Tapped

24

Bosteels

Tripel Karmeliet

Abbey Tripel brewed w/ barley, oats & wheat

Buggenhout, Belgium

8.4%

16 IBU

Just Tapped

25

Sierra Nevada

Bigfoot

American Barleywine

Chico, CA

9.6%

90 IBU

Just Tapped

26

San Juan Island

Black Boar

Porter

Friday Harbor, WA

4.5%

20 IBU

Just Tapped

27

Pelican

Tsunami Stout

Export Stout

Pacific City, OR

7%

45 IBU

Just Tapped

28

StormBreaker

Seeing Ghosts

Russian Imperial Stout

Portland, OR

10.5%

IBU

Just Tapped
---