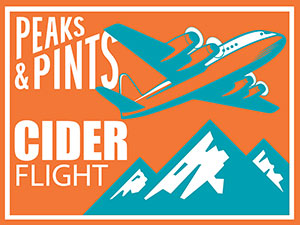 Named for the dragon that guards the apples of immortality in the Garden of Hesperides, Dragon's Head Cider was founded in 2010 on Vashon Island. Ignoring their last name, owners Laura and Wes Cherry planted a beautiful orchard of apples and pears with production held on site. The Cherry's don't believe in cold storing their apples; they press during harvest season at its peak ripeness. Once pressed, the fruit ferments in winter, is blended in spring, and ready to be bottled by early summer. As a continuation of our 12-day Washington Cider Week celebration we will host Peaks and Pints Washington Cider Week Social: Dragon's Head from 4-6 p.m. today. Stop by to enjoy the Vashon Island cidery on tap, as well as a Washington Cider Week Fight: Dragon's Head and friends.
Washington Cider Week Fight: Dragon's Head and friends
Dragon's Head Perry
6.2% ABV
Made with 100 percent pears, Dragon's Head Perry features seedling pears that are unique to Vashon Island, harvested from trees that were likely planted by homesteaders around 100 years ago. These Vashon pears are blended with true English perry pears for a subtle sweetness, a delicate pear flavor, and lovely round tannins. It's a multiple gold medalist.
Dragon's Head Cider Heritage
6.9% ABV
Crafted from a blend of more than 20 traditional English and French cider apple varieties from Dragon's Head Cider's orchard on Vashon Island, these special apples contribute a richness of flavor and character to cider that can't be achieved with ordinary culinary apples. This multiple award-winning cider — including back-to-back medaling at the Great Lakes International Cider and Perry Competition — Heritage hits the nose with butterscotch, hay, spice and a hint of leather. On the tongue, we get tangerine, honey, fennel and, of course, apple.
Dragon's Head Manchurian
6.9% ABV
Dragon's Head's 2018 Great Lakes International Cider and Perry Competition silver medalist Manchurian Cider is made from a blend of apples, but features the unique characteristics of the Manchurian Crabapple. This petite yet bold apple imparts flavor and dimension to cider on a scale much larger than its size predicts. Expect notes of blood orange, tangerine, tart apple and pear once you move past tropical fruit, woody resins and lightly floral aroma notes. It sports a clean finish.
Seattle Cider Pumpkin Spice
6.9% ABV
Joel VandenBrink, the founder of Two Beers Brewing Co., launched the Seattle Cider Company in August 2013, with the help from his Two Beers sales rep and a former farm hand Eric Willard. Diagnosed with Crohn's disease, which makes beer difficult to digest, VandenBrink launched the cider company with only two products: Semi Sweet and Dry. Today, Seattle Cider has many options, including Pumpkin Spice. We'll tell you what we want, what we really really want: a cider spiced with cinnamon, nutmeg, clove and allspice. It's pumpkin pie's long-lost love.
Bad Granny Fresh Hop
6.5% ABV
Julie and Bret Pittsinger opened Karma Vineyards in the fall of 2007, creating the first traditional style champagne in Chelan County, Washington. As the brand grew the Pittsingers saw an opportunity to partner with his long-term relationships of apple growers in the area that he's cultivated over several decades. The chemistry between the quality of apple and the knowledge of the traditional French champagne method, created a unique hard cider and Bad Granny Hard Cider was born. Bad Granny's Fresh Hop is made with Loral hops for an aroma profile of floral, peppery, and even herbal notes, reminiscent of German noble hops. However, it doesn't stop there. The citrus (specifically lemon) and some dark fruit character balance the sweetness.
---