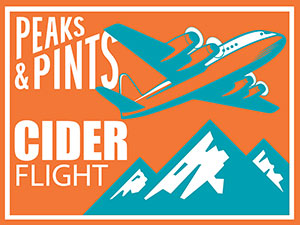 In 2008, Craig Campbell and his wife, Sharon, began experimenting with making cider from dessert apples grown in their 400-acre commercial fruit orchards in Yakima, Washington. Despite naysayers who warned that cider apples required a maritime climate, Craig also planted a two-acre test orchard with 25 varieties of cider apples. Today, their two-acre experiment expanded into Cider View, a 30-acre "high-density" cider orchard. In their commercial cidery, Tieton Cider Works, they blend American heritage, English and French cider varietals with dessert apples to capture the best of what each variety brings to the bottle: sweetness, acidity, tannin and aroma. As a continuation of our 12-day Washington Cider Week celebration we will host Peaks and Pints Washington Cider Week Social: Tieton from 4-6 p.m. today. Stop by to enjoy the Yakima cidery on tap, as well as a Washington Cider Week Fight: Tieton and friend.
Washington Cider Week Fight: Tieton and friend
Tieton Pure Pear
6.5% ABV
Tieton Cider Works takes advantage of its location. In Yakima Valley, the hot and dry days in the summers make it the perfect place to grow pears. Pure Pear is an effervescent beverage that pours a soft straw color with a lightly laced rim. Orange blossom honey and rose petal fill the nose, while the palate is greeted with lively citrus, passionfruit, and pear, along with a long, slightly sweet finish.
Tieton Apricot Cider
6.5% ABV
When Tieton infuses their crisp apple cider with the tartness of apricot, the apple notes play a supporting role and let the tartness of the apricots shine.
Tieton Bourbon Barrel Peach
6.9% ABV
This year, Tieton's popular Bourbon Barrel Peach cider was aged in previously used Dry Fly bourbon barrels. Aging in bourbon barrels gives the cider deep, rich notes of vanilla and spice.
Bad Granny Fresh Hop
6.5% ABV
Julie and Bret Pittsinger opened Karma Vineyards in the fall of 2007, creating the first traditional style champagne in Chelan County, Washington. As the brand grew the Pittsingers saw an opportunity to partner with his long-term relationships of apple growers in the area that he's cultivated over several decades. The chemistry between the quality of apple and the knowledge of the traditional French champagne method, created a unique hard cider and Bad Granny Hard Cider was born. Bad Granny's Fresh Hop is made with Loral hops for an aroma profile of floral, peppery, and even herbal notes, reminiscent of German noble hops. However, it doesn't stop there. The citrus (specifically lemon) and some dark fruit character balance the sweetness.
Tieton Dry Hopped
6.9% ABV
Tieton's home of Yakima Valley is known worldwide as a premier apple growing region and a prominent source of hops. They have chosen a select blend of traditional and exotic hops to marry with their cider. This blend of hops produces an aroma of fruit-forward nuttiness followed by a citrusy palate.
---