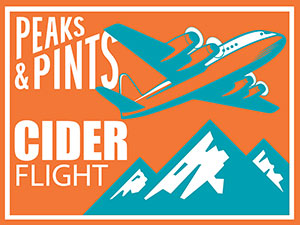 In 2009, with sales tripling in less than a year, Two Beers Brewing Co. moved its full operation from a tiny spot in Seattle's Fremont neighborhood into a 2,400 sq. ft. South Seattle neighborhood brewery and tasting room, adding three 250-gallon tanks, one Joel VandenBrink, the founder of Two Beers, launched the Seattle Cider Company in August 2013, with the help from his Two Beers sales rep and a former farm hand Eric Willard. Diagnosed with Crohn's disease, which makes beer difficult to digest, VandenBrink launched the cider company with only two products: Semi Sweet and Dry. VandenBrink didn't launch with six to 10 products, common with start-up craft breweries. He didn't launch with experimental pineapple cider or pomegranate cider. No, VandenBrink, Willard, up-and-coming cider savant Brent Miles and the Seattle Cider crew — with natural support from the Two Beers crew too — hit the market with two, solid ciders. And the cider company sprouted big and wide. As a continuation of our 12-day Washington Cider Week celebration we will host Peaks and Pints Washington Cider Week Social: Seattle Cider from 4-6 p.m. today. Stop by to enjoy Seattle Cider's craft on tap, as well as a Washington Cider Week Fight: Seattle Cider.
Washington Cider Week Fight: Seattle Cider
Seattle Cider Dry Cider
6.5% ABV
Made primarily from culinary/table apples modern ciders are generally lower in tannin and higher in acidity. Seattle Cider delivers delicious modern ciders. With zero percent residual sugar, its Dry is a very dry cider in a classical style. The dryness doesn't equate to a lack of flavor, however, as it still has a refined apple nature underlined by notes of stone fruits and a light tickle of lilac on the nose. It's a cider that can stand alongside one of our roast beef sandwiches without losing the flavor battle.
Seattle Cider Summit Reserve
6.9% ABV
Seattle Cider created a special cider just for the four 2019 Cider Summit festivals, Seattle Cider Summit Reserve, of which the Seattle version was held last weekend. Summit Reserve is made from a blend of heirloom and cider apples, including Winesap and Newton Pippin that impart remarkable depth of character, while a touch of brown sugar helps to soften its lively acidity.
Seattle Strawberry Guava
6.9% ABV
Guavas are one of our favorite fruits — so fresh and pleasantly sweet, they automatically transport you to a far-off tropical island. Its flavor profile contains notes of pear and strawberry, so Seattle Cider added strawberries to their guava cider for a limited-release semi-dry cider with mild fruitiness.
Tieton Huckleberry
6.9% ABV
In 2008, Craig Campbell and his wife, Sharon, began experimenting with making cider from dessert apples grown in their 400-acre commercial fruit orchards. Despite naysayers who warned that cider apples required a maritime climate, Craig also planted a two-acre test orchard with 25 varieties of cider apples. Today, their two-acre experiment expanded into Cider View, a 30-acre "high-density" cider orchard. In their commercial cidery, Tieton Cider Works, they blend American heritage, English and French cider varietals with dessert apples to capture the best of what each variety brings to the bottle: sweetness, acidity, tannin and aroma. The results are ciders with body and a depth of finish, including their Huckleberry cider. Made with Northwest huckleberries and Washington apples, this cider strikes a balance between tart and sweet.
Tieton Pure Pear
6.5% ABV
Tieton Cider Works takes advantage of its location. In Yakima Valley, the hot and dry days in the summers make it the perfect place to grow pears. Pure Pear is an effervescent beverage that pours a soft straw color with a lightly laced rim. Orange blossom honey and rose petal fill the nose, while the palate is greeted with lively citrus, passionfruit, and pear, along with a long, slightly sweet finish.
---