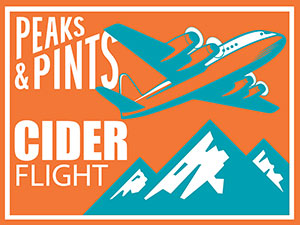 Peaks and Pints argues that autumn is a super season, at least when it comes to food and drink. What we eat and drink this time of year evokes memories more easily than what we consume in other seasons. This is the time of year we dust off crockpots and Dutch ovens for soups and stews, filled — at least right now — with the remaining harvests of our local farms. This is when we flock to orchards for fresh-picked apples, and when we scoop out globs of pumpkin seeds for roasting. We drop cinnamon sticks in hot cider, and warm up chocolate with piquant spices. We're heartened that in these divided times, it seems like we can all at least agree on fall. The cool weather, the smell of crabapples on wet leaves redolent of schooldays past, warm spices baking in the oven, and delicious cider … who could argue with any of that? As a continuation of our 12-day Washington Cider Week celebration we will host Peaks and Pints Washington Cider Week Social: d's Wicked Cider from 4-6 p.m. today. Stop by to enjoy the cidery's Baked Apple on tap, as well as a Washington Cider Week Fight: Autumn.
Washington Cider Week Fight: Autumn
d's Wicked Baked Apple
6.9% ABV
Let's talk Baked Apple, as in Kennewick-based hard cider maker d's Wicked Cider's 2015 U.S. Open Beer Championship gold medal winning creation. The cider company, which is owned by Daniel and Heidi Washam, owners of Sun River Vintners, also in Kennewick, opened shop with Baked Apple, which uses Washington apples to makes its three cider varieties. This off-dry cider hosts the flavors of Red Delicious, Honey Crisp and Granny Smith apples, finishing with a touch of allspice and cinnamon. Think grandma's apple pie without the crust.
Finnriver Autumn's Blush
6.9% ABV
When one of Washington's earliest cidermakers, Drew Zimmerman, retired, Finnriver owners Keith and Crystie Kisler transplanted 1,000 of his trees from Mount Vernon to their Chimacum farm, a heartwarming, if labor-intensive transition from old guard to new.  A working farm, Finnriver houses rows of espaliered apple trees, fields of flowers, grazing sheep, and on weekend nights, bands add to the merriment. Their Autumn's Blush is made with Organic heirloom Washington apples and organic black currants blending the lines between trees and vines. Expect crisp undaunted acidity, layered earth tones and a lighthearted sweetness to bring it all together.
Seattle Cider Pumpkin Spice
6.9% ABV
Joel VandenBrink, the founder of Two Beers Brewing Co., launched the Seattle Cider Company in August 2013, with the help from his Two Beers sales rep and a former farm hand Eric Willard. Diagnosed with Crohn's disease, which makes beer difficult to digest, VandenBrink launched the cider company with only two products: Semi Sweet and Dry. Today, Seattle Cider has many options, including Pumpkin Spice. We'll tell you what we want, what we really really want: a cider spiced with cinnamon, nutmeg, clove and allspice. It's pumpkin pie's long-lost love.
Cockrell Hop'n Cider
6.2% ABV
Brothers Richard and John Cockrell have been making cider and beer in their Puyallup homes for more than 25 years, sharing their craft with family and friends, as well as grabbing many local, state and national awards and accolades. As the brothers began planning for their retirement their fans begged them to go pro. Their hobby became Cockrell Hard Cider. Since autumn is fresh hop season, we added Cockrell's Hop'n Cider to this flight. It's their dusty base cider cold-fermented with Simcoe hops for added floral, tropical fruit and pine sap on the nose followed with a clean, crisp finish.
Finnriver Spirited Apple Wine
18.5% ABV
Finnriver's Spirited Apple Wine begins as Washington-grown apple juice, which the Chimacum cidery ferments into an apple wine. Next, they fortify this wine with their apple brandy, custom-distilled by Admiralty Distillers. The finished wine ages with oak spirals or in a barrel. It's a "fortified wine" and not a distilled spirit — fortified with a neutral spirit to stop the yeast before fermentation is complete and all sugars have been converted into alcohol. The apple wine thus retains some naturally occurring sugar, perceived as sweetness on the palate. In addition to the sweetness, expect notes of caramel and oak, with woody roots, rich apple depth and warming brandy heat — perfect for autumn.
---