Washington Cider Week 2021: World's Best Cidery
Peaks & Pints Apple Press: Cider News, Reviews, and Interviews
In common American usage, raw apple juice that has not been filtered to remove pulp or sediment is referred to as "fresh cider" or "sweet cider." The term "apple juice" indicates the juice has been filtered to remove solids. Fermented apple juice is called "hard cider." In Europe, all non-fermented apple juice is referred to as "juice," and fermented apple juice is referred to as "cider." Worldwide, cider varies in alcohol content from less than 3 percent alcohol by volume as found in French cidre doux, to 8.5 percent ABV or above in traditional English ciders. New tax legislation passed by Congress in December 2015 brought U.S cider definitions into alignment with international standards, raising the allowable levels of carbonation and alcohol content and including pears as well as apples in the definition of (hard) cider. That's all fine and dandy, but it's Washington Cider Week 2021 so let's dive into today's action.
Press Play
>>> Mary and Charles Curran purchased a 7.33-acre parcel of land in 1951 and transformed it into an Curran Apple Orchard with 250 Gravenstein, Macintosh and Golden Delicious apple trees that quickly became a popular local landmark. In 1993, the University Place Community Council successfully obtained Conservation Futures funds from Pierce County to preserve the orchard forever as a park. You'll find more than 200 trees with 15 different varieties of apples, so bring your buckets and get them while you can. Trees that aren't taped off and labeled with a "do not pick" sign are available to the public (the ones with signs are harvested by donors).
[Curran Apple Orchard, 3920 Grandview Dr. W., University Place, 253.566.5656]
>>> Peaks & Pints presents an all-day, to-go flight of Alpenfire Cider bottles. Click here for details.
[Peaks & Pints, Monday, Sept. 13, 11 a.m. to 10 p.m., 3816 N. 26th St., Basecamp Proctor, Tacoma, 253.328.5621, no cover]
Cider(ific)
ONE TREE PUMPKIN: Grant Barnes and Neal Hennessy started making cider as a hobby, and it turned into a vocation. One Tree Hard Cider started in Barnes' Spokane Valley garage, with exactly one recipe: a relatively straightforward semi-sweet apple cider. They went pro in the summer of 2014. Their Pumpkin cider is created with house-roast real pumpkins, the perfect amount of sweetness with organic cane sugar, and finishes with their unique blend of artisan spices. The 6.9-percent cider awaits in the Peaks & Pints cooler.
5-ounce Interview
In 1970, Texan farmers Gene and Katie Handley plated Red Delicious and Golden Delicious in their new home of Wenatchee. Times were tough and the Handley children spent summer working the orchards instead of floating on rivers. Gene's father, Harmond Handley, also planted orchards in the Wenatchee Valley, which meant more work for young Andy Handley and his siblings. After Andy graduated from college, he left the corporate world and returned home to help the family plant much needed new varieties Gala, Fuji, and others. In 2012, Andy's son, Andrew, his wife, Katja, and his bandmates, Matthew and David Dobbins, dabbled in cidermaking. Eventually, they dialed in the cider. Four years later, Handley Orchards added 50 acres of heritage varieties — Dabinett, Porters Perfection, Kingston Black, Yarlington Mill, Muscat de Lense, Snowdrift Crab, and Red Fleshed apples — for their Union Hill Cider Company. Peaks & Pints stopped by Union Hill where we found Andrew Handley tinkering around with killer yeast.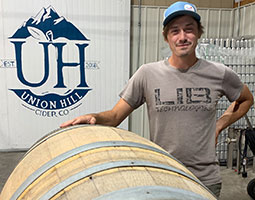 PEAKS & PINTS: What is your Kill Factor?
ANDREW HANDLEY: Killer Factor is not a measurement of the health risks associated with using a yeast in your fermentation. Instead, it is an assessment of how dominant a yeast can be in your fermentation. We like to start fermentation immediately after press, and use yeast with a high killer factor. It neutralizes everything. It kills all the yeast strains and overwhelms the natural microflora. Our yeast doesn't put out esters and flavors so we get natural apple flavor. It's unadulterated as possible.
PEAKS & PINTS: Are you building barrels?
ANDREW HANDLEY: Kind of — we think its fun to reconditioning barrels ourselves. We use fresh red wine barrels, take the rings off the barrels and sand them down. Then we char the wood in a fire pit, then reseal them. The whole process takes four to five hours per barrel, but we like to do several at a time.
PEAKS & PINTS: You did it! Congratulations on being the World's Best Cidery!
ANDREW HANDLEY: Thanks! The town's newspaper is called the Wenatchee World. Every year they host the World's Best awards where the community votes for the best of Wenatchee. We won best cidery this year.
[Union Hill Cider, taproom open 3-7 p.m. Friday, 1-7 p.m. Saturday, 3100 Ridgeway Dr., East Wenatchee, 509.679.7192]
---