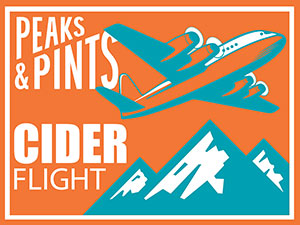 After stints as a Broadway dancer and a multi-media designer, Leroy Radford made his wine passion a career enrolling in enology and viticulture programs and taking the knowledge to Mark Ryan and Baer wineries before launching Flying Dreams Winery in 2008. His palette leaned toward Spanish varietals and Spanish-style blends, which is where he steered his winery: Garnacha, Monastrell and Tempranillo varietals. On the side, Radford dabbled in ciders. By 2015, his second passion became Woodinville Ciderworks, which morphed into Winsome Ciderworks. Using Eastern Washington apples, he slowly grew his cidery from a couple Woodinville bars and restaurants to a presence in around 200 Washington state locations. Today, as our Washington Cider Week 2021 focus, we present a to-go flight of Winsome ciders. Stop by our Proctor District location for Peaks and Pints Washington Cider Week 2021: Winsome.
Peaks and Pints Washington Cider Week 2021: Winsome
Winsome Asian Pear
6.1% ABV
The Asian Pear is native to East Asia, divided up by many different names, and discovered in such as India, New Zealand, and California. Unlike other fruits, the Asian Pear is not baked into pies or made into jams due to their high water content and crisp, grainy texture. This is where Winesome Asian Pear excels, as it has captured the best components of the Asian Pear and citrus on the palate, with an aromatic pear top note.
Winsome Peach Ginger
6.1% ABV
Winsome Peach Ginger strikes a good balance of apple, pear, ginger, peach, and tea. Refreshing throughout, the cider has a definite peach linger that stays longer than the other flavors.
Winsome Apricot Hop
6.1% ABV
The Woodinville cidery's Apricot Hop is lively blend of apricot, and citrus flavors on the palate, finishing with subtle hop notes.
LINK: Peaks & Pints cooler inventory
---