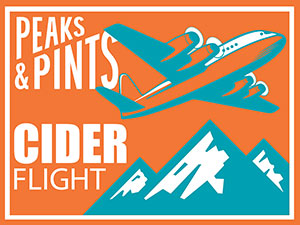 After making cider as hobbyists for many years, in 2001 Nancy and Steve "Bear" Bishop took a trip to the cider making regions of Spain, France, and England to observe commercial operations. When they returned home, Steve and Nancy took a class at WSU from an English cider master, ordered 800 French, English and early American cider trees, clear cut the forest, burned the stumps, spread the ash for fertilizer, shaped the land to drain, plated the trees, and launched their commercial cidery Wildfire Cider in 2203, which they later renamed Alpenfire Cider. Located in Port Townsend, the Bishops, including their son and sales director, Philippe, recently redesigned their trellis system modeled after versions they studied Down Under, Canada, and Europe. Today, the certified organic cidery is open Saturday afternoons. In the meantime, Peaks & Pints offers a to-go flight of Alpenfire Cider in celebration of Washington Cider Week 2021. Stop by and grab Peaks and Pints Washington Cider Week 2021: Alpenfire.
Peaks and Pints Washington Cider Week 2021: Alpenfire
Alpenfire Northern Spy
6.1% ABV
The original name for Northern Spy apples was Northern Pie because of its prominent use in the baked dessert. This variety has long been used to make cider because of its high level of juice and its ability to give a strong apple flavor without being overly sweet. The apples for Alpenfire's single varietal Northern Spy cider were grown organically in Hood River, Oregon, at Heirloom Orchards. The apples are fermented to a crisp refreshing dryness with a medium level of acidity. The lack of commercial yeast added a bit of complexity to the fermentation and increased the complexity of the final cider adding some woody aromas.
Alpenfire Calypso
6.9% ABV
Alpenfire Calypso is made with pippin apples grown in Hood River co-fermented with fresh blackberries in stainless, then aged in Bull Run Distilling rum barrels for notes of tart apple reminiscent of granny smith, complex berry, and a hint of oak.
Alpenfire Pirate's Plank Bone Dry Cider
6.9% ABV
Made with primary native yeast ferment, Champagne yeast finish, stainless maturation, and 4 months neutral oak maturing, then bottle conditioned, Alpenfire's bone dry cider's name is a nod to the rich maritime history of Port Townsend. This Old World bitter sharp cider is a blend of early season, organically grown, estate Kingston Black, Yarlington Mill and Foxwhelp apples for fruity apple pie notes in the aroma with a bit of puckering acidity peaking through at the finish. Expect a tart and earthy taste.
Alpenfire Smoke
18% ABV
Alpenfire's Smoke barrel-aged pommeau sits as the second best cider in the world on RateBeer's best of list. It starts with estate-grown Kingston Black, Dabinett and Vilberie bittersweet apples for a very tannic base. Next, it's fermented dry, refermented and aged in a rye whiskey barrel, then matured in a peated whiskey barrel, then blended with cider aged over oak chips before estate bittersweet apple brandy is added in to bring it up to 18 percent. It pours a clear amber with big, warm alcohol, apple, and a hint of smoke on the nose. The taste is big and warm with smoke, toasted oak, bittersweet apples, scotch/whiskey, notes of honey, vanilla, char barrel character, and a hint of peat. Expect a long warm finish. 
LINK: Peaks & Pints cooler inventory
---