Tournament of Beer: West Coast Flagships First Round April 10
Spoiler alert: Yesterday, Maritime Pacific Flagship Red lost their Tournament of Beer: West Coast Flagships game to another longtime Washington state stalwart craft brewery, Mac & Jack's Brewing and their flagship, African Amber Ale. It wasn't a shocker as Mac & Jack's African Amber Ale could run for governor of this state, and win. No, we announce the game's result early because, as mentioned previously, this tournament has summoned our wonder years of craft beer, and Maritime Pacific was one of our hangouts in the early 1990s. One of our greatest Maritime memories was attending their second annual Jolly Roger Christmas Ale release before hitting the 1993 KNDD Deck The Hall Ball at the Paramount Theatre. Owner George Hancock kept the strong ales coming and we fell asleep before headliner Catherine Wheel took the stage. Urge Overkill, The Posies, Evan Dando, Cracker … great show, we think.
The Tournament of Beer: West Coast Flagships continues today, without our friends at Maritime Pacific, with another eight flagships battling from the original field of 64 flagship beers from Washington, Oregon and California, all seeded by public vote, and separated into four decade regions: 1980s, 1990s, 2000s and 2010s. These top 64 vote getters — the cream of the dream — battle Monday through Friday at peaksandpints.com, April 3-25. Through online voting, West Coast flagship beer drinkers are picking daily winners until the best flagship is crowned. It's just like March Madness, only with way more maltiness.
Before we breakdown today's games, we present a recap of yesterday's action and the winners, followed by the eight new flagships.
Yesterday's Results
1990s Flagships: 1. Mack & Jack's African Amber Ale vs. 16. Maritime Pacific Flagship Red
Well, you already know African Amber Ale won. What you don't know is by how much? The state's amber, it could be said, grabbed 62 percent of the vote and moves into the Second Round.
1990s Flagships: 8. Firestone Walker DBA vs. 9. Harmon Puget Sound Porter
What was once a beloved local brewery with a huge following, Harmon Brewing Co. shut down its in-house brewery and exists with a July 24, 2019 last Facebook post. That makes winning a beer tournament a little tougher. Firestone Walker, on the other hand, toasted National Beer Day two days ago with a video on Facebook, and a notice that they're alive and well, delivering their beer to front doors. Their first beer, DBA English Pale Ale, grabbed 72 percent of the vote and a date with Mac & Jack's African Amber in the Second Round.
2000s Flagships: 6. Block 15 Sticky Hands vs. 11. Everybody's Country Boy IPA
According to Urban Dictionary, a country boy may or may not have been raised in the backwoods, but loves the outdoors and spends a lot of their time fishin', huntin', sittin' around a bonfire with friends, and muddin'. They're generally laid back but do have a wild side. We're not sure if Everybody's Brewing co-founders Doug and Christine Ellenberger go muddin', but the outdoorsy couple probably has done their fare share of sittin' around a bonfire with friends drinking their Country Boy IPA. Here's a subject for their next bonfire outing: Country Boy beat the über popular Block 15 Sticky Hands double IPA by 64 percent of the vote.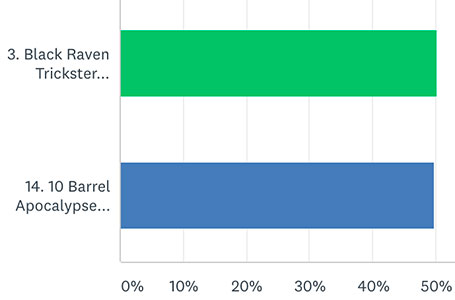 2000s Flagships: 3. Black Raven Trickster IPA vs. 14. 10 Barrel Apocalypse IPA
At 9 p.m., Black Raven Trickster has a two vote lead over 10 Barrel Apocalypse IPA. At 11 p.m., the game was tied. With five minutes to go, Black Raven Brewmaster Beaux Bowman did what he had to do. He summoned his Kitty Kat Blues blueberry pale for the final push. It worked. Trickster IPA won by one vote. 10 Barrel Apocalypse looked like a stunned kid getting off his first roller-coaster ride. Even great IPAs can have a bad day. No doubt Trickster will shake it off. It has to; it has a date with Country Boy in the Second Round.
Let's weed through the Crystal malts. The following are advancing to the Second Round:
Mac & Jack's African Amber Ale
Firestone Walker DBA
Everybody's Brewing Country Boy IPA
Black Raven Trickster IPA

OK, let's apply hand sanitizer, and dive into today's First Round West Coast flagship battles. Vote for one flagship beer per game. Voting for today's flagship battles ends at 11:45 p.m.
Friday, April 10, First Round West Coast Flagship Games
GAME 1, 1980s
Player: Boont Amber Ale, seventh seed
Team: Anderson Valley Brewing
Location: 17700 Boonville Road, Boonville, California
Wonders Years: 1987, we enjoyed the Cliffs of Insanity, the Pit of Despair, and Rodents of Unusual Size; President Ronald Reagan's tear down this wall speech; the fact that nobody puts Baby in the corner; and Larry Bird's 59-basket streak free throw streak. Down in Boonville, California, original owner Ken Allen opened Anderson Valley Brewing Company in rural Mendocino County. He brewed out of a modest 10-barrel brewhouse located in the lower level of his original brewpub, The Buckhorn Saloon. He carefully crafted his world-class ales using only the finest ingredients premium malted and roasted grains, hops, yeast, and pristine Boonville water straight from their own aquifer, which included their flagship Boont Amber Ale.
Player Stats: The GABF medal winning Boont Amber's name alludes to Boontling, Anderson Valley's local dialect, spoken by a diminishing number of people but kept alive in spirit by the brewery. Balance is what makes Boont Amber Ale so popular: rich, Crystal malts give this beer a deep copper hue and contribute a slight caramel sweetness while the herbal, spicy bitterness from whole-cone hops impart a crisp, clean finish.
ABV: 5.8%, IBU: 16
Player: Anchor Steam Beer, tenth seed
Team: Anchor Brewing Co.
Location: 1705 Mariposa St., San Francisco, California
Wonder Years: 1971, Gene Wilder shines as Willy Wonka in the movie … hey, wait a minute! Anchor Steam arrived in 1971, not the 1980s! It's true, but there's a reason why we allowed this nominated beer to be included. The great-grandson of a home appliances magnate and the son of an Iowa dairy farmer, Fritz Maytag was intrigued upon hearing the 69-year-old Anchor Brewing was facing closure and thus up for sale in 1965. He purchased it for just a few thousand bucks. Anchor was perhaps the most primitive small craft brewery in the world, but by 1971 — the year it began bottling Anchor Steam beer — the San Francisco brewery kicked off the craft beer movement.
Player Stats: Anchor Steam Beer derives its unusual name from the 19th century when "steam" was a nickname for beer brewed on the West Coast under primitive conditions and without ice. While the origin of the name remains shrouded in mystery, it likely relates to the original practice of fermenting the beer on San Francisco's rooftops in a cool climate. In lieu of ice, the foggy night air naturally cooled the fermenting beer, creating steam off the warm open pans. Northern Brewery hops are enjoyable in the flavor, but the rich, almost chewy malt is the best aspect of this brew. It's complex, rich flavor, deep amber color, and its thick, creamy head make it an instant classic.
ABV: 4.9%
Tournament of Beer Analysts: "Separated by 123 miles, these two Northern California breweries would be in the Craft Beer Hall of Fame, should it ever exist. We imagine time will stop in NoCal and people will remain at home to vote in this important, historic craft beer battle."
SCROLL DOWN TO VOTE >>>>>>>>>>>>>>>>>>>>>>>>>>>>>>>>>>>>>>>>>>>>>>>>>
Game 2: 1980s
Player: Black Butte Porter, second seed
Team: Deschutes Brewery
Location: 1044 NW Bond St, Bend, Oregon
Wonders Years: 1988, George Michael convinced us that we had to have "Faith." We all wished Michael Hutchence was talking to us personally when he sang "Need You Tonight" and Guns N Roses hit it huge with "Sweet Child O' Mine." Both Roseanne and The Wonder Years hit the small screen. And Gary Fish established his brewpub concept, Deschutes Public House, in downtown Bend. Named after the Deschutes River, Deschutes was Central Oregon's first brewery. Fish hired John Harris (founder of Ecliptic Brewing Co.) from McMenamins.
Player Stats: Fish named his porter after a stratovolcano in the Deschutes National Forest near the brewery. The aroma bears a hint of nuttiness, followed by the unmistakable smells of rich yet soft milk chocolate. Black Butte Porter is slightly bitter in the first sip, but mellows out with a chocolate and roasted finish. As creamy and chocolaty as it should be, this is the porter all other porters strive to be.
ABV: 5.2%, IBU: 30
Player: Best Coast IPA, fifteenth seed
Team: Drake's Brewing
Location: 1933 Davis St., San Leandro, California
Wonder Years: 1989, we heard a 1,000-feet diameter asteroid missed the earth by just 400,000 miles; archaeologists unearthed a 4,400-year-old mummy; the first operational GPS satellite was launched into space; and Roger Lind opened Lind Brewing, a wholesale-only kegged beer, out of the old Caterpillar Inc. production facility located behind a Walmart in San Leandro. Sometimes the best places in the world are right behind a Wal-Mart. Such is the case with Drake's Brewing, which the brewery was later renamed when the Rogers Family Company, one of the largest coffee wholesalers in the Bay Area, bought it from Lind. RFC brought in new brewmasters from UC Davis, whose world-renowned viticulture department pumped out bushels of well-trained fermenters. The new Drake's soon began making different kinds of beer, which began to win awards. In 2002, the company's Best Coast IPA won a gold medal at the Great American Beer Festival.
Player Stats: In 1991, Drake's first IPA was originally more of an English-American hybrid IPA, but over time Drake's brewers kept the high quality specialty malts, but moved toward a more West Coast-style approach. They ultimately created the balanced, dry renamed Best Coast IPA, brimming with piney and citrus aromas from Cascade, Centennial, Chinook, and Columbus hops, plus Hallertau and Mandarina for resinous pine and orange peel cascading over a backdrop of lightly toasted caramel and brisk bitterness.
ABV: 7%, IBU: 64
Tournament of Beer Analysts: "Of Deschutes' core lineup, Black Butte Porter is the most popular and represents a classic taste profile that remains surprisingly refreshing — an impressive balancing act, given porters' tendency toward heaviness. If California doesn't support its own, Black Butte Porter will be hard to beat."
SCROLL DOWN TO VOTE >>>>>>>>>>>>>>>>>>>>>>>>>>>>>>>>>>>>>>>>>>>>>>>>>
GAME 3, 2010s
Player: India Pale Ale, fifth seed
Team: Breakside Brewery
Location: 1570 NW 22nd Ave., Portland, Oregon
Wonder Years: 2010, it was the year Facebook hit 500 million friends, Angry Birds flew onto the scene and Team Coco road the wave of hair. The living dead and the undead stalked television and film. The gang from Glee revitalized the American musical, while American Idol self-destructed before our very eyes. And it was hard to turn on the television without seeing a member of the Family Palin. In Northeast Portland, founder and owner Scott Lawrence followed a 10-year-old dream and opened Breakside Brewery. Much of its success can be chalked up to Benb Edmunds, the only brewmaster Lawrence has ever employed. Since opening its doors, delicious Breakside brews are on tap at three locations and countless bars and restaurants, distributed in eight states, named Brewery of the Year at the 2017 Oregon Beer Awards and named 2017 Best of Craft Beer Awards.
Player Stats: Edmunds is on record saying he adjusts the hops bill regularly for the awarding-winning flagship IPA, depending on the changes in varieties between harvests and hops lots over the course of the year. The combo of Columbus, Citra, Centennial and Chinook is one of their favored combos, which is typically used to brew this delicious IPA. This copper-colored beauty smells of citrus without being too citrusy, tastes of pine without being too piney and shows off its C hops without being over-hopped. It would almost be boring, if it weren't so good.
ABV: 6.8%, IBU: 70
Player: Czech-Style Decocted Pilsner, twelfth seed
Team: Wayfinder Beer
Location: 304 SE 2nd Ave., Portland, Oregon
Wonder Years: 2016, David Bowie and Prince die months apart, Angelina Jolie and Brad Pitt break up, Michael Strahan leaves Kelly, Kim Kardashian leaks Taylor Swift's phone call — if there ever was a time for a world class craft brewery to open it was 2016. Charlie Devereux, Rodney Muirhead, Matt Jacobson find a way, opening Wayfinder Beer with accomplished head brewer Kevin Davey running the tanks.
Player Stats: This is the second Tournament of Beer that Wayfinder's flagship Czech Pils landed a nomination. Last year, the decocted Czech Pilsner turned heads with its rich flavor, somewhat scratchy malt, sharp bitterness mid palate, and touch of sweet fruit in the Northwest Pilsners tourney.
ABV: 4.9%, IBU: 43
Tournament of Beer Analysts: "Relationships will crumble in Portland today. Two highly-regarded Portland breweries face-off (wearing masks) with two beers that define their quick rise to fame. It's a toss-up."
SCROLL DOWN TO VOTE >>>>>>>>>>>>>>>>>>>>>>>>>>>>>>>>>>>>>>>>>>>>>>>>>
GAME 4, 2010s
Player: Topcutter IPA, fourth seed
Team: Bale Breaker Brewing
Location: 1801 Birchfield Road, Yakima, Washington
Wonder Years: 2013, we celebrated the re-openings of Tacoma's newly repaired Murray Morgan Bridge and the Point Defiance Park Pagoda after a fire severely damaged the latter. We didn't do the "Harlem Shake," but we did mourn longtime film critic Roger Ebert's curtain close. And, while we were trying to figure out What Does the Fox Say? Miley Cyrus gets really up close and personal with a foam finger. Over in the Yakima Valley, Meghann, Smitty, Patrick and Kevin added Bale Breaker to their family's B.T. Loftus Ranches estate, quickly cutting their way to be one of the top craft beer producers in Washington state.
Player Stats: Back in 2017, Topcutter IPA had the highest number of nominations during our Tournament of Beer: Washington IPAs seeding process. Their flagship IPA has changed lives. In fact it's rumored that Birchfield, the unincorporated community in Yakima County where Bale Breaker harvests hops and brews beer, is considering changing its name to Topcutter, Washington, to draw tourists from nearby Yakima. And why wouldn't Birchfield's council? Topcutter is a well-balanced yet aggressive West Coast IPA that showcases Yakima Valley hops, including late additions of Simcoe, Citra, Loral and Mosaic for a complex citrus, fruity and floral aroma and flavor.
ABV: 6.9%, IBU: 70
Player: My Dog Scout Stout, thirteenth seed
Team: Top Rung Brewing
Location: 8343 Hogum Bay Lane NE, Lacey, Washington
Wonder Years: 2014, two months after the Seattle Seahawks beat the Denver Broncos in the Super Bowl, we drank Top Rung's My Dog Scout Stout on their opening day. As we drove back to Tacoma, listening to Pharrell Williams' "Happy," we felt happy for Thurston County firefighters Casey Sobol and Jason Stoltz for taking their award-winning homebrews and going pro, opening a brewery in a remote Lacey location that isn't so remote anymore.
Player Stats: Named after Top Rung's head brewer Jason Stoltz's black lab, Scout, this puppy grabbed gold in the American Stout category of the 2015 Washington Beer Awards. "I think the My Dog Scout Stout took a gold medal home because of some of the choices in malt selection giving it a few different layers of flavor ending on the base malt used," says Stoltz. "Also, our water allows us to brew darker beers very well." Chocolate and coffee jump out of the glass. Deceptively smooth and black as the night, My Dog Scout Stout is an easy sipper due to the eight different malts used in the brewing process.
ABV: 6%, IBU: 30
Tournament of Beer Analysts: "An exceptional IPA battles an exceptional stout. This will come down to personal style preferences and moods."
VOTE BELOW >>>>>>>>>>>>>>>>>>>>>>>>>>>>>>>>>>>>>>>>>>>>>>>>>>>>>>>>>

MONDAY, APRIL 13 TOURNAMENT OF BEER: WEST COAST FLAGSHIPS ACTION
Game 1, 1990s: 5. Kiwanda Cream, Pelican Brewing (33180 Cape Kiwanda Dr., Pacific City, Oregon) vs. 12. The Immortal, Elysian Brewing (5410 Airport Way S., Seattle, Washington)
Game 2, 1990s: 4. IPA, Lagunitas Brewing (1280 N. McDowell Blvd., Petaluma, California) vs. 13. Blonde Bombshell, Cascade Lakes Brewing (1441 SW Chandler Ave., Bend, Oregon)
Game 3, 2000s: 7. Irish Death, Iron Horse Brewery (412 N. Main
Ellensburg, Washington) vs. 10. Jackass IPA, Skookum Brewery (17925 59th Ave. NE, Arlington, Washington)
Game 4, 2000s: 2. Rude Parrot IPA, 7 Seas Brewing (2101 Jefferson Ave., Tacoma, Washington) vs. 15. Hop Lava IPA, Double Mountain Brewery (8 4th St., Hood River, Oregon)
LINK: Tournament of Beer: West Coast Flagships explained
LINK: Hot Damn! Yes, I want to follow Peaks and Pints on Twitter
---