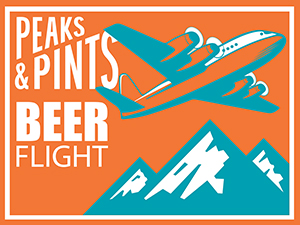 Galaxy hops are known among IPA lovers for their overflowing citrus, peach and passion fruit flavors. Tropical island aromas dominate the nose, lifting you away to a far off destination of flavor, like the coast of Australia, where these hops are grown since the mid-1990s, but released commercially in 2009. This Aussie-native hops hail from a lineage of male European cultivars — particularly Perle —bred with local Australian high alpha varieties. Galaxy hops are versatile; they can accent and compliment, or take center stage as the primary flavor. Their high alpha acid content make them especially suited to aroma hopping and the distinctive mixture of citrus, passion fruit, peach and hints of grass is sure to stand out. But don't take our word for it, explore the Galaxy for yourself with our to-go beer flight Peaks and Pints Pilot Program: Galaxy Hops On The Fly.
Peaks and Pints Pilot Program: Galaxy Hops On The Fly
Hoof Hearted Stackin' Paper
10.5% ABV
The conical, green flowers of the Humulus lupulus species provide not only a vast array of flavors for beers but also create distinctive aromas, varying levels of bitterness and lend a hand with preservation duties. Until recently you would struggle to find anyone who could name the hops used in their favorite beer, but these days the varieties take center stage, emblazoned across beer labels, allowing discerning drinkers to use them as a guide to what they should order next. Often brewed as occasional "specials", single hop beers help spread the knowledge of each individual variety and demonstrate a brewer's skill, as they try to wring as much complexity of flavor as possible from each hop addition. This 100 percent Galaxy hopped triple IPA was brewed with 10 pounds per barrel of said hop for all the juicy, sticky, and dank.
Fat Orange Cat Feed Me A Stray Cat
10% ABV
A collaboration with Nightmare Brewing and Twelve Percent Beer Project, Fat Orange Cat Brew Co.'s triple IPA Feed Me A Stray Cat is dry hopped with Lotus, Mosaic, Galaxy, and Citra for a orange hazy pour and nice tropical nose. The tropical fruit continues in the flavor with very little alcohol burn. Beware, this Cat will sneak up on you!
Ecliptic Vega IPA #6
6.5% ABV, 45 IBU
Ecliptic Brewing's Vega Limited Release Series is an experimental hop playground for our curious and creative brewers to continuously source new and unique hops. Vega IPA #6 features Vic Secret, Strata, Galaxy, Mosaic, and Amarillo hops for notes of grapefruit, pineapple, mango, melon, and passionfruit.
Modern Times Mythic Worlds
7.6% ABV
Sultana, aka Experimental Variety 06277/ Denali, is a new hop bursting with flavor.  Called Nuggetzilla by some, this hop is rich in pineapple, citrus, and pine flavors, though it can often come off as spicy as well.  It can be used for bittering, flavor, or aroma. Modern Times Mythic Worlds is stuffed with gobs of Galaxy, plus Motueka, Mosaic, and Experimental 06277 hops, making for big, beautiful notes of peach, passionfruit, and tropical radness over a backbone of ripe citrus.
Crux Cast Out India Pale Ale
7.6% ABV, 60 IBU
Crux Fermentation Project's Cast Out IPA features the Galaxy hop from Australia, a country famously populated by England's cast out convicts. Cast Out IPA employs these hops aggressively from hop back to dry hopping stages. Yet the result is a balanced and bronzy ale, with medium hop bitterness complemented by moderate maltiness, showcasing aromas and flavors reminiscent of passion fruit.
---