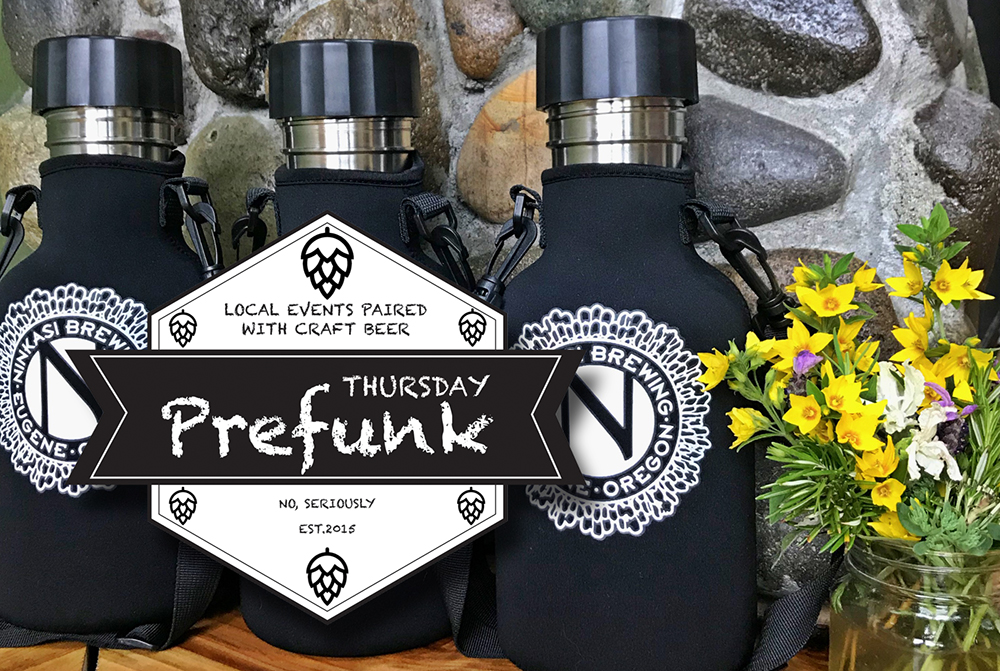 TACOMA PREFUNK THURSDAY, JUNE 21 2018: Ninkasi Growler Night and Mountain
PREFUNK: June 15, 2006, Ninkasi Brewing Company set out with a single mission: Perpetuate Better Living. Operating under this core purpose, the brewery has grown from a two-man team — Jamie Floyd and Nikos Ridge — to become the 38th largest craft brewery in the United States, operating entirely from its facilities in Eugene, Oregon and employing more than 100 employees. Producing award-winning craft beers, giving back to each community that serves its beers, and garnering national recognition as a top employer are just a few milestones the brewery has achieved since it opened with Total Domination IPA on the fateful day in June. Peaks and Pints will host Ninkasi Brewing Co. at our 6 p.m. Lodge Meeting tonight. We'll be pouring Ninkasi's 2016 Barrel Aged Ground Control and Whiteaker Series Sage Wit, plus Maiden The Shade Summer IPA, Yours Truly Easy Drinking Ale and Prismatic Juicy IPA. Five custom Ninkasi growlers will be raffles off. We'll even knock $3 off all growler fills of Ninkasi craft beer from 6-8 p.m.
1:35, 3:40, 5:30, 7:20 and 9:15 P.M. MOUNTAIN: Extreme hikers, skiers, snowboarders and mountain bikers — they are the flawed, unknowable heroes of Mountain, an engaging and enthusiastic documentary screening at The Grand Cinema. Director Jennifer Peedom's camera soars overhead the world's highest peaks, dipping over their edges, and plummeting toward the rocks below, taking your breath away with its you-are-there immediacy. Meanwhile, Willem Dafoe's gravelly baritone waxes poetic over these images about their ancient wisdom and the "siren song of the summit."
5:30 P.M. SUMMER SOULSTICE: Hosted by Tacoma's Poet Laureate Kellie Richardson, Summer SOULstice is a free, intersection of creativity, community and commerce at the Tacoma Art Museum. Featured artists include Kellie, Richardson, Thy Nguyen, Olivia Thomas and Hybrid will wax awakening and healing, personal connection to earth and spirit. In addition to the poets, an exhibit space and artist market will feature work from local artists and entrepreneurs.
7 P.M. RIVA REBELS: "Bomber jackets cigarettes punk girls and a bag of grass / Whiskey bottles little rockers muscle cars and dirty dollar bills around / The loud show in the basement of the old building on the corner of 11th street and South 13 / Everything was black and white two tone and everyone danced all night." Tacoma Prefunk Thursday, June 21 2018 suggests watching Salt Lake City band Riva Rebels pound out straight-up punk with openers Bitter Ex Lovers and Ten Pole Drunk at The Valley tonight. Pair with whiskey and PBR, repeat.
---