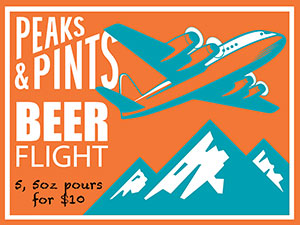 Consider the saison. History did. During the 19th century, Belgian farmers brewed saisons, or "farmhouse ales," using the leftover grains from the fall harvest. In fact, not only did farmers decrease leftover grains (and keep busy during the non-growing months) but also livestock ate the spent grain feed, and seasonal workers drank during the hot summer months to stay hydrated. That's what you call a win-win. And back then, saisons only clocked in at about 3.5% ABV, making it a sessionable, hydrating beer during warm weather. The reason for so much of the funky yeast commonly found in saisons? Farmers would re-pitch the same yeast each year to save money, which led to some multi-strain fermentations. Today, the best saisons are refreshing, funky, and unique. It's officially summer so let's get our Craft Beer Crosscut 6.22.18: A Flight of Farmhouse Ales on.
Upright Fatali Four
4.5% ABV
Upright Brewing owner and Brewmaster Alex Ganum opened his brewery in the basement of Portland's Leftbank building in 2009. Since then, Upright has made a name for itself brewing Belgian-style saisons as well as pushing outside the boundaries of what a standard Pacific Northwest beer tastes like. Fatali Four is a blend of the brewery's barrel aged Four saison with fresh homegrown fatali chiles added for a couple months before bottling. It also incorporates light use of Brettanomyces yeasts providing a contrasting earthy backdrop for the bright chile flavors.
Perennial Saison de Lis
5% ABV, 20 IBU
Conceptualized by the creative team at the St. Louis brewery Perennial Artisan Ales, Saison de Lis combines the natural floral notes of a classic Belgian-style saison with the enticing aromas from chamomile flowers. Apples and yeast driven esters arise from the glass and bring focus while the faint tealeaf and pollen high notes lend interesting complexities. Saison de Lis' fundamentals are crisp with baked apple and ripe pear comparisons that linger with a hint of citrus and grass. The lasting qualities are comforting as they hold a welcoming sensation similar to that of sunbeams catching the petals of wild flowers or the blades of hay among the countryside. Seriously.
Pelican Queen of Hearts
6.5% ABV, 30 IBU
Pelican Brewing's Saison du Pélican is exceptional on its own; when aged in Ransom Distillery gin barrel, it takes on a whole other dimension of flavor. The fruity and spicy aroma of the farmhouse Belgian yeast, herbaceous Goldings hops and the well rounded malt character of Saison du Pélican pairs exquisitely with the huge botanical infusions imparted by Ransom Distillery's Old Tom gin barrels. The name? It has been mentioned that the distillers only bottle the "heart of the hearts" (best portion of distillate), which is why the Oregon coast brewery dubbed its barrel-aged saison, "The Queen of Hearts."
Tin Dog Saison
6.7% ABV
Tin Dog Brewing's Saision bridges the gap between the malty brews of winter and summer's hoppy bitter beers. It pours a medium hazy orange golden with thin white head. Aroma is lightly sweet pale malt, just a hint of yeast and orange zest on the back. Taste is clean smooth crystal malt, light juicy orange and lemon citrus, banana and light clove notes from the yeast, then an incredibly clean finish.
Three Magnets Helsing Junction Farmhouse Ale
6.8% ABV
Three Magnets revamped its Helsing Junction Farmhouse Ale recipe in 2016 blending back with wine barrel aged Helsing Junction Farmhouse Ale, adding more complexity and balance. Domestic pilsner malt, wheat malt, and a touch of French Vienna supply this saison with a clean soft malty background, while Saaz and Halertauer hops deliver a spicy nose. The diverse yeast cultures of Brett Drei as well as the Dupont and Fantom Sacro present mild tartness, barnyard, peaches, pineapple and spices with a high degree of dryness.
---