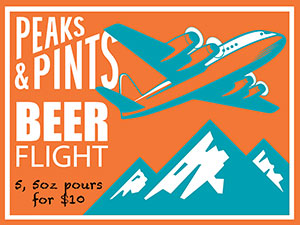 The summer solstice is upon us: today is the longest day of 2018 for anyone living north of the equator. If pagan rituals are your thing, this is probably a big moment for you. If not, the solstice is still pretty neat. Technically speaking, the summer solstice occurred at 4 a.m. when the sun was directly over the Tropic of Cancer, or 23.5° north latitude. Of course, Peaks and Pints has summer craft beer on the brain. In case you hadn't noticed, American craft brewing prides itself in flaunting conventions and ignoring or breaking traditions, enough so that our Craft Beer Crosscut 6.21.18: A Flight of Summer Solstice might be rather ridiculous given the number of beer styles that include "summer" in their name. After all, at some point, you're going to need to showcase some solid beer selections for that summer cookout or long lazy weekend get-together with friends that you're already planning. Maybe one or all five of the following beers might help get your summer beer game up to par.
Sierra Nevada Summerfest
5% ABV, 28 IBU
The Sierra Nevada Summerfest is made with 2-row Pale and Munich malts and Perle, Spalter Select and Saaz hops. A crisp summer lager that has been around for more than 15 years, the Sierra Nevada Summerfest also lets you know that you're drinking a real beer. With a full flavored tang hop kick, this pilsner style lager is another classic from Sierra Nevada. With light malts and light hops and spice, the crisp big bubbles make an excellent refreshing summertime lager. The lemon and malt aftertaste are very well balanced making this one of our favorite summer beers. Less-experienced drinkers may find the hoppy finish a tad too bitter, but they'll come around.
Victory Summer Love
5.2% ABV
Brewed at Victory Brewing, the Summer of Love Ale is a golden ale made with pale malts, German hops and Brandywine River water. This specific style of beer was chosen because it has a broad appeal and will be accessible for casual beer drinkers, but will still retain exciting hop notes. The brew has a vibrant and refreshing pale color derived from its lean and refreshing malt body. And the initially floral aroma of hops segues into a well integrated, refreshing hop dryness of European heritage.
7 Seas Axis Brut IPA
6.9% ABV, 30 IBU
Brut IPA, a relatively new category of IPA emerging out of the California Bay area brewing scene, is distinguished by its light color, effervescence, intense hop aroma, dry finish, and minimal hop bitterness. 7 Seas Brut IPA is brewed with 100 percent light German pilsner malt for a straw color and refined malt character. Head brewer Travis Guterson employs a certain enzyme to the process that breaks down all of the malt starches into fermentable sugars, leaving the beer with nearly no residual sweetness. Amarillo, El Dorado, Citra and a touch of Strata hops are added only for flavor and aroma. It's delicious.
Reuben's Summer IPA
6.8% ABV, 50 IBU
Adam Robbings' beer recipes had much success at homebrew competitions, including winning the silver medal at the National Homebrewing Competition in 2012, and his talent, along with a Kickstarter campaign that raised close to $11,000, eventually earned him his own brewery — Reuben's Brews officially opened in Seattle's Ballard district in August 2012. Since then, the team has accrued an astounding amount of accolades, including 15 World Beer Cup medals over the past three years. Dip your nose into Robbings' seasonal Summer IPA for the tropics. The taste follows suite with pineapple, grapefruit, grass, green onion and little dank weed. Bitter and fruity, it's a lovely summer brew.
7 Seas Never Say Die Nomadic IPA
6.3% ABV, 72 IBU
With a simple malt base of pilsner and 2-row malts, 7 Seas Brewing's Never Say Die Nomadic IPA has a golden hue plus Amarillo, Azacca, Mosaic and Idaho 7 hops for aromas and flavor of fresh mango and tangerine. Softly bitter with a light/medium body, this IPA is lively, clean, and decidedly aromatic. "This Nomadic IPA seeks to change path each year, traversing new territories, and never settling," according to Never Say Die hype.
---