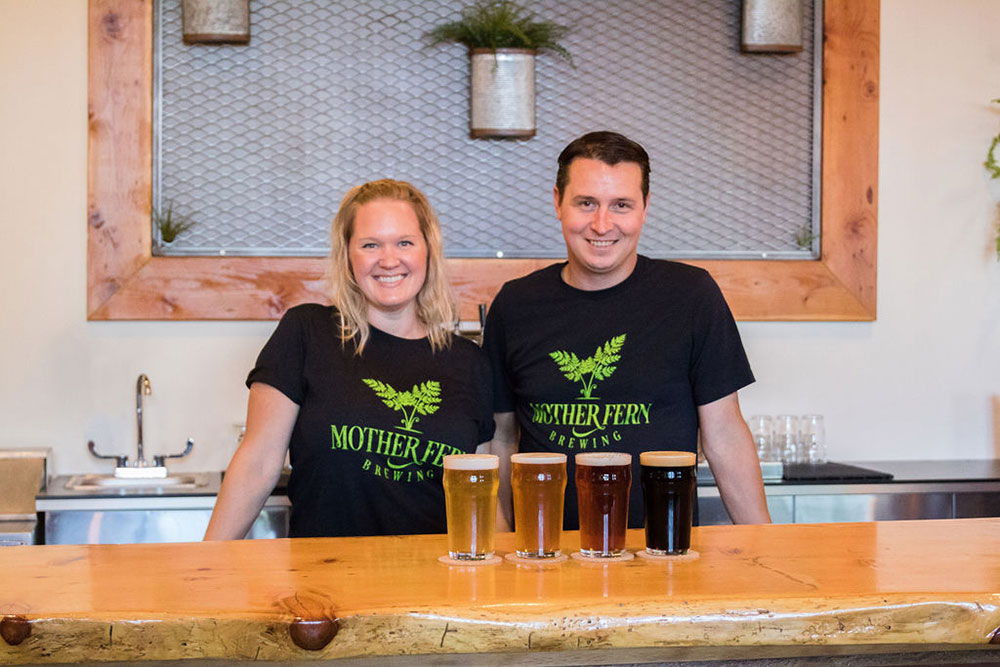 Q&A with Mother Fern Brewing
Prohibition ended Pacific Brewing & Malting Company and other Tacoma breweries' heydays. But it didn't stop Tacoma from drinking. Under the shadow of alcohol prohibition in America, those who stole away to secret speakeasies and basements to drink outside the law were shamed as "scofflaws," criminals. In downtown Tacoma during those days, the police would emerge from their City Hall Annex police stable on horseback at Seventh and Pacific Avenue, search out the scofflaws, then throw them in jail in the basement of City Hall. Almost 100 years later, in the former police stable, Pacific Brewing & Malting Co. re-emerged from the ashes to brew again, eventually hiring the only female brewer in the South Sound, Bethany Carlsen. In October 2019, Pacific Brewing closed again. Carlsen pushed aside the grains, yeast, hops, and water to raise her infant daughter, Fern, with her partner, Greer Hubbard, former head brewer at Odd Otter Brewing, also in downtown Tacoma. Long story short, Carlsen and Hubbard have recently fired up the brewhouse at Seventh and Pacific naming their new brewery Mother Fern Brewing. Peaks & Pints will host Mother Fern Brewing for a Lodge Meeting Thursday, Oct. 7 with Carlsen and Hubbard and four of their beers. In the meantime, we sat down with the brewing super duo for a Q&A with Mother Fern Brewing.
PEAKS & PINTS: Your building has a long history. Did the history shape Mother Fern in any way?
BETHANY CARLSEN: Well, our brewing experience and daughter's name had more to do with our new brewery's foundation rather than the old police annex and its ghosts. That's right. I said ghosts. The 7,800-square-foot Annex was built in the early 1900s as Tacoma's police stable and storehouse with a tunnel leading to the jail cells. The tunnel is boarded up, but the ghosts, of course, are concerned with boards. After hours, I see things out of the corner of my eye regularly, or hear empty kegs being moved around when no one else is in the building. During our operating house, though, it's perfect place for people to come together and drink great beer with friends and family.
PEAKS & PINTS: How has it been working together on this project?
GREER HUBBARD: Rough! Just kidding. It took us a little while to establish our roles and responsibilities since we've both been head brewers previously.
CARLSEN: Ha! Greer and I are a great team. We both still like each other!
PEAKS & PINTS: Did you rock paper scissors for the title head brewer?
HUBBARD: No, the plan was always for Bethany to be head brewer.
PEAKS & PINTS: Early on after you started were there any moments when you thought to yourselves, "We've made a mistake"?
CARLSEN: Oh yes (laughs)! But at some point, you just have to go for it and jump full-on into the craziness.
PEAKS & PINTS: What are some of your goals for 2022 and beyond?
HUBBARD: Sell everything and move to Tahiti!
CARLSEN: Ummm … I'd like to establish a rock-solid foundation with our customers that we can continue to build on and grow on. We Think it will be fun to brew collaborations with not just other breweries but also other businesses.
PEAKS & PINTS: In a year, what will we be saying about Mother Fern?
HUBBARD: Have you tried their killer mac and cheese?! The beer is good too!
CARLSEN: (laughs)
PEAKS & PINTS: We're tapping your Dry Hopped Pilsner, Deep Forest Black Lager, A Brewer's Life Lager, and Who's Your Mama? Hazy IPA during your tap takeover with us Oct. 7. What are your favorite beers you've brewed so far?
CARLSEN: So far … the dry hopped Pilsner
HUBBARD: Deep Forest Black Lager
An Evening with Mother Fern Brewing
Bethany Carlsen and Greer Hubbard will tuck their daughter, Fern, into bed then head to Peaks & Pints for their first "brewer's night" as Mother Fern Brewing Thursday, Oct. 7.  The lead brewers and co-owners behind Mother Fern Brewing, along with the other co-owner Greg Steed of Northwest Brewing, recently opened the brewery in the former Pacific Brewing & Malting where Carlsen lead the brewing team — just down the street where Hubbard ran the brewhouse at Odd Otter Brewing. Stop by Peaks & Pints Oct. 7, chat with the brewers and taste several of their beers on tap.
An Evening with Mother Fern Brewing, 6-9 p.m., Thursday, Oct. 7, Peaks & Pints, 3816 N. 26th St., Basecamp Proctor, Tacoma, no cover
---