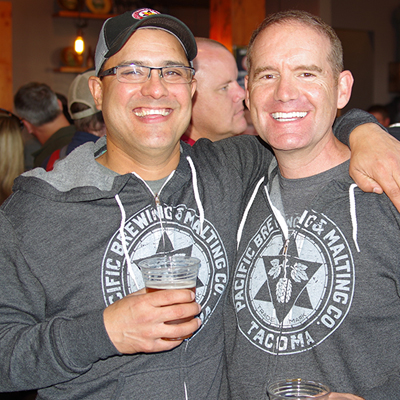 Pacific Brewing & Malting – Closed
610 Pacific Ave, Tacoma, WA 98402, United States
Biography
Established: 2014, closed October 2019
Owners: Steve Navarro and Brent Hall
Brewer: Bethany Carlsen
Location: 610 Pacific Ave., Tacoma WA 98402
Specialty: English and German style and clean, consistent, well-balanced beers. Expect classics with a twist.
Five Notable Beers: Potonac Citra Pale, 1897 Pale Lager, Dirty Skoog IIPA, Prairie Line IPA, Grit City Porter
Awards: 2015 Washington Beer Awards, bronze medal, American Lager
Fun Facts:
>>> Established in 1897, and then closed due to Prohibition in 2015, reopened in Fall 2014. Photographic evidence of Pacific Brewing's history adorns their taproom's walls.
>>> Named after a company that was once the second largest beer maker on the West Coast, Pacific Brewing & Malting Co. names its beers after Tacoma historic places and events.
>>> Acquired American Brewing Co. in 2015
In September 2014, in the lower level of the historic Old City Hall Annex Building on Pacific Avenue, near the corner of South Seventh Street, Pacific Brewing & Malting Co. reopened. The brewery opened with four 7-barrel fermenter tanks. Now, they operate a 7-barrel brewhouse, six 15-barrel fermenters, three 15-barrel bright tanks and four 7-barel bright tanks. In 2015, the brewery expanded its output capacity fivefold by purchasing the Edmonds-based American brewery. Growlers and bottles are available in the handsome taproom; cans coming soon.