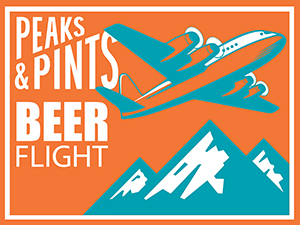 Left Hand Brewing Company was incorporated in September 1993, and in November of that year they found a home in Longmont, Colorado. The brewery was named Left Hand, after Chief Niwot (meaning left-handed), a Southern Arapahoe chief who wintered his tribe in the Boulder Valley area of Colorado. They opened their doors for business on January 22, 1994. In their first 20 years, Left Hand merged with Tabernash Brewing from Denver, founded a distribution company, and released Milk Stout Nitro — founding America's original nitro bottles, and even survived a 500-year flood. In 2008, they tackled their first expansion and have never quite slowed down as thirsty beer fans kept coming back for more. Today, Peaks & Pints presents a to-go flight of Left Hand beers — a flight we call Peaks and Pints Pilot Program: Left Hand On The Fly.
Peaks and Pints Pilot Program: Left Hand On The Fly
Left Hand Milk Stout Nitro
6% ABV, 25 IBU
Consider nitrogen. Oxygen and carbon dioxide get all the press, but nitrogen is the most abundant gas in our planet's atmosphere. It's an important element in draft beer — Peaks & Pints' draft systems utilize a blend of carbon dioxide and nitrogen to push the beer along our lines, with the percentage of each gas varying based on factors such as distance, temperature, and resistance. Our nitro taps deliver beer pressurized with a higher ratio of nitrogen to CO2. Because our atmosphere is composed mostly of nitrogen, bubbles composed of the gas are less resistant to breakage. The result: a dense, long-lasting head that's a feast for the eyes and a silky, creamy body that's a treat for the mouth — especially when Left Hand's Nitro Milk Stout, the quintessential milk stout, is pouring. The aroma is laden with coffee, as espresso, milk chocolate, oven-roasted peanuts, and toasted bread swirl. On the palate, first noticeable is bread that seems to have been charred to a crisp in a toaster. Peanuts, dark roast coffee, and sweet cream appear soon after, and in that order, before acrid roasted malts return to linger on the palate at the finish. The mouthfeel, influenced by nitrogen as well as flaked oats and barley, is thick and smooth as whipped cream.
Left Hand Peanut Butter Milk Stout
6.2% ABV, 25 IBU
Rhythm and Blues. Batman and Robin. Peaks & Pints and the Proctor District. Peanut Butter and Chocolate. These classic duos never go out of style. Enter Left Hand Peanut Butter Milk Stout. The Longmont, Colorado brewery took the pure milk chocolate bliss of their classic Milk Stout with Chocolate malt, rolled oats, and roasted barley, and added peanut buttery goodness. It's rich and decadent on the palate and lusciously lingers into a nutty, dry finish.
Left Hand S'mores Milk Stout
6% ABV, 25 IBU
How much do you love the marshmallow, chocolate, graham combo? Bet if we throw in beer, it'll make it dearer. Indeed, s'mores are a simple backyard pleasure (unless you live in the core of the sun like our summer with burn bans galore) so we're pleased to have another excuse to get our marshmallow toast on today. Traditional s'mores with golden marshmallows over campfires are lovely, but Left Hand's S'mores Milk Stout they pour in Cholaca pure liquid cacao. Then, to capture the gooey core of a perfectly fire-roasted marshmallow, they layer in toasted marshmallow.
Left Hand White Russian Nitro
8.9% ABV
While Left Hand's Milk Stout Nitro in cans is by far their most widely distributed nitro offering, the brewery has diligently worked to expand its canned nitro selection to include a variety of fruity and seasonal nitro releases, including White Russian Nitro. With coffee, vanilla and notes of chocolate, this imperial stout has a nose of sweet smell of cocoa, a creamy mouthfeel, and of course that Dude abides White Russian taste.
Left Hand Bittersweet Imperial Coffee Milk Stout Nitro
8.9% ABV, 54 IBU
Left Hand's Bittersweet Imperial Coffee Milk Stout goes big with an aggressive boost from Allegro Coffee's exotic mocha java blend. The coffee's dark cherry flavors and spicy undertones weave into the rich milky sweet stout like a chocolate-covered espresso bean melting on your tongue. Bitter then sweet. Sweet then bitter. It's bittersweet. And it's definitely creamy.
Left Hand Moscow Mule
5.5% ABV, 26 IBU
There's this drink you may have heard of called the Moscow Mule. It's vodka and ginger beer, with lime juice. There was a time in the recent past when pretentious bartenders would sneer and say, "Ginger beer, not ginger ale" — referring with disdain to the ginger-flavored soda water that came in your mule at lesser establishments. Anyway, Left Hand brewed a beer version of a Moscow Mule combing lime juice, lime peel and fresh ginger for tartness and subtle heat. The addition of oats creates a smooth texture and Lemondrop hops provide an extra pop of citrus zing.
LINK: Peaks & Pints cooler inventory
---