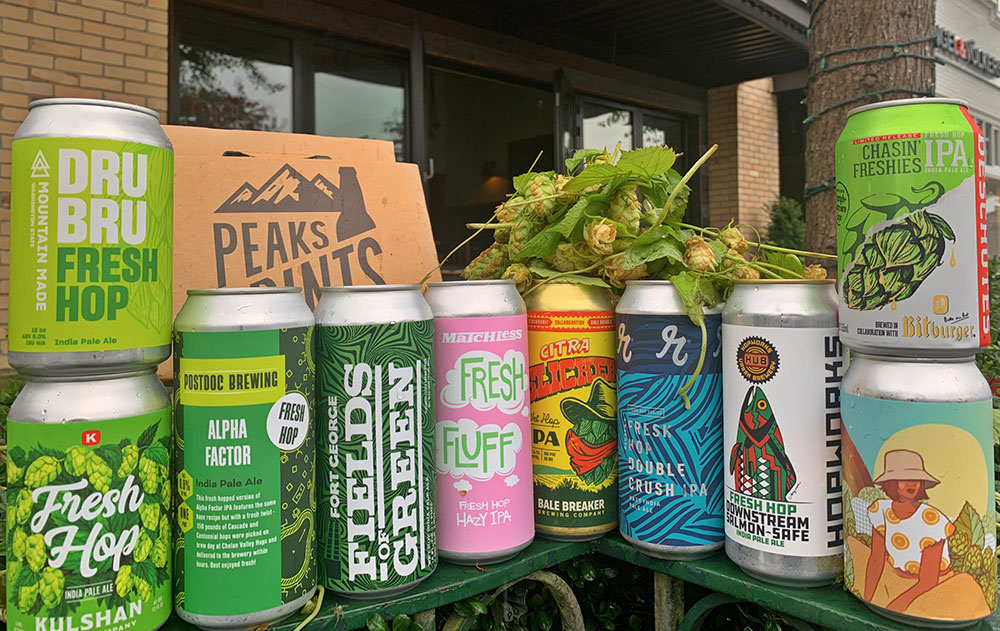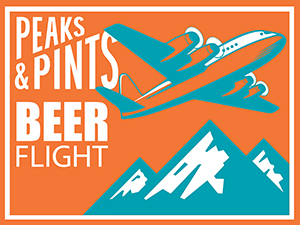 Fresh hops are brewed during a very brief window of the year when hops are being harvested. It's the one time brewers can use hops directly after they're picked from the vine and before they are processed in any way; normally hops are dried and then pelletized. During fresh hop season, the hop cones go straight from the vine to the beer in a matter of hours. The result is a wonderfully aromatic, fresh-tasting creation. But fresh hop beer isn't easy being green. The brewhouse fermenter sits empty waiting for the phone call. It's an eternity if there's only three fermenters. After the hop farm gives the green thumbs up, a few brewers hit the road while the others begin the brewing process. At the farm, the brewers fill huge bags full of the wonderful smelling fresh hop cones knowing that they need to arrive back at the brewery before the boil. A new round of fresh hop beers has arrived at Peaks & Pints. Therefore, we present another to-go flight of fresh hop beers — this time naming it Peaks and Pints Pilot Program: Freshest Fresh Hops On the Fly.
Peaks and Pints Pilot Program: Freshest Fresh Hops On the Fly
Deschutes Chasin' Freshies
6% ABV
Brewed with Germany's Bitburger, Deschutes Brewery's Chasin' Freshies offers notes of melon, honey, orange, and passionfruit from Pacific Northwest fresh hops Triumph and Cashmere, plus Bitburger signature proprietary hops Siegelhopfen and German Callista.
Kulshan Fresh Hop
6% ABV
Kulshan Brewing brewed this fresh hop IPA with 600 pounds of fresh Citra hops for citrus and orchard fruit with subtle notes of pine, tropical fruits and herbal/grassy fresh hop notes.
Bale Breaker Citra Slicker Wet Hop
6.2% ABV
Brewed with hundreds of pounds of fresh Citra hops, Bale Breaker's collaboration with Cloudburst offers for grassy hop goodness with tea notes.
Aslan Cascade Bloom Fresh Hop
6.5% ABV
Brewed with fresh Cascade hops from Roy Farms, Aslan Brewing's fresh hop IPA offers aromas of sage, apricot, vanilla, and cedar followed by flavors of cara cara orange, grapefruit, pine, and sage.
Matchless Fresh Fluff
6.6% ABV
Matchless brewed a fresh hop version of their hazy IPA with fresh Citra and El Dorado hops for juicy and tropical notes.
Dru Bru Simcoe Fresh Hop
6.8% ABV
Dru Bru grabbed fresh Simcoe hops from Cornerstone Ranches from Toppenish, Washington, for this IPA for added herbal notes.
Postdoc Fresh Hop Alpha Factor
6.8% ABV
This fresh hopped version of Postdoc Brewing's Alpha Factor IPA features the same base recipe but with a fresh twist — Cascade and Centennial hops picked on the brew days at Chelan Valley Hops and delivered to the brewery within hours for a floral earthy body with light hop flavor.
Hopworks Fresh Hop Downstream Salmon-Safe
7% ABV
Hopworks Urban Brewery brewed this West Coast IPA with fresh Centennial hops, giving it a melody aroma and fruity flavor that balances a crackers malt backbone.
Fort George Fields of Green Wet Hopped
7.6% ABV
Fort George Brewery brewed their hazy double IPA with fresh Citra hops from Coleman Agriculture for a fruity nose followed by ripe green, pineapple, and peach notes.
Reuben's Fresh Double Crush
8% ABV
Reuben's Brews' brewed this fresh hop version of their Double Crush imperial hazy IPA with fresh Citra hops for a ton of fresh hop character with almost grassy, oily notes on the finish.
LINK: Peaks & Pints cooler inventory
---