Peaks & Pints hosts Tacoma Beer Week 2021 events
People all over the greater Tacoma area will get to raise their glass to support local business and craft beer in a week-long celebration: Tacoma Beer Week is back. This year's event will look different due to the ongoing COVID-19 precautions. There are still events going on. They're just smaller scale. Everything that's going on is smaller scale, not the packed rooms we used to see. Masks, social distancing, and outdoor seating is also encouraged.
Peaks & Pints craft beer bar, bottle shop and restaurant has lined up four events this year, including a Tacoma Beer Week Opening Day celebration with Tacoma News Tribune Metro News columnist Matt Driscoll and his Blown Deadline IPA that he and the staffs and Peaks & Pints and CaskCades brewed at E9 Brewing in Tacoma's History Brewery District.
The following are events Peaks & Pints will host during Tacoma Beer Week 2021. …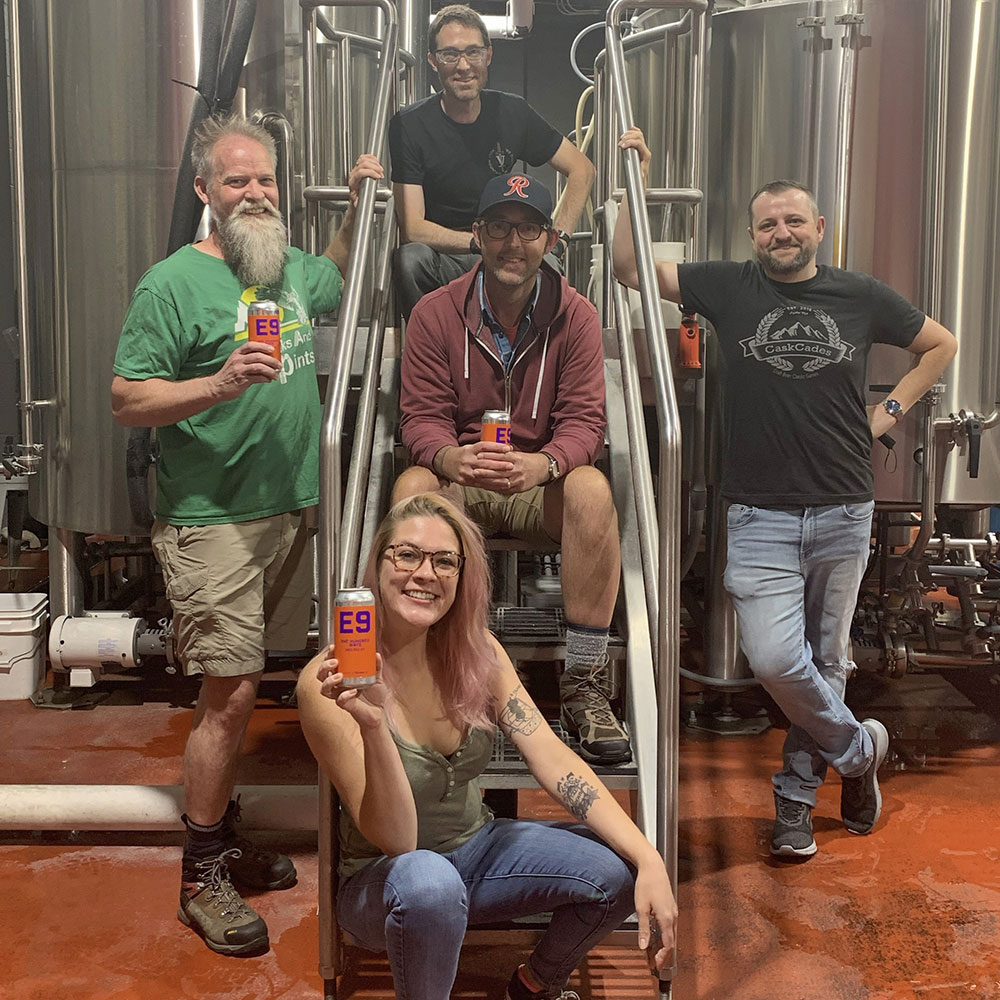 Sunday, Aug. 8, 3-6 p.m.
E9 Blown Deadline IPA Release Party
Local, regional, national journalism is vital. We need good people to tell stories without fear or favor. The Greater Tacoma Community Foundation believes in this adage too. The organization has set up The South Sound Media Impact Fund to provide support for community-funded journalism at the Tacoma News Tribune, and Peaks & Pints and CaskCades craft beer taprooms and bottle shops are helping fund it too with their collaborative Blown Deadline IPA they brewed at E9 Brewing in Tacoma's Historic Brewery District. The release parties will be noon to 3 p.m. Aug. 8 at CaskCades in downtown Puyallup and 3-6 p.m. at Peaks & Pints in Tacoma's Proctor District. E9 Blown Deadline IPA is literally beer journalism.
"CaskCades and Peaks & Pints will donate a portion of Blown Deadline IPA draft pours to the South Sound Media Impact Fund for the duration of the beer's run at both taprooms," says Andy Gaine, co-owner of CaskCades who along with his business partner, AJ Wiltrout, have been about community since opening the Puyallup taproom, bottle shop and restaurant in the winter of 2018. "We'll also take donations for the Fund during our release parties."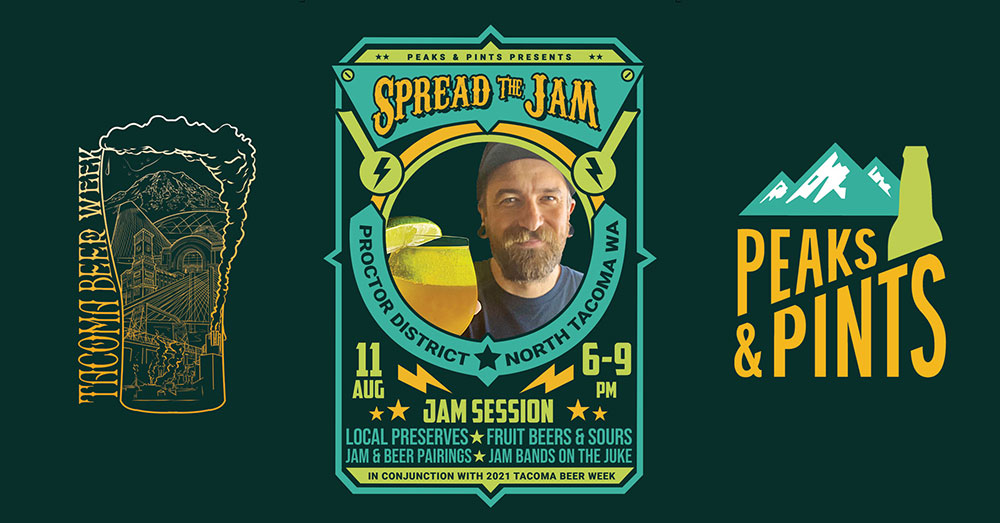 Wednesday, Aug. 11, 6-9 p.m.
Spread The Jam
The first annual Peaks and Pints Spread The Jam will be part of the 2021 Tacoma Beer Week celebration. Wednesday, Aug. 11, Peaks and Pints will combine local jam makers, fruit beers, and jam music into one glorious night. Tumwater jam maker Ila's Foods will be in the house with their jams and jellies, including a selection to pair with beer. Our Western red cedar tap log will be consumed by notable fruit beers and fruited sours. Last, our jukebox will be loaded with bands that will stretch the minds of Spread the Jam participants — or, as Bob Weir of the Grateful Dead might say, the jukebox will take a song "for a walk in the woods" before returning to terra firma. Baby, it's about jam time!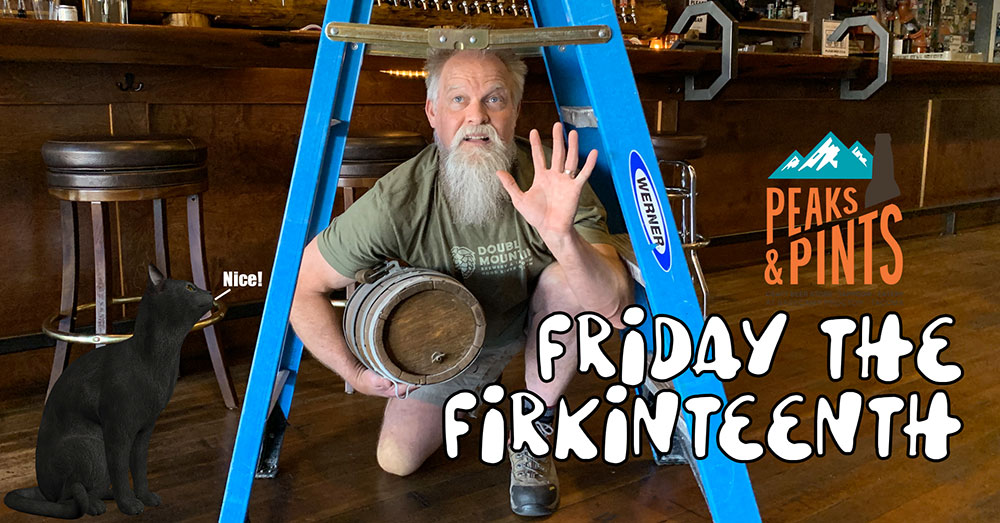 Friday, Aug. 13, 5 p.m.
Friday The Firkinteenth
Peaks and Pints will host Friday The Firkinteenth at 5 p.m. Friday, Aug. 13 featuring Double Mountain, Machine House, and Stoup Brewing walking underneath our ladder, around our black cat and plopping firkins on our bar counter for those lucky folks hanging with us on an unlucky night.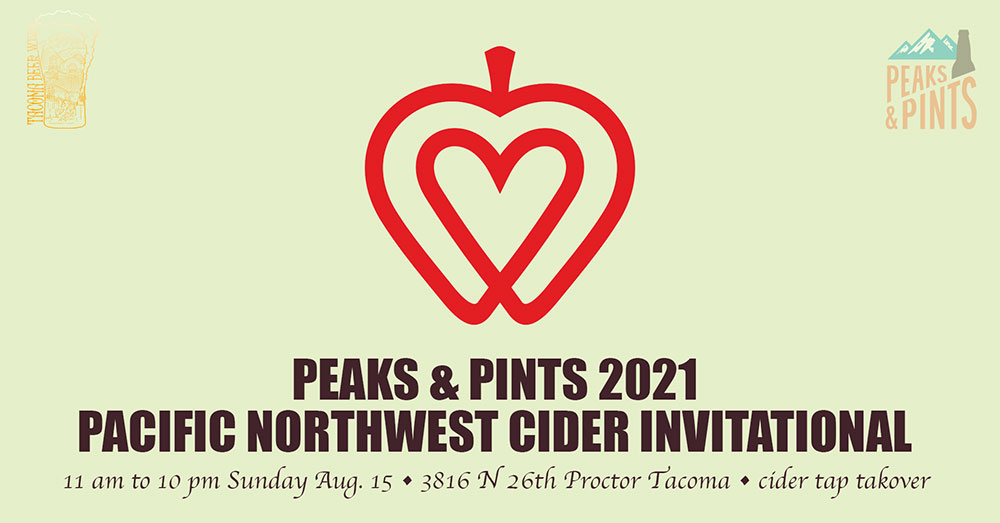 Sunday, Aug. 15, 11 a.m. to 10 p.m.
Pacific Northwest Cider Invitational
It's with great pleasure that we announced the annual Pacific Northwest Cider Invitational will return to Peaks & Pints during the 2021 Tacoma Beer Week. When our annual cider festival returns to anchor Tacoma Beer Week Sunday, Aug. 15, it will brim with more than 20 craft ciders whose flavor profiles extend from barnyard funk to pleasantly astringent. Representing Washington, Oregon and Idaho, the Pacific Northwest Cider Invitational showcases regional variations and plucky endeavors.
Peaks and Pints
3816 N. 26th St., Tacoma, WA 98407
253.328.5621
---
Category:
Beer Line Blog
,
Craft Beer
,
Craft Cider
,
Events and Festivals
,
Food/Beer Pairing
,
News and Updates
,
Peaks and Pints Lodge Meetings
,
Proctor District
,
South Sound
,
Tacoma events
,
Taps Takeovers