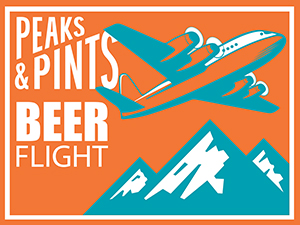 There is something you should know about beer: There is a holiday for virtually everything about beer that is celebrated somewhere, somehow, including today's IPA Day, which gives glory to hops, bittering units and IPAs. Founded in 2011, IPA Day is a global celebration of craft beer. It is a universal movement that was created to unite the voices of craft beer enthusiasts, bloggers and brewers worldwide. IPA Day was originally developed as a social media-based holiday, but has since expanded into a worldwide party, boasting hundreds of IPA-themed events, celebrations and Peaks and Pints to-go beer flight. India Pale Ale (IPA) is a style of beer that has soared in popularity over the last few years. Loaded with hops, IPAs have a distinct bitterness, with flavors derived from hops that can range from citrus, to grass, to pine as well as many other flavors. The female flowering cones of hops plants (humulus lupulus) are used and do two things to beer: preserve the beer by warding off spoiling bacteria and stabilize the beer by filtering, adding head retention, and flavoring — which adds bitterness. Originally brewed in England as a beer that could withstand the long journey to India (hops act as a preservative in the beer), IPAs are now one of the most popular styles. Now for the good stuff: Peaks and Pints suggests these nine different style IPAs for you to enjoy at home — a flight we call Peaks and Pints Pilot Program: IPA Day On the Fly.
Peaks and Pints Pilot Program: IPA Day On the Fly
Evil Twin Blue Raspberry
6% ABV
SOUR IPA: Though not officially defined, sour IPAs are commonly understood as New England-style IPAs with added tartness. That flavor primarily comes from lactobacillus, a microorganism used in the kettle souring process. Additional flavors come from barrel aging, or from adjuncts like vanilla, lactose, and raspberries like the ones in Evil Twin's Blue Raspberry. In the mid-90s, Denmark teacher Jeppe Jarnit-Bjergsø became tired of Carlsberg beer so he and 15 friends formed a beer club to drink unusual beers. He opened a beer store in Copenhagen in 2005 so he could taste more unusual beers. The rest, as they say, is history. His Blue Raspberry sour IPA is super tart and extra fruity. the only thing wilder than this beer's intense raspberry punch to the palate is its bright turquoise pour.
Kulshan Greenwood
5% ABV, 40 IBU
SESSION IPA: Session ales date back to 18th-century England, where factory workers had drinking breaks called, you guessed it, sessions. On these breaks, they would drink lower alcohol beer so they could return to work pleased, but not schnockered. Clocking in at a low ABV, somewhere between 3 to 5 percent, session IPAs are designed to be consumed over long periods of time, are light-bodied and have just enough hops to give the sensation of something more. Kulshan Brewing's Greenwood IPA fits the bill with notes of citrus and tropical fruit from Mosaic, El Dorado, Azacca and Idaho 7 hops.
Wayfinder Cold IPA
7% ABV
COLD IPA: Wayfinder Beer Brewmaster Kevin Davey takes the India pale lager, or IPL, style and in addition to brewing with a lager yeast strain and dry hopping, he ferments the lager yeast at warmer temperatures to avoid the excessive SO2 and bring out the hops without ale yeast aromas. He uses Pilsner malt, rice, or corn to dry it out, as well as adds dose of kräusen — fresh wort from a batch of helles or pilsner during dry hopping, which leads to the biotransformation of hops. The result is a crisp IPA with hop aroma, assertive bitterness, bucketloads new and old school hops and a bold, clean finish.
Fort George Atomic Jukebox
8.4% ABV
MILKSHAKE IPA: Brewed in collaboration with Kex Brewing of Reykjavik, Iceland, and the KEX Hotel in Portland, Fort George Brewery's Atomic Jukebox is a passionfruit, blood orange, and guava, or P.O.G. milkshake hazy IPA. Packed with fruity hops, passionfruit, blood orange, and guava puree, this sweet, juicy, beer has added lactose to enhance the mouthfeel.
E9 Sawtooth to Hell
6.3% ABV
AMERICAN IPA: E9 Brewing loves Idaho as much as Peaks & Pints does. We could hike the Sawtooth Range forever. The Tacoma brewery's love for Idaho is so excessive that Sawtooth to Hell IPA is made with a huge amount of Idaho grown "Pure Idaho" Pilsner malt, and massively dry-hopped with Idaho Gem and Idaho 7 hops, imparting flavors and aromatics of tropical fruit, pineapple, and sweet hard candy. Sawtooth forever!
Revision Smoke And Mirrors
8% ABV, 30 IBU
NEW ENGLAND STYLE IPA: "No illusions here, see with your mind and flavor and aroma receptors what's really going on," states Revision Brewing's hype machine in regards to their Smoke & Mirrors New England-style imperial IPA. Located on the edge of Reno in Sparks, Nevada, Revision excels at IPAs, including this one with Citra, Mosaic, and Amarillo hops forming a power trio of citrus and tropical tastiness in this double dose of liquid, creamy goodness. In fact, it's all smoke and mirrors as the citrus makes the beer's body feel quite light; the alcohol is well hidden. Finish has some lingering grassy bitterness.
Narrows Animal Magic Hazy Double IPA
8% ABV, 20 IBU
DOUBLE NEW ENGLAND-STYLE IPA: The Tacoma Narrows, a strait, is a navigable maritime waterway between Kitsap Peninsula and the city of Tacoma. Narrows Brewing sits on piling above the waterway brewing the hell out of hazy IPAs, including their hazy double IPA Animal Magic. It's dry-hopped with a blend of Citra, Simcoe, Bruce and Dragon hops for notes of candied mango and pineapple atop a soft, heavy dose of Carafoam for a full mouthfeel.
Stoneface Hopulization
8.9% ABV, 60 IBU
DOUBLE IPA: Considered one of the top breweries in New Hampshire, University of New Hampshire grad Peter Beauregard opened Stoneface Brewing in 2014. The longtime homebrewer's IPA placed first at the Boston Homebrew Competition the year before, confirming his decision to leave the software business and open a brewery with his friends, Erol Moe and Tim Finelli. Since then, Stoneface, located in Newington, has captured the attention of IPA lovers with their refreshingly hoppy beer, including their Hopulization double IPA dry-hopped with Galaxy and Calypso for notes of peach and passionfruit.
Sierra Nevada Hoptimum
11% ABV, 75 IBU
TRIPLE IPA: Sierra Nevada Brewing has been running a "beer camp" at its Chico, California brewery for quite some time — before COVID, obviously. After arguing over who gets top bunk, Sierra Nevada brewers and beer industry folks concoct experimental batches using the brewery's pilot system. One of these collaborative efforts was released as Sierra Nevada Hoptimum Double IPA. Thanks to tweaks that involve mixing things up in the hop department to achieve a bit more balance, the 2021 incarnation of Hoptimum is brewed with Chinook, Magnum, and Idaho 7 hops for sweet resinous hop goodness.
LINK: Peaks & Pints cooler inventory
---