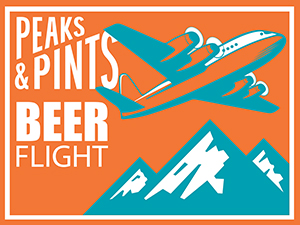 One of beer's most remarkable aspects is its versatility. On top of the fundamental ingredients of water, grain, yeast, and hops, a brewer can add almost any extra ingredients (unless you're in Germany, where there are literal brewing laws about what you can put into beer). Ingredients found in beer today include chocolate, coffee, nuts, waffles, cookies, spices, cocoa, marshmallows, breakfast cereal, toffee, and, the focus of today's Peaks & Pints to-go beer flight — fruit. When brewers add whole fruit, fresh-picked, never frozen, from a nearby farm or orchard to their beer, it's magic. Yeast and souring bacteria actually live on the skin of fruit. These wild, naturally occurring additions bring another layer of distinct flavor to tart beers. Stop by our Proctor District craft beer bar, bottle shop and restaurant and grab Peaks and Pints Pilot Program: Fruity Sours On The Fly.
Peaks and Pints Pilot Program: Fruity Sours On The Fly
E9 Chromatic Enclosures
6.1% ABV
E9 Brewing's barrel-aged wild ale Chromatic Enclosures is a draft only cuvée of several mixed culture beers that are aged separately on apricots from the Okanogan and peaches from the Yakima Valley as well as just straight barrel aged beer with amazing stone fruit characteristics from several different bacteria and yeasts.
Urban Family Briar Heart
6.5% ABV
Urban Family Brewing's Briar Heart is a blend of raspberries and boysenberries fermented on the Seattle brewery's sour house mixed-culture with Brettanomyces, Lactobacillus, and Saccharomyces. It pours a beautiful cherry, ruby red with a thin frost head. Tart grapes and mixed berry dominate the aroma. The flavor is a close match with high acidity is high and wonderful tartness.
Cascade Oregon Summer
5.7% ABV
Founded in Portland, Oregon in 1998, Cascade Brewing is a pioneer of the sour beer renaissance. The brewery's portfolio of distinctive sour ales features fruit-forward, barrel-aged ales with complex flavors and aromas derived from the acid, the fruit and the residual flavors present in the aging barrels. Their Oregon Summer sour wheat ale is aged in oak barrels for 10 months with locally grown blackberries, boysenberries, and lavender for tart, sweet, light funk with prominent berries and subtle lavender.
Alesong Valley Preserves
7.3% ABV
Last summer when fruits were ripe and the sun was shining, Alesong Brewing blended two varieties of cherries with mature casks of golden sour ale. Then in a separate blend, they added blueberries and boysenberries to barrel-aged sour ales and saisons. Keeping these apart allowed them to find a balance of dark berry and lighter cherry flavors in the final blend. The cherries brought their own native yeast and bacteria, which created new flavors beyond the expected notes of dark fruit and jam. The native microorganisms produced a more complex acidity and also light earthy tones like roasted chestnuts and fresh baked bread.
Crux [Banished] Bramble Candy 2021
9% ABV, 20 IBU
After months ripening in red wine barrels with a tangled blend of Brettanomyces, Lactobacillus, and Pediococcus, Crux Fermentation Project infuses their wildest farmhouse ale with a tart twist in the form of Oregon marionberries. Dripping with juicy berry notes balanced by a funky earthiness, this creative mix of wild cultures is a boozy berry delight.
LINK: Peaks & Pints cooler inventory
---