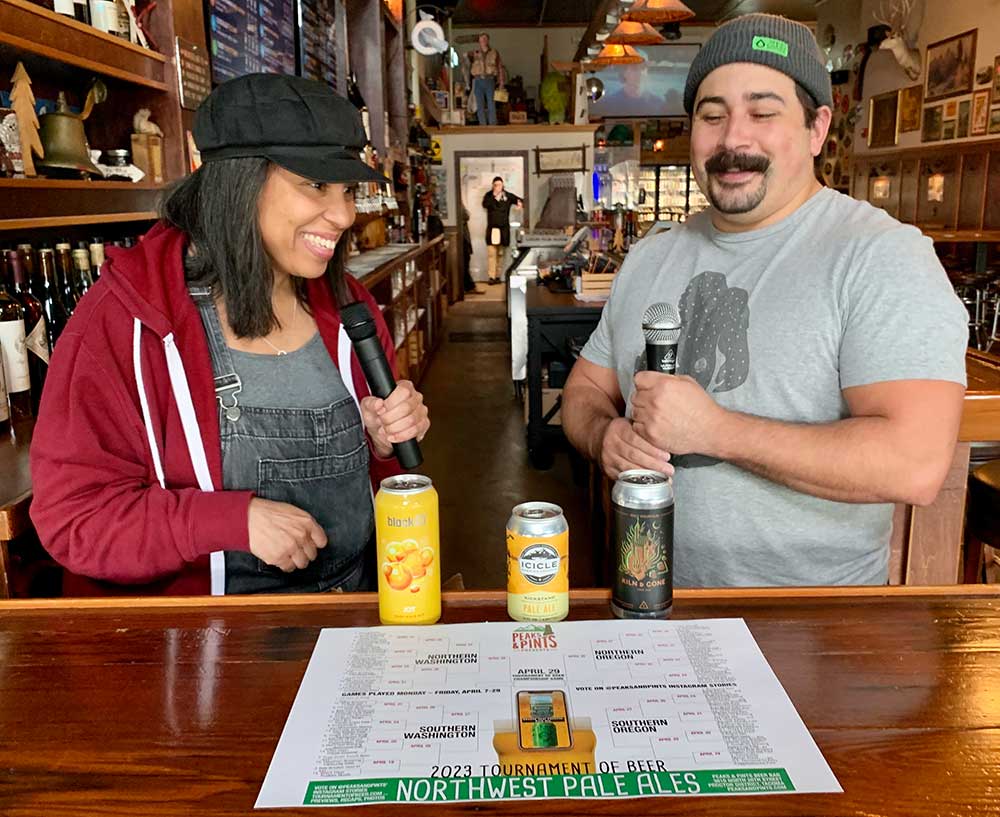 Peaks and Pints Tournament of Beer: Northwest Pale Ales April 14
PHAEDRA MILLER: Welcome to Day 6 of the Tournament of Beer: Northwest Pale Ales. I'm Peaks & Pints bartender Phaedra Miller and even in this era of pastry stouts, smoothie sours, and now German IPAs, the pale ale remains one of America's popular pints, and pale ale fans — of which you are undoubtedly one — are insanely opinioned about what the consummate pale should look and taste. Tear into today's Tournament, enjoy a pint of pale or two, and vote on Peaks & Pints' Instagram Stories.
BRANDON CRESPIN: Dagnabit if all that Madness isn't still in the air! Hello everyone, I'm Peaks bartender Brandon Crespin. Without further ado, let's look at yesterday's winners, then get to today's games, baby!
Thursday, April 13, First Round Northwest Pale Ales Games Results
Game 1, Southern Washington
E9 Brewing Don of Time (#1 seed) vs RAM Restaurant & Brewery '71 Pale Ale (#16 seed)
CRESPIN: E9 Brewing's Don of Time, named after the brewery's former assistant brewer and now sales director Donovan Stewart, grabbed the RAM by the horns and clocked them, securing 91 percent of the vote. Donovan and Don of Time move into the Second Round.
MILLER: Did you see E9's video on Instagram? Clocked, indeed!
Game 2, Southern Washington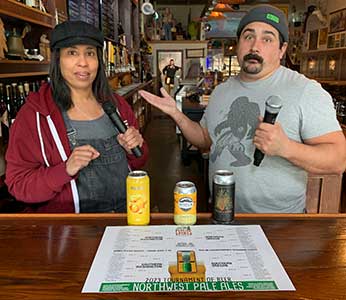 Narrows Brewing First Pitch (#6 seed) vs. Matchless Brewing Eastside Club Pale (#9 seed)
MILLER: At 9 a.m. Narrows First Pitch pale had a 61 percent vote lead over Matchless Eastside Club pale. At 2:30 p.m., Matchless had a 53 percent lead over Narrows, which it held until 10 p.m. when it was dead even. It was business as usual at both taprooms yesterday. At Narrows people quietly drank First Pitch and starred at the marine life. Over at Matchless, people sipped on their Shared Table Belgian saison, which had been on hiatus for a while. If it wasn't for Matchless dropping in on the Eastside Club Tavern after work to play ping pong and chat with the folks in the corner, this game might have remained tied. Instead, Matchless Brewing's Eastside Club Pale moves into the Second Round with 51 percent of the vote.
Game 3, Northern Oregon
Level Beer Pixelated Pale (#6 seed) vs. Laurelwood Brewing Piston Pale (#11 seed)
CRESPIN: As Duke Nukem long ago dictated, video games and beer go together like video games and not getting laid. Luckily for both of those scenarios, the combination of high ABV and high scores has manifested itself in countrywide "barcades", where there're totally more women than in your buddy's basement (maybe), and where you can purchase beer rather than stealing it from your buddy's dad's liquor cabinet that only has Frangelico. Level Beer is built upon video and pinball games, and delicious beer. And while Laurelwood Brewing has amazing food and killer beer, Level's barcade environment had to have been a factor yesterday. Level Pixelated Pale scored 67 percent of the vote and moves into the Second Round.
Game 4: Northern Oregon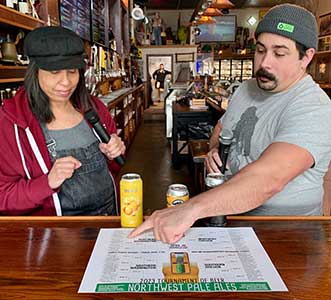 Migration Brewing Patio Pale (#3 seed) vs. StormBreaker Safety Meeting (#14 seed)
MILLER: Number 14 seed StormBreaker Brewing Safety Meeting pale sent popular third seed Migration Brewing Patio Pale packing in First Round action. The Tournament of Beer Bureau is still puzzled over this one (it might have something to do with their regular safety meetings on patios). Anyway, StormBreaker Safety Meeting took notes and 55 percent of the votes and moves into the Second Round for a play date with Level Beer's Pixelated Pale.
Let's weed through the hops. The following are advancing to the Second Round:
E9 Brewing Don of Time
Matchless Eastside Club
Level Pixelated Pale
StormBreaker Safety Meeting
MILLER: Let's dive into today's First Round action featuring four pale ale battles. Please vote for one beer per game on Peaks & Pints' Instagram Stories. Voting for today's battles ends at midnight. We'll announce the winners tomorrow morning around 10 a.m., but today's games are live on Peaks & Pints' Instagram Stories.
Friday, April 14, First Round Northwest Pale Ales Games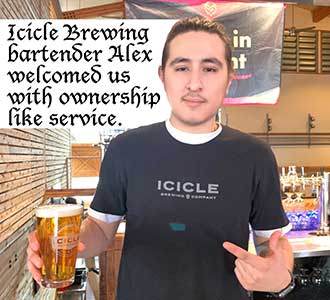 GAME 1, NORTHERN WASHINGTON
Player: Kickstand Pale (#7 seed)
Team: Icicle Brewing, Leavenworth
Stats: 4.8% ABV, 50 IBU
MILLER: Founded in 2010 by Pamela and Oliver Brulotte, Icicle Brewing continues to be a 100 percent family and employee-owned production brewery and brewpub in Leavenworth, Washington. The brewery draws water from nearby Icicle Creek, a run-off from surrounded by numerous mountain ranges including the Stuart Range and Wenatchee Mountains. Owner Oliver Brulotte has deep family roots in Washington's hop farming history. With a focus on sustainability and community, the brewery is a 1 percent for the Planet Member and is the first small craft brewery in the state to close the loop on its CO2 emissions with carbon capture technology.
CRESPIN: What a badass brewery. What a badass pale. Kickstand is a highly drinkable pale packed with citrus flavors and aromas. The beer stands firmly on a foundation of Warrior hops for a pleasantly bitter base and then cruises to its destination on the cone-tails of the Northwest favorite Citra hop.
GAME 2, NORTHERN WASHINGTON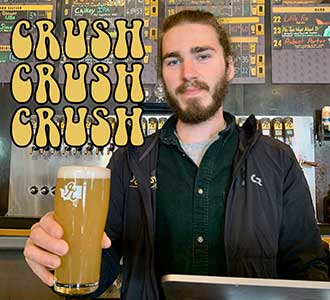 Player: Crushable Pale (#10 seed)
Team: Reuben's Brews, Seattle
Stats: 5.2% ABV, 26 IBU
CRESPIN: Englishman Adam Robbings' beer recipes killed at homebrew competitions, including winning the silver medal at the National Homebrewing Competition in 2012, and his talent, along with a Kickstarter campaign that raised close to $11,000, eventually earned him, and his wife, Grace, their own brewery — Reuben's Brews officially opened in Seattle's Ballard district in August 2012, which they named after their son, Reuben.
MILLER: Dude, that's a long sentence. Breathe.
CRESPIN: Since then, the team has accrued an astounding number of accolades, including more World Beer Cup medals than you have fingers and toes.
MILLER: Adam's hazy pale, Crushable, is all that. Three long draws and it's gone. The juice, though. So lush and tropical.
VOTE ON PEAKS & PINTS' INSTAGRAM STORIES >>>>>>>>>>>>>>>>>>>>>>>>>>>>>>>>>>>>>>>>>>>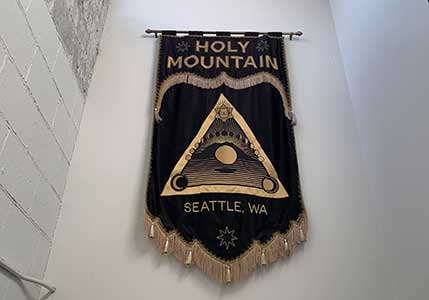 GAME 2, NORTHERN WASHINGTON
Player: Kiln & Cone (#2 seed)
Team: Holy Mountain Brewing, Seattle
Stats: 5.9% ABV
MILLER: Raised in Puyallup, Colin Lenfesty was a longtime homebrewer who worked his way into the Schooner EXACT Brewing team where he met sales guy Mike Murphy. In 2014, the two opened Holy Mountain in Seattle's Interbay neighborhood. Their oak-influenced and mixed fermentation beers, as well as hop-forward ales and lagers, instantly gained crowds and awards. During the pandemic, Murphy left Holy Mountain and the industry leaving Lenfesty to forge ahead brewing more hop-forward beers than sours and saisons.
CRESPIN: Holy Mountain released their first hoppy beer, Kiln & Cone, in 2014. It was initially their "House Pale Ale" in the taproom, and the idea was that each batch featured two different rotating hop varieties. The Tournament nominations for Kiln & Cone didn't specify the batch or hops, so we're picking the last one that came through our taproom, which incorporates a simple combination of 2-row and Pilsner malts, with additions of malted oats and flaked wheat. Comet and Mosaic hops were used in the whirlpool additions in the kettle, and it was later dry hopped with more Comet and Mosaic for resinous notes of berry and bitterness.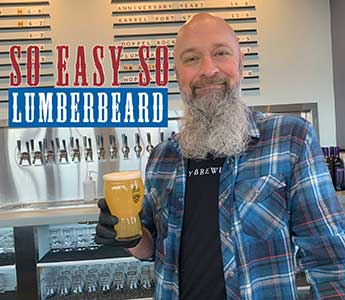 Player: So Easy Hazy Pale (#15 seed)
Team: Lumberbeard Brewing, Spokane
Stats: 5.5% ABV
MILLER: Bret Gordon left the University of Colorado with a degree in Economics and a passion for craft beer. He continued into the finance world, probably sipping an Avery Brewing beer here and there. It didn't take long for him to realize that being at a desk was not for him and he wanted to become a professional brewer. That passion led him and his family to California where he went back to school to earn a Professional Brewing Certificate at the University of San Diego. He swore he would never go back to school, but beer will make you do some crazy things. From there, Bret worked as a professional brewer for several years at SoCal breweries, including The Bruery. In 2018, Gordon and his family traveled north to Spokane and opened Lumberbeard Brewing, a 20-barrel brewhouse on the east end of downtown.
CRESPIN: Sounds so easy … not. Bret's So Easy is an easy-drinking hazy pale dry hopped with Mosaic, El Dorado, Simcoe and Citra hops for low bitterness and high tropical fruit flavors.
VOTE ON PEAKS & PINTS' INSTAGRAM STORIES >>>>>>>>>>>>>>>>>>>>>>>>>>>>>>>>>>>>>>>>
GAME 3, SOUTHERN OREGON
Player: Play Wave Pale (#5 seed)
Team: Crux Fermentation Project, Bend
Stats: 5% ABV, 35 IBU
CRESPIN: In 1974, Larry Sidor walked into Olympia Brewing Company wearing galoshes. Two decades later, he ran out. He couldn't take dumbing down lagers anymore. He found happier times at Deschutes Brewery, developing legendary recipes such as The Dissident, The Abyss, and Red Chair. In 2012, he and Paul Evers opened Crux Fermentation Project in a former AAMCO transmission shop in Bend, Oregon, with the complete freedom to brew whatever they desired, and by desire that meant sublime IPAs, complex barrel-aged Flanders reds and restrained pilsners. They designed the brewery for non-traditional brewing methods such as decoction mashing, open fermentation, oak barrel aging, wild yeast strains, and experimental hops. Proudly, they bottled and labeled by hand in small batches right at the brewery.
MILLER: Named for the whitewater surf feature built as part of the Bend Whitewater Park by Crux brewer and whitewater kayaker Chris Meinke, innovative brewing techniques allowed Crux to squeeze a crazy amount of juicy hop flavor and floral aroma from a power trio of Mosaic, Galaxy, and Centennial hops making Play Wave Pale a giant wave of citrusy goodness. Sadly, Crux shelved Play wave before the Tournament began.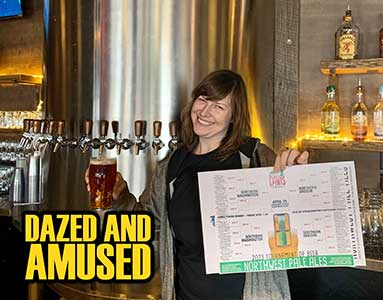 Player: Mango Daze Pale (#12 seed)
Team: Silver Moon Brewing, Bend
Stats: 6% ABV, 25 IBU
MILLER: Bend, Oregon's third oldest brewery, Silver Moon Brewing, began as a homebrew shop in 2000, when the brewery found new ownership in 2013, and production capacity quickly rose to a top 20 brewery in Oregon. Silver Moon feels more like a playground. The outdoor beer garden is massive lined with food trucks, fire pits, stage, an incredible mural of famous rock stars, and plenty of seating. Inside, another stage, and the music and beer never stop.
CRESPIN: Drinking their Mango Daze Pale is like a mouthful of summer. The easily drinking pale ale is packed with traditional fruity northwest hops and a perfect hint of tropical mango.
VOTE ON PEAKS & PINTS' INSTAGRAM STORIES >>>>>>>>>>>>>>>>>>>>>>>>>>>>>>>>>>>>>
GAME 4, SOUTHERN OREGON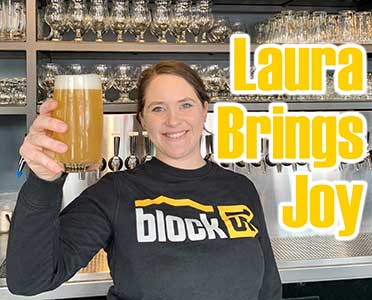 Player: Joy (#4 seed)
Team: Block 15 Brewing, Corvallis
Stats: 5.6% ABV
CRESPIN: The original Block 15 brewery sits heart of downtown Corvallis. The brewery's name hails from Corvallis' previous incarnation as Marysville and the old plat map location from the old town. Originally built in 1926 for the Gazette-Times newspaper, the building is blocks from both Oregon State's campus and Corvallis' riverfront park. In early 2008, homebrewers Nick and Kristen Arzner opened Block 15 in the building serving beers true-to-style with ingredients imported from different parts of the world, along with all the Willamette Valley produced grains, hops, fruits, herbs, and yeast. The brewery built a reputation for first-rate IPAs including early cryo hop usage, rock-solid renditions of classic recipes from around the world and a dazzling variety of Belgian-style brews, including cask-conditioned specialties with wild yeasts and exotic flavors.
MILLER: Block 15's Joy pale ale modern-day pale ale is brewed with an array of five specially selected Northwest hops. It hits the nose with lime peel, green melon, and unripe apricot, followed by notes of lemon, papaya, tangerine, and orchard fruits with a light bready base. It's highly with a crisp finish.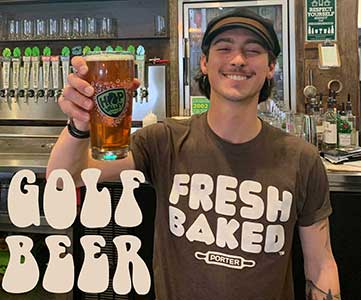 Player: Bandon Dunes Pale (#13 seed)
Team: Hop Valley Brewing, Eugene
Stats: 5.5% ABV, 35 IBU
MILLER: After graduating from Oregon State University's fermentation sciences program and honing his hoppilicious skills at Pelican Brewing Co. and Rogue's Tracktown Brewpub, Trevor Howard busted out deep, dank, and delicious craft beers as co-owner and head brewer at Hop Valley Brewing's Springfield location in 2009, and eventually their much larger Eugene location. In 2016, Hop Valley was purchased by megabrewery MillerCoors, which is now Molson Coors, and is part of the corporation's Tenth & Blake craft division.
CRESPIN: Bandon Dunes Pale Ale isn't for golfers who behave like Rockefellers at a Presbyterian funeral on Martha's Vineyard, but rather those who act like they just hit the Hop Valley Brewing tent at a monster truck rally. Hop Valley did, indeed, brew Bandon Dunes Pale Ale for Bandon Dunes Golf Resort, which is located 100 feet above the Pacific Ocean south of Coos Bay along the Oregon Coast. The world-class golf resort is more golf purist than Spaulding Smails, but the toffee-like malts paired with bright Cascade hops in this pale ale could bring out the Al Czervik in everyone. Par Tee On!
VOTE ON PEAKS & PINTS' INSTAGRAM STORIES >>>>>>>>>>>>>>>>>>>>>>>>>>>>>>>
Monday, April 17 Tournament of Northwest Pale Ales action
Game 1: Silver City Sonic Reign (fifth seed) vs. Dru Bru Pacific Crest Pale (12th seed)
Game 2: Everybody's Mountain Mama (fourth seed) vs. Fortside Silly Rabbit Pale (13th seed)
Game 3: Gigantic Sassy Pony (seventh seed) vs. Ecliptic Cloud Core Hazy Pale (10th seed)
Game 4: pFriem Mosaic Pale (second seed) vs. Full Sail Cosmic Gorge Pale (15th seed)
LINK: Tournament of Beers: Northwest Pale Ales explained
LINK: Hot Damn! Yes, I want to subscribe to 6-Pack of Things To Do newsletter and be hip to local happenings!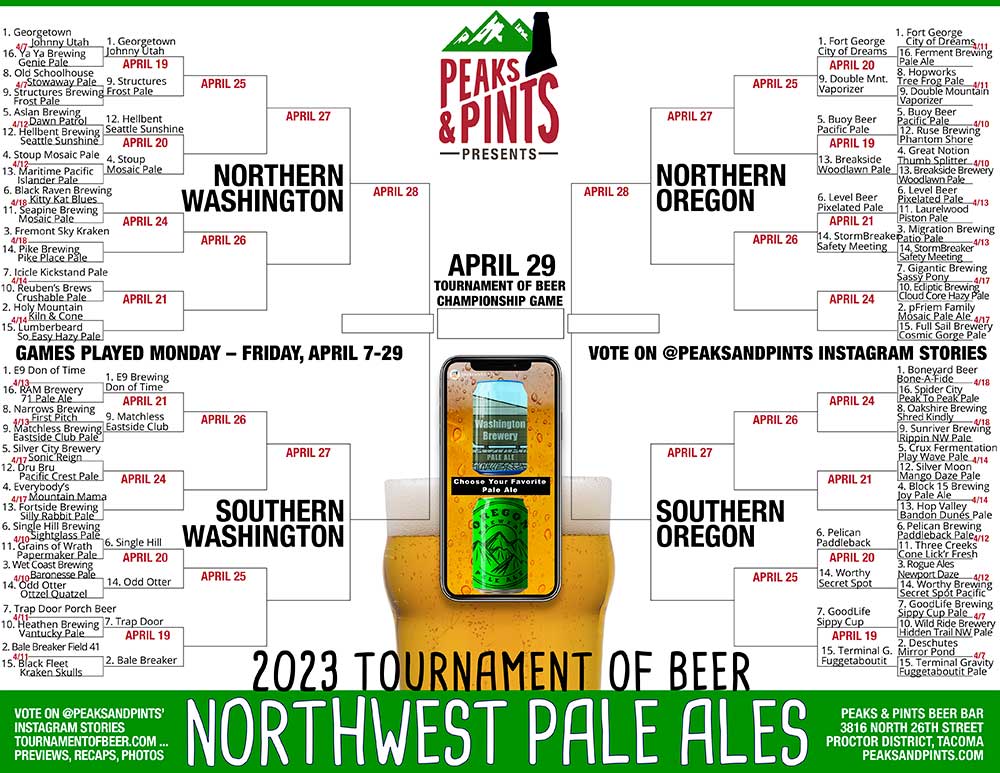 ---