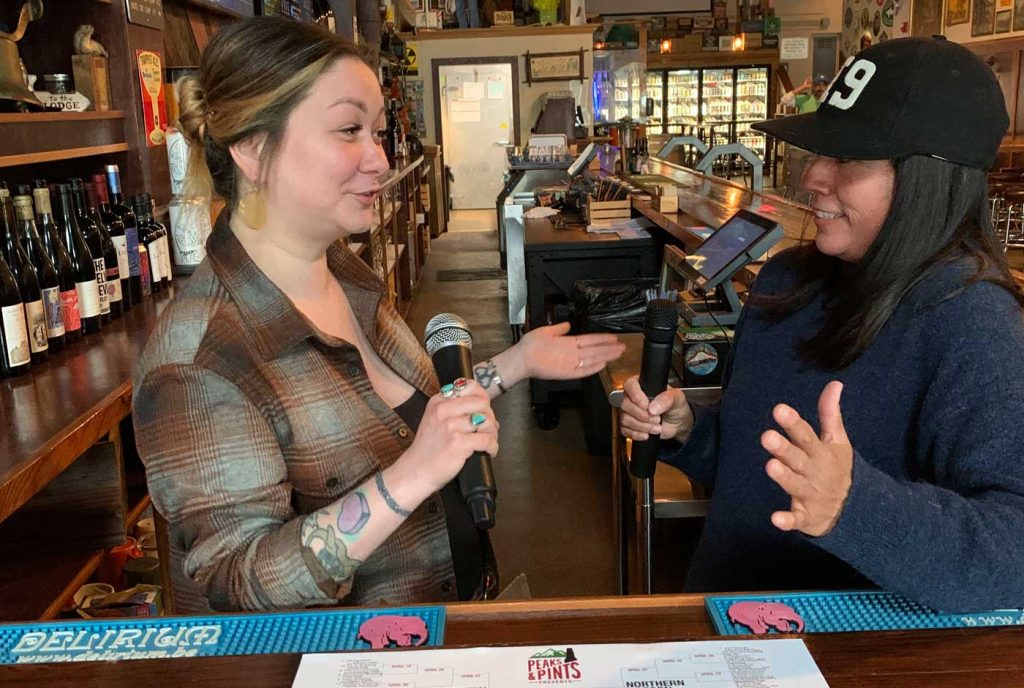 Peaks and Pints Tournament of Beer: Northwest Pale Ales April 13
AMBER HAMILTON: The showcase ingredient in pales ales is hops, which come from the plant humulus lupulus. This is a vine-like plant that produces hop flowers known as strobiles. Within these strobiles are two prized contributions to brewing: alpha acids and hop oils. Alpha acids provide the bitterness in beer that gives the drinker the crisp, clean finish, and acts to balance the sweet malt. The hop oils produce the flavor and aroma, which in the case of American-style hops typically provide flavors and aromas ranging from pine to grapefruit to tropical fruit to other citrus varieties. Welcome to Day Five of the Tournament of Beer: Northwest Pale Ales, featuring 64 Northwest brewed pales competing in the mother of all Northwest Pale Ale brackets. Below is a recap of yesterday's pale ale action followed by eight new pales hitting the court today. I'm Peaks & Pints bartender Amber Hamilton and with me is fellow Peaks bartender Trish Ortega.
TRISH ORTEGA: Thanks Amber! Yesterday's Tournament action was much different than the previous day. Day Four was filled with blowouts. Yesterday, there were two pale ale games that were full-on punctures, but the other two games were close.
Wednesday, April 12, First Round Northwest Pale Ales Games Results
Game 1, Northern Washington
Aslan Dawn Patrol (#5 seed) vs Hellbent Seattle Sunshine Hazy Pale (#12 seed)
HAMILTON: Appropriately named Aslan Brewing Dawn Patrol gathered a big lead over Hellbent Brewing Seattle Sunshine Hazy Pale during the wee hours of the morning but slowly saw their lead dwindle to a 51 percent lead around 1 p.m. Then, I can only imagine, the group of Seattle Sounders fans that Hellbent brewed Seattle Sunshine beer in their honor, the Emerald City Supporters, became riled up as they do. We can't confirm, but they might have started marching and singing and chanting and banging drums and even busted out the boom, boom, clap.
ORTEGA: Amazing! And sure, by 6 p.m. Hellbent had a 59 percent lead but then it dawned on Aslan that they're sitting in a badass beer city, and the lions roared, and the votes started coming in. At 10 p.m., Hellbent's lead was down to 52 percent. Then it grew louder. Boom, boom clap! Boom, boom clap! Boom, boom, clap! Seattle Sunshine Hazy Pale moves into the Second Round with 54 percent of the vote. Just wow!
Game 2, Northern Washington
Stoup Mosaic Pale (#4 seed) vs. Maritime Pacific Islander Pale (#13 seed)
ORTEGA: We feel bad for the boaters on this one. But something tells us they'll survive, and they'll do so holding a delicious Islander Pale. Unfortunately for Maritime Pacific the task of taking down Stoup Brewing's Mosaic Pale was simply too much — and the votes told the story. When all was said and done, Stoup moves on with 77 percent of the vote.
Game 3, Southern Oregon
Pelican Paddleback (#6 seed) vs. Three Creeks Cone Lick'r Fresh Hop Pale (#11 seed)
HAMILTON: OK, Trish. I'm going to say it. Three Creeks Cone Lick'r took a licking today. Pelican Brewing — a veteran of many a Tournament of Beer, including winning the Tournament of Beer: West Coast Flagships, which included California, in 2020 — knew coming out strong was the play. When the final buzzer sounded, they grabbed 73 percent of the vote and paddled into the Second Round.
Game 4: Southern Oregon
Rogue Newport Daze (#3 seed) vs. Worthy Secret Spot Pacific Pale (#14 seed)
HAMILTON: Ladies and gentlemen, Game 4 is one for the Tournament of Beer books. At 1 p.m. yesterday, it was a tie game. Then, Worthy Brewing went to their secret spot, performed their secret ceremony with their Secret Spot Pacific Pale, and the secret was out. Bend, Oregon, rallied and slowly but surely the votes starting pouring in.
ORTEGA: You could see the daze in Rogue's eyes. Worthy had 53 percent at 6 p.m., then 57 percent at 9:30 p.m., then 58 percent at 11 p.m. I can only imagine Worthy made one more trip to the secret spot with they learned their Secret pale won with 60 percent of the vote at the final buzzer.
HAMILTON: Nothing's a secret now. The remaining pales now know.
Let's weed through the hops. The following are advancing to the Second Round:
Hellbent Seattle Sunshine Hazy Pale
Stoup Mosaic Pale
Pelican Paddleback Pale
Worthy Secret Spot Pacific Pale
ORTEGA: I need a drink.
HAMILTON: Not yet, sister. We now have to dive into today's First Round action featuring four pale ale battles. Please vote for one beer per game on Peaks & Pints' Instagram Stories. Voting for today's battles ends at midnight. We'll announce the winners tomorrow morning around 10 a.m., but today's games are live on Peaks & Pints' Instagram Stories.
ORTEGA: Ladies and gentlemen, please join in the singing of our national anthem.
HAMILTON: Thank you Sarah Faith! OK, let's get to voting!
Thursday, April 13, First Round Northwest Pale Ales Games
GAME 1, SOUTHERN WASHINGTON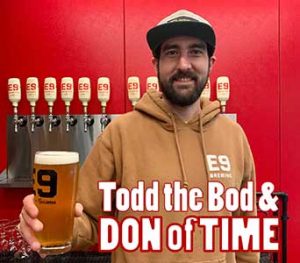 Player: Don of Time (#9 seed)
Team: E9 Brewing, Tacoma
Stats: 5.4% ABV
ORTEGA: In the early '90s, Dusty Trail converted the historic Engine House No. 9 bar into a brewpub at the corner of Sixth Avenue and Pine Street, officially becoming the first microbrewery in Tacoma. Dick Dickens grabbed the Engine House reins in 2002, bringing in head brewer Doug Tiede. Heads turned and medals were hung. In 2011, The X Group added the Engine House to their local restaurant empire, with Shane Johns and Donovan Stewart running the kettles and hanging even more medals, mostly for their sours and saisons. Four years ago, they separated the brewery from the restaurant and opened E9 Brewing in Tacoma's Historic Brewery District.
HAMILTON: Hi Don! Oh, um, let me be official. Donovan Stewart has spent some time in Tacoma. The city first got to know Stewart as a drummer in the stoner sludge metal band Mico de Noche playing Hell's Kitchen on Sixth Avenue many times, although he rocked with bands Helltrout and Migas previously. Stewart moved to guitars, added more bands to his week — most notably Tacos! and Gold Sweats — as well as recording gigs. You could argue many Tacomans know Stewart as the longtime assistant brewer and now sales director at E9 Brewing. He and Head Brewer Shane Johns built a world class sour and saison program together, when they weren't creating delicious IPAs and the house pale ale, Don of Time, brewed with Amarillo and Simcoe for a hoppy yet balanced pale with subtle citrus notes.
ORTEGA: Nice work, Amber.
HAMILTON: You too, Trish.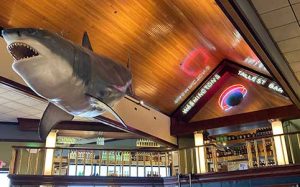 Player: 71 Pale Ale (#16 seed)
Team: RAM Restaurant & Brewery, Tacoma
Stats: 5.5% ABV, 40 IBU
ORTEGA: In 1971, Shakey's Pizza Parlor employees and fraternity brothers Jeff Iverson and Cal Chandler took their entrepreneurial spirit and experiences they received making pizza and serving beer to open the "Deluxe Tavern," which included cook-your-own burgers and steaks, in the Villa Plaza shopping center in Lakewood, Washington. It eventually became The RAM. Many RAMs, among other restaurants such a Mulligan's, C.I. Shenanigan's, and others. Our Pappi Swarner grew up with The Ram. He went to school with now owner Jeff Iverson Jr. The Ram Corp. helped pay for his college existence.
HAMILTON: I need to hear that story! The RAM Restaurant & Brewery brewed the '71 Pale Ale in honor of the Deluxe Tavern's first year in Lakewood. Expect a subtle toasty, rye malt profile and citrusy, herbal hop flavors.
ORETGA: Fun fact! RAM Waterfront head brewer Greer Hubbard just brewed a tropical version of '71 Pale yesterday. He says it has the same grain bill but used Amarillo, Cashmere, and El Dorado hops.
HAMILTON: Another fun fact! Greer likes to go by Greeeeeeer.
ORETGA: WE'RE FUN!
VOTE ON PEAKS & PINTS' INSTAGRAM STORIES >>>>>>>>>>>>>>>>>>>>>>>>>>>>>>>>>>>
GAME 2, SOUTHERN WASHINGTON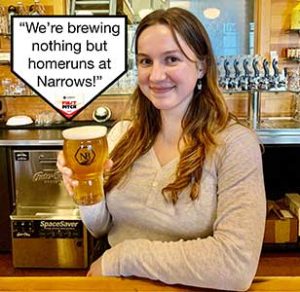 Player: First Pitch Pale Ale (#9 seed)
Team: Narrows Brewing, Tacoma
Stats: 6% ABV, 40 IBU
HAMILTON: July 12, 2013, Scott Wagner, Gordon Rush, Matt Smith, Thair Jorgenson, Chris DeWald, and others opened the 15-barrel Narrows Brewing perched on pilings above the Narrows waterway. As guests gazed at the 700 feet of guest docking below and beyond to the Narrows bridge, Joe Walts, former quality control manager at Ale Asylum Brewing in Madison, Wisconsin, brewed in the back. After a couple years, Walts returned to Ale Asylum with former Harmon head brewer Mike Davis taking over the head brewing position. Davis eventually returned to his beloved Hawaiian Islands with Matt Rhodes — formerly with Stone Distributing and King Harbor Brewing out of Redondo Beach, California —letting his freak flag fly, injecting new recipes into the brewery, especially hazy IPAs, and crazy delicious imperial stouts. After Rhodes moved on to Fort George Brewery in Astoria, Parker Rush grabbed the brewing reins and the entire brewery as the new owner in November 2020. After graduation from the UC Davis Master Brewers Program, Parker cut his teeth brewing at Lowercase Brewing in Seattle before fulfilling his life-long dream to own a brewery. Brewer Zach Dowling has been with Narrows since the doors opened.
ORTEGA: You're a super fan. Narrows' First Pitch Pale Ale boasts a sturdy malt foundation reminiscent of a strong infield defense, while its hops deliver a potent punch just like a Luis Castillo fastball. They dry hopped with experimental 17701 and Citra hops, giving this pale a peachy, citrusy kick.
HAMILTON: Get out the rye bread and mustard, Grandma. It's grand salami time!
Player: Eastside Club Pale (#9 seed)
Team: Matchless Brewing, Tumwater
Stats: 5.8% ABV, 35 IBU
ORTEGA: Let's recap. West Olympia letter carrier, botanist, and homebrewer Patrick Jansen met Darby's Café owners Nate and Sara Reilly at the Helsing Junction music and sleepover festival and the three opened Three Magnets Brewing in 2014. In June 2017, Jansen and Grant Bolt — a bartender at Three Magnets as well as founder of WortWorks Soda Co. — opened Matchless Brewing Co. near the Olympia Regional Airport in Tumwater. With Grant as president and Jansen as director of brewing operations, the duo began cranking out award-winning craft beer in a 9,000-square-foot brewery and taproom. Jansen eventually left and environmental scientist turned Redhook brewmaster Nick Crandall became Matchless' head brewer brewing Jansen's popular beers, as well as brewing his own treasures.
HAMILTON: Three Magnets brewed the first Eastside Club Pale in March 2017, which would mean Jeff Stokes brewed it as Jansen was just about to open Matchless. Matchless brewed their version in 2019, which would make it Jansen's version because Crandall didn't arrive until 2020. Don't quote me on this, though. What I do know is it's brewed for the famous Eastside Club Tavern, a longtime craft beer hangout in downtown Olympia where Jansen, who is opening Ilk Beer in the former Fish Brewing facility in downtown Olympia, and Stokes, who is the head brewer at Sig Brewing, both drank craft beer. The Matchless Eastside Pale is packed with pounds and pounds of Amarillo, Mosaic, Citra, and Cascade hops along with a simple and crushable malt bill with a quick dry finish.
VOTE ON PEAKS & PINTS' INSTAGRAM STORIES >>>>>>>>>>>>>>>>>>>>>>>>>>>>>>>>>>>>>>>>>>>>>>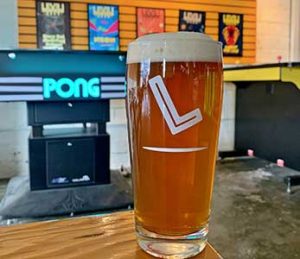 GAME 3, NORTHERN OREGON
Player: Pixelated Pale Ale (#6 seed)
Team: Level Beer, Portland
Stats: 6.1% ABV, 55 IBU
ORETGA: In search of a spacious property to commission some brews of his own, Geoff Phillips, owner of the beloved but closed Bailey's Taproom in downtown Portland, Jason Barbee of Ex Novo Brewing, and Shane Watterson of Laurelwood Brewing, converted a former produce market in East Portland's Argay neighborhood into a 20-barrel brewhouse, Level Beer. Since all three Level Beer owners love Stars Wars and Atari, there now three locations carry a 1980s video game motif.
HAMILTON: That explains the name of their pale ale, Pixelated, which is punchy tropical fruit up front rounded out by a modest bitterness and crisp malty finish.
Player: Piston Pale (#11 seed)
Team: Laurelwood Brewing, Portland
Stats: 5.6% ABV, 40 IBU
HAMILTON: The 22-year-old Laurelwood Public House & Brewery found Prohibition, a Portland-based design firm that added new color schemes, redesigned their packaged beers, and updated their logos just in time for the Portland brewery to re-introduce a fan favorite, Piston Pale, which debuted nine years ago last month. Laurelwood has long been one of the anchors of Portland's craft beer scene, reliably producing beers since 2001 that have so woven themselves into the fabric of the city's beer culture.
ORTEGA: Laurelwood recently brought back Piston Pale Ale, which demonstrates a balance of herbal and citrus. Laurelwood Bartender Cameron is firing on all, er, pistons to pour you one.
VOTE ON PEAKS & PINTS' INSTAGRAM STORIES >>>>>>>>>>>>>>>>>>>>>>>>>>>>>>>>>>>>>>>>>>>>>>
GAME 4, NORTHERN OREGON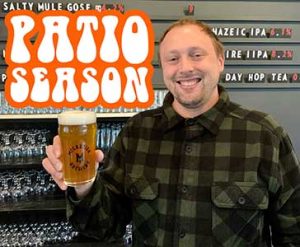 Player: Patio Pale (#3 seed)
Team: Migration Brewing, Portland
Stats: 5.8% ABV, 55 IBU
HAMILTON: Since opening in 2010 in Northeast Portland, Migration Brewing has added a production facility and brewpub in Gresham filling the 20,000 square-foot building with 17,000 housing a new 20-barrel brewhouse and the rest a brewpub. In 2021, they opened Migration on Williams in North Portland's bustling Williams neighborhood with one of the best beer patios in town and an elevated food program.
ORTEGA: Their cleverly named Patio Pale offers layers of passionfruit, pineapple, and grapefruit, thanks to Simcoe and Vic Secret hops. It's light with a dry mouthfeel.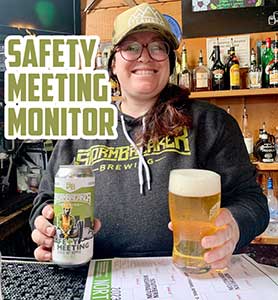 Player: Safety Meeting (#14 seed)
Team: StormBreaker Brewing, Portland
Stats: 5.3% ABV, 32 IBU
ORTEGA: Rob Lutz' beer career began as a keg washer at Amnesia Brewing, the North Portland brewery that opened in May of 2003 on Mississippi Avenue. Amnesia moved to Washougal, Washington, then folded. Lutz went in the opposite direction. In late 2014, he and Dan Malech opened StormBreaker Brewing in Amnesia's former spot. Their creative beer lineup earned awards. The duo opened a second spot in Portland's St. John neighborhood, as well as expanded their Mississippi location, adding an axe-throwing platform.
HAMILTON: Their Safety Meeting Pale is designed to showcase the complexities and nuances of individual hops. Tournament of Beer nominations didn't specify a specific single-hop version of Safety Meeting, but it did take a Bronze at the 2020 Oregon Beer Awards. When Pappi Swarner arrived at StormBreaker to snap a photo of the beer with a bartender the Strata Dry Hopped version was in the house, which means passionfruit meets dank herbal notes.
VOTE ON PEAKS & PINTS' INSTAGRAM STORIES >>>>>>>>>>>>>>>>>>>>>>>>>>>>>>>>>>>>>>>>>>>>>>
Friday, April 14 Tournament of Northwest Pale Ales action
Game 1: Icicle Kickstand Pale (seventh seed) vs. Reuben's Brew Crushable Pale (10th seed)
Game 2: Holy Mountain Kiln & Cone (second seed) vs. Lumberbeard So Easy Hazy Pale (15th seed)
Game 3: Crux Play Wave Pale (fifth seed) vs. Silver Moon Mango Daze Pale (12th seed)
Game 4: Block 15 Joy Pale (fourth seed) vs. Hop Valley Bandon Dunes Pale (13th seed)
LINK: Tournament of Beers: Northwest Pale Ales explained
LINK: Hot Damn! Yes, I want to subscribe to 6-Pack of Things To Do newsletter and be hip to local happenings!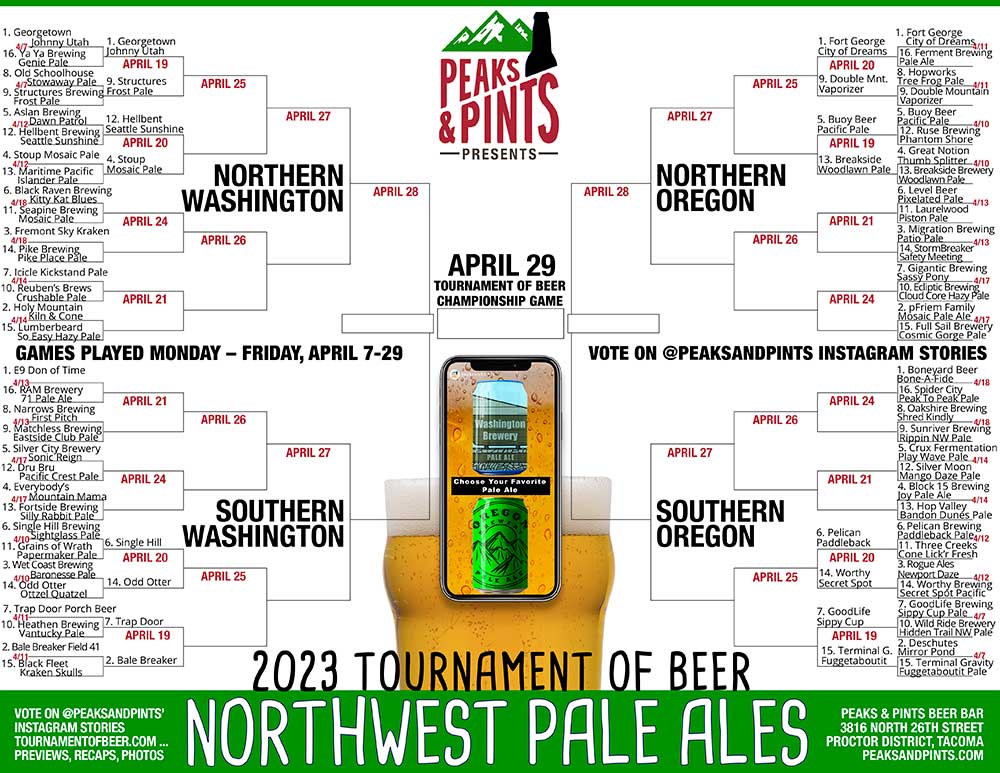 ---