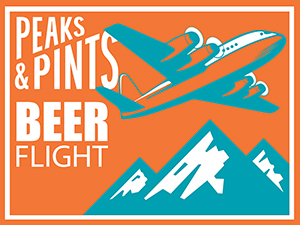 Van Steenberge is a Belgian brewery in East Flemish Village of East Flanders, Belgium. The brewery started out in 1784 after it was founded by Jean Baptiste De Bruin. The brewery is considered to be a family brewery since its ownership and management has been passed on to several family generations after Jean Baptiste De Bruin's death. Many beer connoisseurs who claim to have cut their teeth on Belgian beer often mention Van Steenberge's Piraat and Gulden Draak in the same breath. As if that reputation is not enough their Flemish Red-Brown Ale, Monks Cafe (a recipe that dates to their founding in the late 18th century), was one of the first widely accepted sour beers in the United States. The unique flavors of the Van Steenberge yeast strain are undeniable and make their beers truly irreplicable. Today, Peaks & Pints presents a to-go flight of Brouwerij Van Steenberge beers — a flight we're calling Peaks and Pints Pilot Program: Van Steenberge Beer Flight.
Peaks and Pints Pilot Program: Van Steenberge Beer Flight
Van Steenberge Monk's Cafe Grand Cru
5.5% ABV
This Flanders oud bruin is a blend of 3-year-old aged and freshly brewed triple ales. This blend is then aged for 6 months in oak casks. It is here that Monk's Cafe Grand Cru acquires its unique sour profile. Just before bottling, a high fermented lager is blended in to reach an approachable 5.5% ABV. Expect mild aromas of dates, apple, cinnamon, followed by big bright flavor of rich malts, fruitiness, cooked dark sweet cherry, baked apples turnover cake, rye, spice with bright acidity, but low sourness and tang.
Van Steenberge Augustijn Blond
7% ABV
The Augustinian Monks have been brewing Augustijn since 1295 at their Monastery in Ghent.
When the Augustinians started looking for a new brewing partner in 1987, Jozef Van Steenberge had already been experimenting a lot with top fermenting beers. Jozef won the competition organized by the Augustinians. This meant that the brewery gained access to the recipe of this historic monastery beer and the expertise of recipe administrator Janus Jeremanus. Augustijn Blonde is flavorful full-bodied, fruity, hoppy amber blonde. It is mild and malty with a slight touch of vanilla and a finish that is slightly bitter and smooth.
Van Steenberge Piraat
10.5% ABV
Piraat is a Belgian strong golden ale that hits the nose with bitter, spicy, malty, and alcoholic scents. What follows is a combination of malty, sweet and hop bitter tastes, after which are drowned in a very long, semi-sweet after taste with bitter undertone.
Van Steenberge Gulden Draak Classic
10.5% ABV, 30 IBU
An authentic, Belgian dark red tripel complete secondary bottle fermentation with a wine yeast that determines the unparalleled taste and that ensures the long-term taste evolution, aka a living beer. Gulden Draak balances a natural malt toffee-like sweetness with a mellow happiness and some hoppy accents. The aroma is round, sweet and hides the high alcohol per volume. Another name for this type of complex beer is "Barley Wine."
Van Steenberge Gulden Draak 9000 Quadruple
10.7% ABV, 25 IBU
Gulden Draak 9000 pours a lovely chestnut brown, unusually light for a quadruple and is topped by the trademark towering, tan colored creamy head. It hits the nose with sweet malts, alcohol, caramel (almost burnt sugar) spicy yeast, floral notes (herbal and grassy) and crisp orchard fruits. On the tongue, expect a big caramel sweetness lead followed by biscuity, doughy malts coupled with dark fruits — though not as heavy as other quads, more berry like than dried fruits. A slight tartness from green apples and pears cut through along with just the right amount of clove spicing. Mild hops and a warming alcohol note finish things off perfectly.
Van Steenberge Gulden Draak Imperial Stout
12% ABV
Van Steenberge's Gulden Draak Imperial Stout is the heaviest beer in the Gulden Draak range. The typical roasted taste is obtained by adding roasted, caramelized malt that's exclusive to this well-balanced heavy beer. It's not your typical American imperial stout. It hits the nose with banana and chocolate followed by dark chocolate, hints of coffee, black cherry, raisin, and dates — leaning toward a quad. The secondary bottle fermentation works beautifully.
LINK: Peaks & Pints cooler inventory
---